Votto dealt setback after taking grounders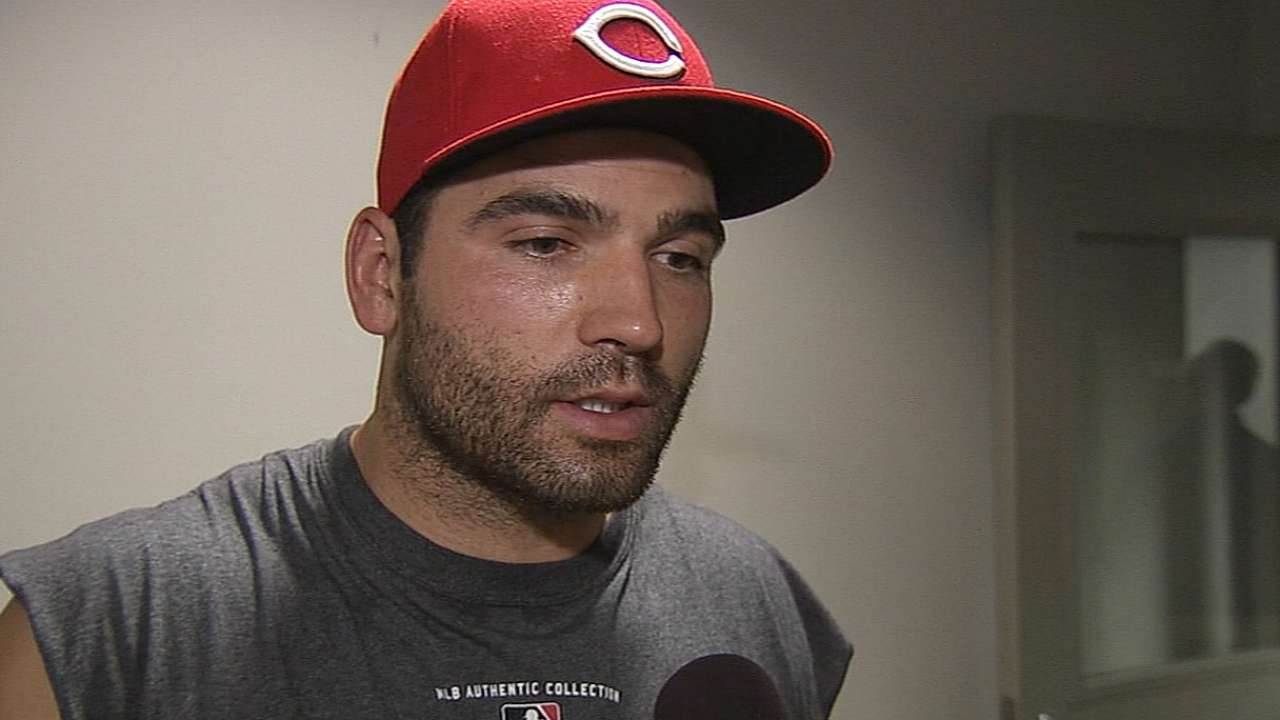 PITTSBURGH -- Plans to get injured first baseman Joey Votto back on the field seemed optimistic earlier this week when he commenced performing some baseball activities.
But on Friday came the news that the distal strain in Votto's left quadriceps did not respond well to taking ground balls on Wednesday at Great American Ball Park.
"It wasn't as good a result as we had hoped," manager Bryan Price revealed. "There was still some fairly significant discomfort when he got lateral side-to-side [movement], so we had to back off with that and stay with some strengthening and whatever the physical therapy protocols are. We hope when we get back there is some marked improvement. He took some light swings [on Thursday] and he'll be able to gradually increase baseball workload based on how he feels."
Votto went on the disabled list with the quad strain for the second time this season on July 8. Last week he began a running program and started taking swings and playing catch on Tuesday.
Recently transferred to the 60-day DL, he is eligible for activation on Sept. 4. With the Reds' hopes for a postseason berth having faded drastically, does the club's place in the standings play a part in the decision of whether he plays again in 2014?
"Well, I think that's a great question. It's a legitimate question," Price said. "The one thing we have to do is get him to the point where he can play. It's a moot point until we get there. We don't know for sure when that time is going to be. That's one thing about this particular injury -- there's no deadline as to when he's supposed to be physically capable of playing without re-injury, which takes us back to square one with the rehab. I think if he gets back to where he can play, he plays. That certainly could change with where we are in the standings and sitting down with Dr. [Tim] Kremchek and making a decision about what's in the best interest of Joey moving forward."
Price was asked if Votto's injury could be chronic and career-threatening.
"I think if there was a concern about this being a long-term thing that could set him back or with him chronically for the rest of his career, we wouldn't be considering playing him in September," he said.
Mark Sheldon is a reporter for MLB.com. Read his blog, Mark My Word, and follow him on Twitter @m_sheldon. This story was not subject to the approval of Major League Baseball or its clubs.