Negron enjoys career night in front of family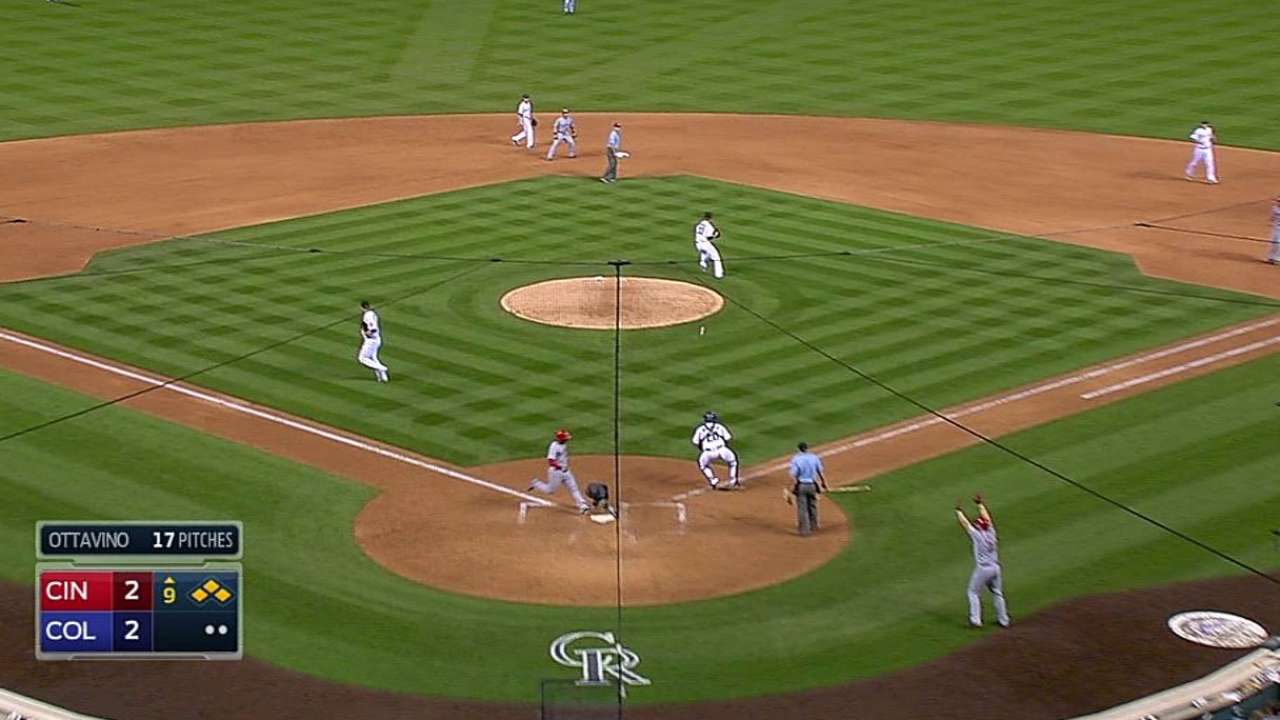 DENVER -- Kris Negron wanted to treat Friday's latest opportunity to play for the Reds vs. the Rockies as just another game. But the rookie utility player also knew he had family at Coors Field in from California to watch him play.
Negron, who started at second base, did not disappoint. It was quite the contrary as he notched a career-best four hits, including the game-winning RBI single in the top of the ninth for a 3-2 Reds win.
"I always come in ready to work, ready to come out and play a good game," Negron said. I looked forward to today. My mom, dad and grandma were all in town. It was good to be able to get a game like that."
Negron, 28, was promoted from Triple-A Louisville on July 10 after second baseman Brandon Phillips went on the disabled list. In his 22 games, including four starts, he's hitting .292. His first two hits of the season were home runs.
During Spring Training, Negron had a good camp but did not make the team.
"He was on the radar but kind a distant on the outer rings of the radar," Reds manager Bryan Price said. "He's taking advantage of this opportunity. That's really what we're playing for right now."
Negron started the night with a bunt single in the first inning, and had a sacrifice bunt in the third inning. He reached on an infield hit to the shortstop in the fifth and singled to right field in the seventh.
Facing Rockies reliever Adam Ottavino in the ninth, Ramon Santiago hit a leadoff single to right field and advanced on a Zack Cozart sacrifice. Following pinch-hitter Skip Schumaker's walk, Negon delivered a line RBI single to center field for the go-ahead run.
"I've had a couple of opportunities to come up with a hit towards the end of the game," Negron said. "It felt good to finally get one through. The other day I had a big chance and I hit back up the middle against Boston and it got caught."
Negron has logged over 3,200 Minor League at-bats since 2006, including the last four years mostly at Triple-A save for four big league games for Cincinnati in 2012.
"One of the things when you become a coach or manager, you take a lot of pleasure in the successes of your players," Price said. "To see them play a game like this, I'm certain he'll never forget, to impact us in such a big way for a much-needed victory, is terrific."
Mark Sheldon is a reporter for MLB.com. Read his blog, Mark My Word, and follow him on Twitter @m_sheldon. This story was not subject to the approval of Major League Baseball or its clubs.