Defensive-minded Cozart contends for Gold Glove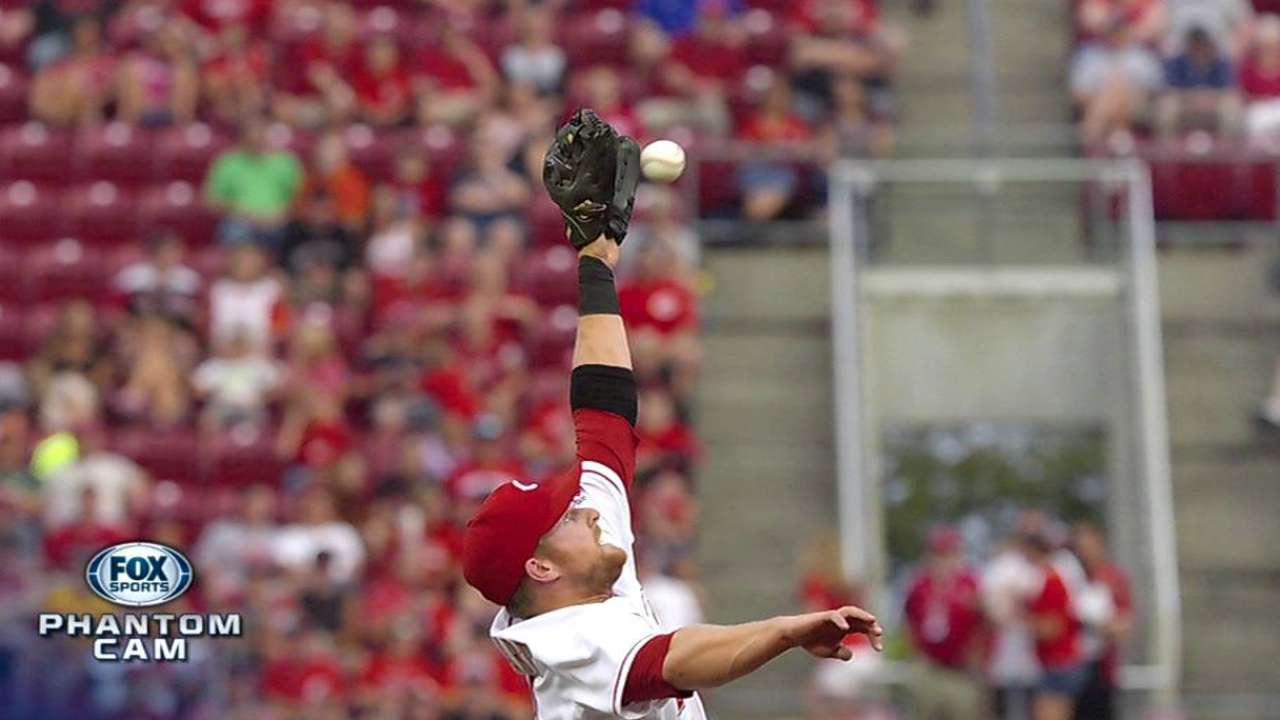 CINCINNATI -- Zack Cozart is enduring his worst offensive season since breaking into the Majors in 2011. After going 2-for-4 in Wednesday's 5-4 loss to the Red Sox, he's batting .224 with 21 extra-base hits and 27 RBIs after batting .254 with 30 doubles, 12 home runs and 63 RBIs in '13.
But that hasn't stopped Cozart from playing stellar defense at shortstop. According to fangraphs.com, he entered Wednesday leading all Major League shortstops in ultimate zone rating (12.6), defensive runs saved (20) and range runs (10) -- measuring how many runs above or below average a defensive player is based on how well he reaches balls hit in his vicinity.
Cozart's defense has been so good that he also entered Wednesday with the second-highest defensive WAR (2.79) of all Major League players, behind only Braves outfielder Jason Heyward (2.82).
If there's one individual award Cozart would like to earn, it's a National League Gold Glove Award.
"In a year where I haven't swung the bat the way I know I can, I kind of fall back on defense, and it's been important for me and this team, too," Cozart said. "So that would be obviously a really, really cool award."
Cozart grew up in Memphis, Tenn., and his father was a Cardinals fan, giving the young Cozart ample opportunity to watch one of the greatest defensive shortstops of all time.
"I used to love Ozzie Smith, and he won Gold Glove after Gold Glove, so I think that's where I get my mentality," Cozart said.
Cozart is keenly aware of some of his great predecessors at shortstop in Cincinnati, with Dave Concepcion and Hall of Famer Barry Larkin having occupied the position for the better part of four decades between them. Cozart also regularly gets texts from Hall of Famer and former Reds second baseman Joe Morgan, encouraging him and telling him how impressive his defense has been.
"It's kind of crazy, when you think about it," Cozart said. "[The Reds] went so long with two shortstops, and then Brandon [Phillips] has had a ridiculous amount [of shortstops to work with]. So for me to play with him and be on this team for a good period of time is pretty cool, knowing the rich history of the Reds."
If Cozart were to win a Gold Glove Award this season, he would be the first Reds shortstop to do so since Larkin in 1996.
Mark Sheldon is a reporter for MLB.com. Read his blog, Mark My Word, and follow him on Twitter @m_sheldon. Manny Randhawa is an associate reporter for MLB.com. This story was not subject to the approval of Major League Baseball or its clubs.