Stranding tall: Reds' starters are masters of escape
Experience, confidence, defense all factors in rotation's success this season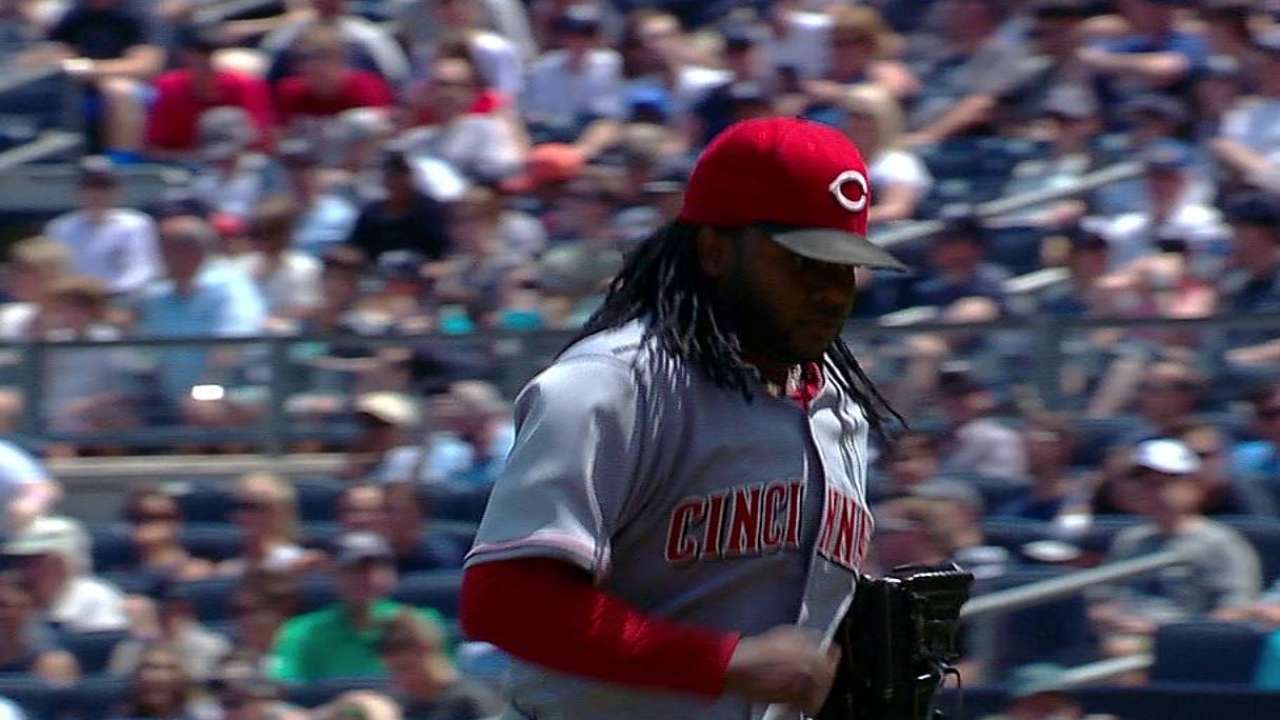 CINCINNATI -- With injuries to Joey Votto and Brandon Phillips, the Reds wouldn't be where they are -- five games back in the National League Central and just 2 1/2 games back in the race for the second NL Wild Card spot -- without one of the top starting rotations in the league.
Cincinnati's starters have posted a 3.22 ERA as a group, second in the Majors to the Dodgers' 3.17. A big reason why that figure is so low is their ability to get out of trouble when opponents reach base.
According to Fangraphs, Reds starters entered Monday leading the Majors in the percentage of runners left on base, having stranded 78.4 percent of them.
"Really outside of Alfredo [Simon], we've got guys that are pretty familiar with that territory," manager and former Reds pitching coach Bryan Price said. "You go up and down our rotation, with Mat Latos, Mike Leake, Johnny Cueto and Homer Bailey -- they've been doing this for a while."
Those four have a combined 26 years of starting experience, and Simon, who has been a reliever most of his career, is a seven-year veteran.
When it comes to dominating with runners on base, Cueto leads the pack. Opposing hitters are batting .193 against him with men on base, while they're batting .184 against him with runners in scoring position.
In the sixth inning of Sunday's 7-2 win over the Marlins, Cueto gave up back-to-back singles to Giancarlo Stanton and Casey McGehee with one out. He proceeded to strike out the next two batters, Garrett Jones and Marcell Ozuna, with a pair of 96 mph fastballs.
"It's confidence," Cueto said through translator Tomas Vera. "I just tell myself that sometimes I've got to get a ground ball for a double play or get a strikeout. But it's confidence in myself that really gets me out of those innings."
Simon and Cueto have nearly identical LOB rates, with Cueto stranding 82.1 percent of his runners and Simon leaving 81.2 percent.
"Especially when there are guys in scoring position, you want to throw the best pitches you've got," Simon said. "When I get in trouble, I pitch better because I want to keep the game close. When we get in trouble, we concentrate a little bit more; like the other day when I had bases loaded and nobody out, I just tried to pitch backwards to the hitter [in order to get a ground ball for a potential double play]."
When the ball is put in play, Reds starters have the luxury of relying on the best defense in the Majors behind them:
• Cincinnati entered Monday tied with the Orioles and Mariners for the best fielding percentage in baseball at .988.
• The Reds entered Monday leading the NL with the fewest errors committed (55) and led the Majors in most defensive runs saved (50).
• Partly a result of the stellar defense behind them, Cincinnati's starters lead the Majors in opponent's batting average on balls in play (BABIP) at .263.
Latos, who leads the starting staff with a .218 BABIP, credited the coaching staff as another factor.
"The other day, [David] Murphy hit a ball up the middle when we were playing Cleveland, and I thought it was a base hit, but they positioned Zack Cozart perfectly to make a play, or at least got him to where he had a chance to get a glove on the ball," Latos said. "So the coaching staff does its scouting reports and positions their players accordingly, and a lot of times we don't get beat because they have them in the right position."
Latos also explained how the unique styles of the pitchers in the rotation helps each with runners on base in his own way.
"When I first came over here, I learned from Johnny," Latos said of how to bear down with runners aboard. "The one thing that goes through my mind when I have guys in scoring position, it's kinda corny, but it's almost like a shark in the water; you have to be ready to attack the hitter with your best stuff like you smell the blood in the water.
"Homer's got unbelievable stuff, so he's not afraid to just go after you regardless of whether the bases are loaded with nobody out. And Leake's a ground-ball machine, so nine times out of 10, the kid's getting a double play and strands runners."
While the Reds await the return of Votto and Phillips to add some punch to an offense that has vacillated between feast and famine since the two were sidelined, they're trying to stay close enough in the NL Central and the NL Wild Card chases to make a run down the stretch. But if it weren't for the starting rotation, the club's window of opportunity might already have been closed.
"We are where we are today because of them," catcher/first baseman Brayan Pena said. "From the get-go, they've been our strength."
"As much as our season has been kind of a .500 season to this point, we've had starting pitching that's been about as good as anybody," Price said.
"We're playing in a good hitters ballpark, and we're pitching our [butts] off. These guys are pitching well, home or on the road, and there's a lot of special talent here."
Manny Randhawa is an associate reporter for MLB.com. This story was not subject to the approval of Major League Baseball or its clubs.