Reds officially welcome four into Hall of Fame
Griffey Jr., Parker, Oester and Beckley officially enshrined at gala before 1,500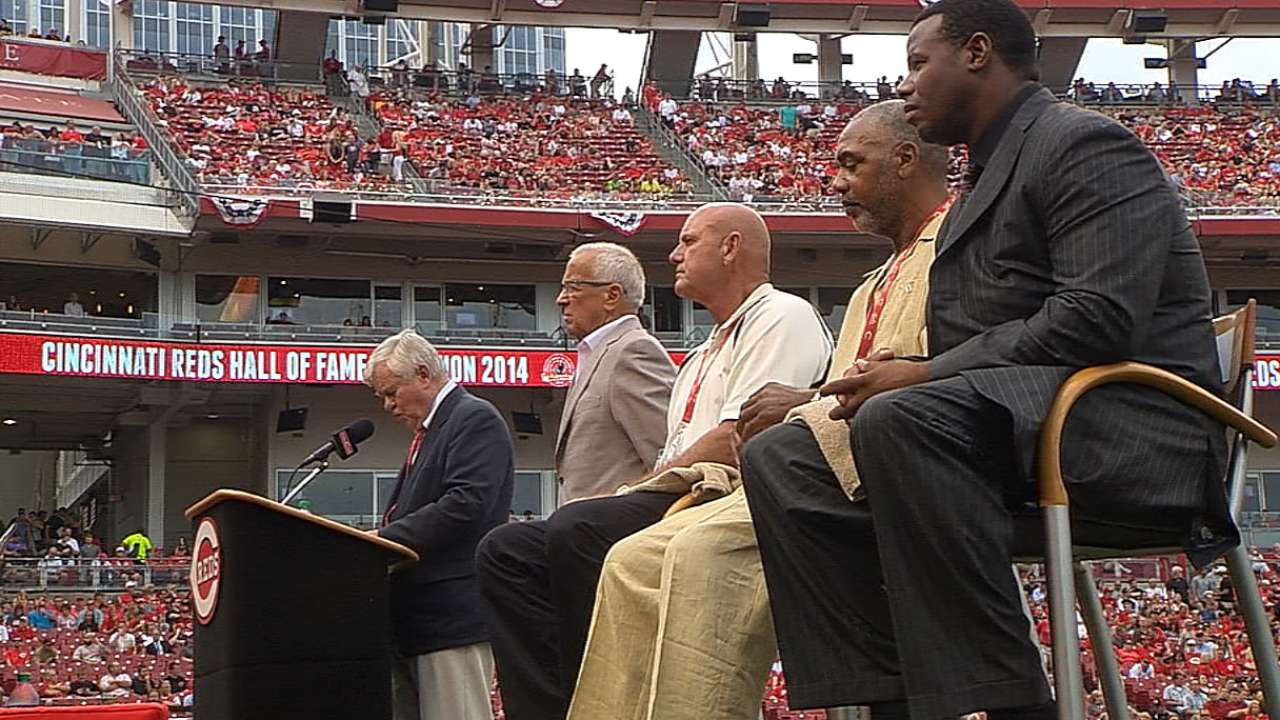 COVINGTON, Ky. -- Following a weekend filled with celebrations to honor the four players newly elected to the Reds' Hall of Fame, Ken Griffey Jr., Dave Parker, Ron Oester and 19th-century first baseman Jake Beckley were officially inducted at a star-studded gala across the river from Great American Ball Park on Sunday evening.
The gala, which is held every two years, set an attendance record with approximately 1,500 on hand, including 37 current Reds players, manager Bryan Price and his coaching staff, and 20 Reds Hall of Famers.
The Reds legends in attendance shared stories about the 2014 Induction Class -- each member of which grew up in the Queen City -- throughout the night.
Johnny Bench told of how Griffey and his brother Craig -- joining their father and former Reds outfielder Ken Griffey Sr. at the ballpark -- would steal items from Bench's locker in the Reds clubhouse when they were children.
"That's the one thing I didn't like about Ken Griffey Sr.," Bench joked. "He couldn't control his kids ... But we couldn't have three better players in the Reds Hall of Fame, and I'm so proud of what they've accomplished."
Griffey's coach from Cincinnati's Moeller High School, Mike Cameron, reflected on the phenom that he had under his tutelage before he became one of the greatest Major League players of all-time.
"Just a very natural, gifted athlete and baseball player," Cameron said of Griffey. "I can remember my wife would come to games and I would tell her, 'We have a pretty exceptional outfielder.' She looked at Griffey and said, 'He's going to make the Majors.' When she saw others, she had no clue, but with him, she knew."
Former Reds infielder and manager Tommy Helms fondly recalled memories of Oester, who played for Helms in 1988 and '89.
"He actually played like Pete Rose," Helms said. "He was a gamer. I'm just so happy for him to be in the Reds Hall of Fame, because he deserves it."
Former Reds outfielder Eric Davis had a special relationship with Parker, and he told the story of when he first met the man he affectionately calls "Pop" during Spring Training in 1984.
"When he came over here in 1984, I didn't know what to expect," Davis said. "I remember when we first got to Spring Training, I got there early and I finally got up the courage to introduce myself, and he cut me off and said, 'I know who you are, boy.' He really took me under his wing and taught me the fortitude of how to play the game. I don't have the words to describe how I feel about him, but he knows."
Dave Concepcion, Oester's double-play partner for many seasons, formally introduced him on stage.
"I was very, very lucky, coming up in baseball to have a great wife and great family and friends," Oester said in his remarks. "But to come up in the time I did with Johnny Bench, Joe Morgan, Pete Rose, Dave Concepcion, and [many others], it was incredible.
"If I didn't come up with guys like that, I wouldn't be here. I learned the game from them. Back then, you just sat down, listened and learned. Lee May and Tommy Helms were a big, big part of my career as coaches. I got to coach Ken Griffey Jr. and [Reds Hall of Famer] Sean Casey ... How much luckier can you get?"
Oester also had a message for the 2014 Reds in the audience.
"Keep pulling," he said. "To me, what you guys lack right now is a guy in the clubhouse who can lead. I talked to a guy in the clubhouse today who can lead: Todd Frazier. It's not only his performance on the field, but the type of person he is. And Todd, we need a world championship here in Cincinnati."
Parker prepared remarks that were played on video, in which he expressed his thankfulness to have played with so many other great stars, particularly the younger players he saw blossom before his eyes.
"I got an opportunity to play with younger guys like Eric Davis, Barry Larkin and Tom Browning," Parker said. "It was a thrill to watch these players develop into young stars. I hope my influence had something to do with that."
Following the conclusion of the video, Parker addressed the audience.
"I played the game of baseball with all my heart, with a lot of passion," he said. "And I'm really glad that I had the opportunity to come back and play at home."
Griffey Sr. introduced his son as the last inductee.
"My kids aren't thieves," he began, looking directly at Bench with a smile. "It's a real thrill for me to be up here to get a chance to introduce my son. He played the game with a grin, and that's the way I was in Cincinnati as well. It's the biggest thrill of my life to introduce him to the Reds Hall of Fame."
"I didn't know I was coming to my own roast," Griffey Jr. said jokingly. "This is a great honor. To have the Reds family bestow this honor upon me is unbelievable. ... I can't express how humbled I am. I grew up here, played on the same local baseball fields as the two other guys being inducted."
Junior expressed gratitude for all he was able to absorb as a youngster around Riverfront Stadium, watching one of the greatest teams in baseball history -- known as the Big Red Machine -- win back-to-back World Series titles in 1975 and '76.
"I've never played for an award. I've always played because I loved baseball," Griffey said. "Having gone to the games and watching how to play the game right, I learned from each and every one of you. And I appreciate that."
Following their remarks, the newest inductees into the Reds Hall of Fame were each presented with a ceremonial red jacket by the president of the team, Bob Castellini, symbolizing the honor that had just been bestowed upon them and their place in the history of baseball's oldest professional franchise.
Manny Randhawa is an associate reporter for MLB.com. This story was not subject to the approval of Major League Baseball or its clubs.