Pregame ceremony held for 2015 ASG logo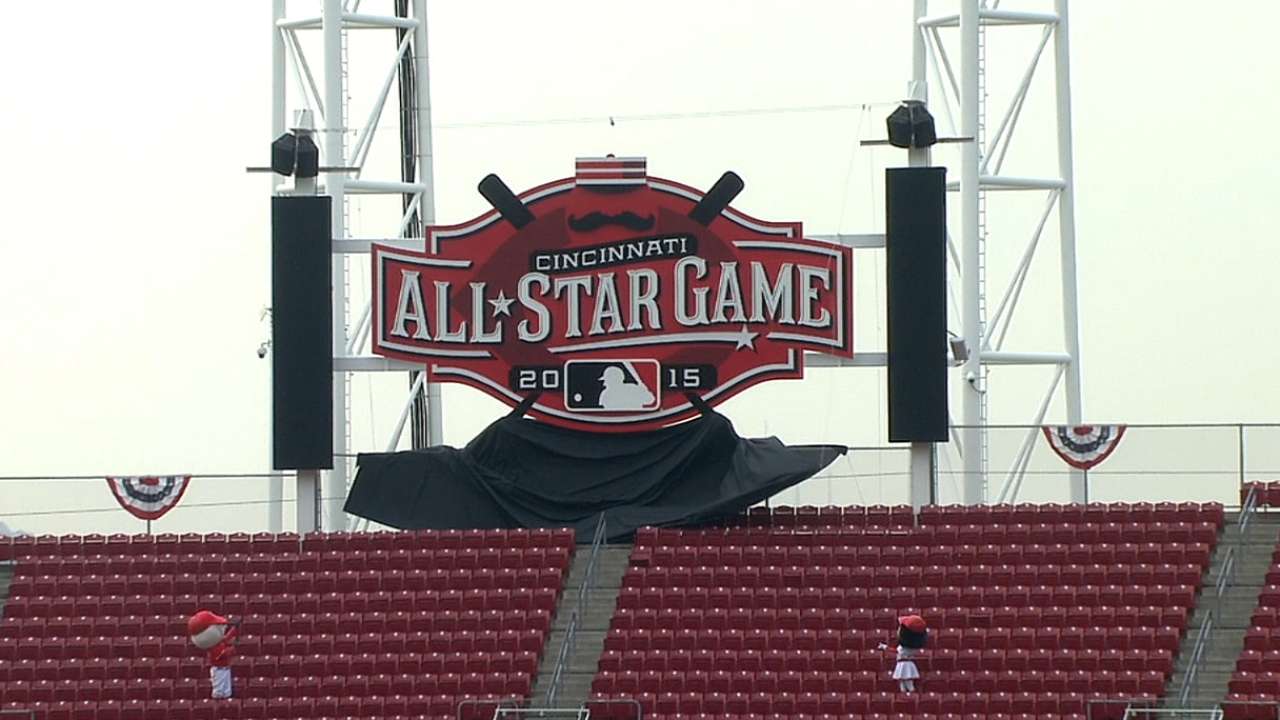 CINCINNATI -- The Reds unveiled the 2015 All-Star Game logo during a press conference on Wednesday morning at Great American Ball Park, and revealed a larger-scale logo placed above the right-field sundeck in a pregame ceremony before Wednesday's contest against the Indians.
The logo design was unveiled in the morning press conference by Reds owner Bob Castellini, MLB executive vice president of business Tim Brosnan, Cincinnati mayor John Cranley and Hamilton County Board of Commissioners Chris Monzel and Todd Portune. They were joined in the press conference by Reds president of baseball operations Walt Jocketty, manager Bryan Price and third baseman Todd Frazier.
"You see the renovations they're making," Frazier said of improvements to the ballpark, which opened in 2003. "And you can see during the regular games that it's a packed house, especially on the weekends. It's going to be really cool once it's set in stone. The excitement in this town is already building."
The right-field logo was unveiled after the initial presentation in the morning, and then presented once again by undraping the black covering over the logo for those in attendance at Wednesday night's game.
The design pays homage to the rich history of baseball in Cincinnati, with the Reds being the oldest franchise in Major League history and boasting some of the greatest players to ever take the diamond since the club's founding in 1869.
It prominently features the handlebar mustache and old-style square cap worn by the team's most traditional mascot, Mr. Redlegs. Beneath Mr. Redlegs' head is the Reds' classic "C," and two crossed bats appear in the background.
The 86th Midsummer Classic will be played at Great American Ball Park on July 14, 2015, and will be the first All-Star Game in Cincinnati since 1988 at Riverfront Stadium.
"I've only been to this ballpark once as a manager and maybe once as an analyst," said Cleveland manager Terry Francona. "It's new. It's really nice. It'll give Cincinnati an opportunity to show what kind of a baseball city it is. Unless you've played here, this is a wonderful place to play baseball. They love their team and they love baseball."
Manny Randhawa is an associate reporter for MLB.com. This story was not subject to the approval of Major League Baseball or its clubs.