MLB.com Columnist
Anthony Castrovince
Creativity key to Reds' hopes in NL Central race
Injuries and roster issues forcing club to find multiple ways to win games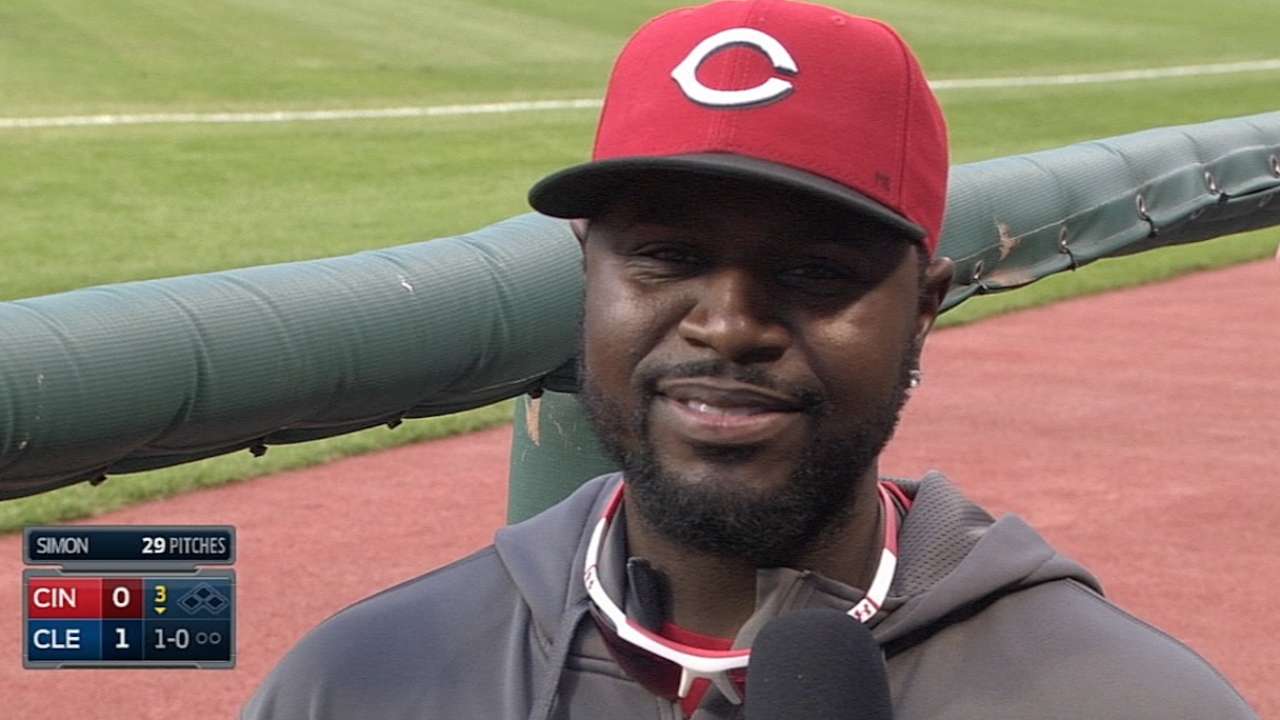 A few harsh words from Bryan Price, nine strong innings from Johnny Cueto and one extra baseball were, for one night at least, enough for the Reds to snap back to attention Tuesday in Cleveland.
But this is a club living on the fringes of the game's best division race, in which they are still amazingly just five back of the first-place Brewers despite posting a 6-12 record since the All-Star break.
And living this way with two key contributors -- Joey Votto (whose quad injury is best described as "abstract") and Brandon Phillips (who hopes to return from a thumb injury by month's end) -- on the disabled list is testing a rookie manager's creativity and patience.
"I'll have to do a lot of self-evaluation at the end of the year and take a good, hard look at it," Price said. "I've played a regular lineup as best I could, and, at other times, done matchup lineups. I've been doing that a little more than I anticipated, and I can't answer yet if those have been the best decisions or not."
Price's daily decisions have become a consistent source of curiosity. Backup catcher Brayan Pena, third baseman Todd Frazier and even right fielder Jay Bruce have all lent a hand at first base in Votto's absence, and that's a sentence Price neither expected nor hoped to read back in March.
Nor could he have imagined leaning so heavily on the light-hitting Ramon Santiago and Kris Negron so consistently in order to preserve some semblance of defensive stability.
One could make a half-hearted argument that an offense that so often sags might as well get a more prolonged look at German-born slugger Donald Lutz, who has started just four games since his July 11 return to the big leagues.
And hey, maybe the argument has merit. But the truth is that while Lutz did put up an encouraging late-inning at-bat Monday night in Cleveland by ripping a double off John Axford, he wasn't slugging much in Triple-A and is definitely in the big leagues ahead of schedule.
"Donald would be better off playing regularly [in the Minors]," Price said. "But with where we are with our 40-man …"
Yeah, the 40-man ain't pretty right now. Neither, in turn, is Cincinnati's offensive production, as the club is averaging a league-worst 2.78 runs per game in the second half. The Reds remain in the National League Central conversation because of their outstanding pitching staff, which itself will be the subject of a great "rob Peter to pay Paul" debate this offseason.
Cueto, Mat Latos and Mike Leake will all be eligible for free agency at the end of 2015, and a Reds team with nearly $90 million owed to 13 guys (as well as arbitration cases pending for Latos, Aroldis Chapman, Frazier and Devin Mesoraco) simply can't afford to re-sign them all. It could be a case in which president of baseball operations and general manager Walt Jocketty has to go younger in the rotation in order to add, say, a viable left-field bat. We saw how much established pitching commanded in terms of established offensive talent at the non-waiver Trade Deadline.
Actually, that's a crossroads Jocketty came to at the Deadline, as this injury-addled squad gave him little mathematical impetus to add on. But they remained just lively enough to avoid a major sell-off, much to the relief of the guys in the clubhouse.
"That would have been conceding, and I don't think we were in a position to do that," Bruce said. "But yeah, a two-game swing either way, and Walt could have been aggressive, one way or another."
Instead, what's left of the Reds will have to play aggressive yet smart ball down the stretch. Within the clubhouse, there is a resignation to the idea that there's really no telling when Votto, who has had two platelet-rich plasma injections to treat the injury to his left quadriceps, will be back, or at what level. It also remains to be seen how much Cincinnati will get out of Phillips' bat in the stretch run, as he's managed just a .704 OPS over the past two seasons.
What the Reds -- and Price -- cannot abide in the current circumstances is a lack of commitment, which is why the team's distracted play in a loss to the Indians on Monday night prompted perhaps Price's most meaningful managerial moment to date. One really could not imagine his predecessor, Dusty Baker, calling guys out for losing track of the number of outs or not properly fielding their positions. And it was, of course, Cincinnati's lackadaisical effort down the stretch last season that prompted Baker's dismissal.
Price's message seemed to get through.
"I was one of those guys who lost track of the outs," Bruce admitted. "I was at second base and ran on a popup. Fortunately it didn't hurt us and nothing happened, but it could have affected us. What if it had been a line drive?
"We have to do better. We have to play better. You can say all you want about how we've been hurt, but the bottom line is that in order to win, you have to play well and take advantage of the opportunities you have."
The Reds still have 22 games remaining against the Brewers, Cardinals and Pirates, which means they still have ample opportunity in the crazy NL Central.
But injuries have made them underdogs, and it's going to take continued creativity and commitment to overcome the odds.
Anthony Castrovince is a reporter for MLB.com. Read his columns and follow him on Twitter at @Castrovince. This story was not subject to the approval of Major League Baseball or its clubs.