Lutz gaining comfort in role as bench player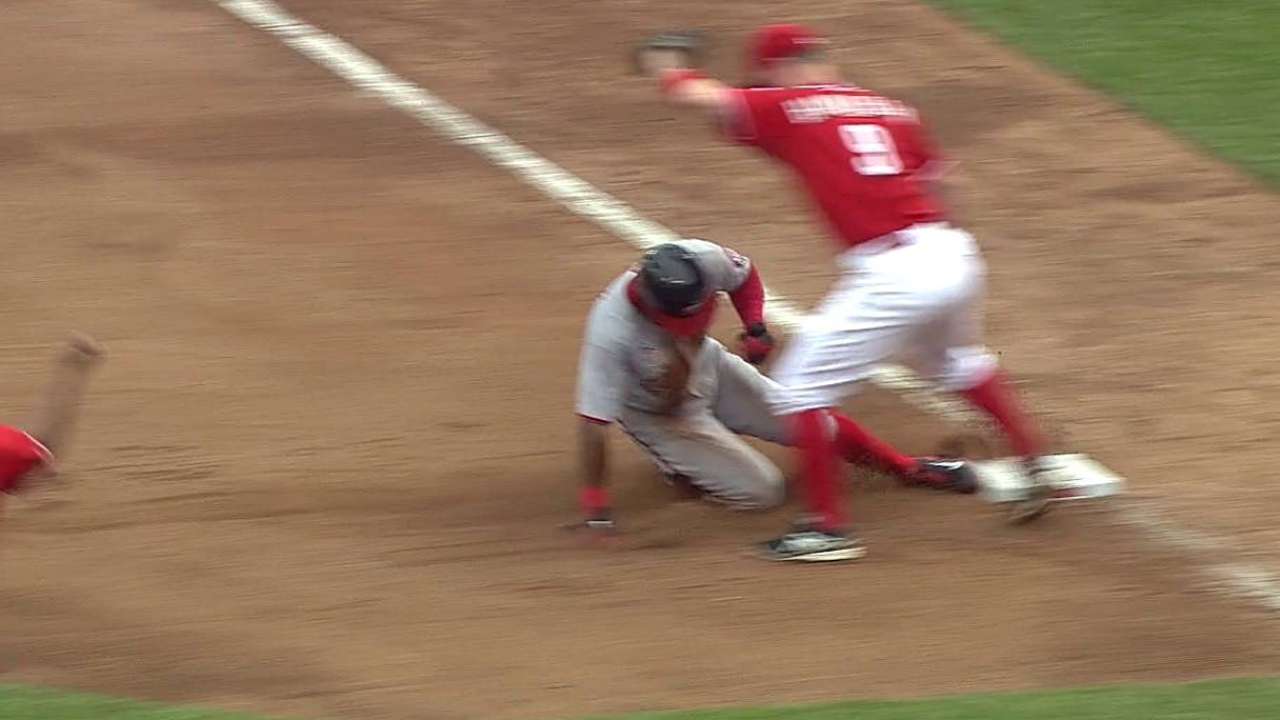 CLEVELAND -- Since serving as a heart-of-the-order hitter for much of his ascension through the Minor Leagues, infielder Donald Lutz has had to grow accustomed to his new role as an occasional bench bat with the Reds.
Lutz entered Tuesday 7-for-36 at the plate this season after batting .241 through 34 games last year. As he continues to log more time in the Majors, however, the difficulty of only seeing game action every three or four days is beginning to prove less hindering for the 25-year-old.
"It's not easy," Lutz said on Tuesday. "What I've learned from last year is you can't get too upset with yourself. Say you get one at-bat and then get a couple days off, you can't sit on that at-bat if it wasn't successful. I remember last year, I kind of took that approach of, 'I wish I could get another chance.'
"If you get that one chance, you got to be ready to perform. There's no time to think about, 'Is this right?'"
The Reds, for what it's worth, would much prefer to see Lutz gain more seasoning in an everyday role with Triple-A Louisville, as he has only logged 119 at-bats at that level in his professional career. But with the club's infield already dangerously thin with injuries to Joey Votto and Brandon Phillips, manager Bryan Price has had little flexibility in the matter.
"I think Donald would benefit from playing more regularly," Price said. "But right now where we are with our 40-man roster, he's better suited to come up here and give us that bench support."
Though his overall numbers may not jump off the page, Lutz has gone 3-for-7 as a pinch-hitter since being recalled in July, including a ninth-inning double off Indians reliever John Axford on Tuesday.
"I remember last year was a little tougher," Lutz said. "I learned a lot from that. I've become a much more [comfortable] hitter in that way, in that role they need me in right now. I feel more comfortable."
Alec Shirkey is an associate reporter for MLB.com. This story was not subject to the approval of Major League Baseball or its clubs.