Reds hope breakout game serves as springboard
Offense erupts for 15 hits Sunday following sluggish start to second half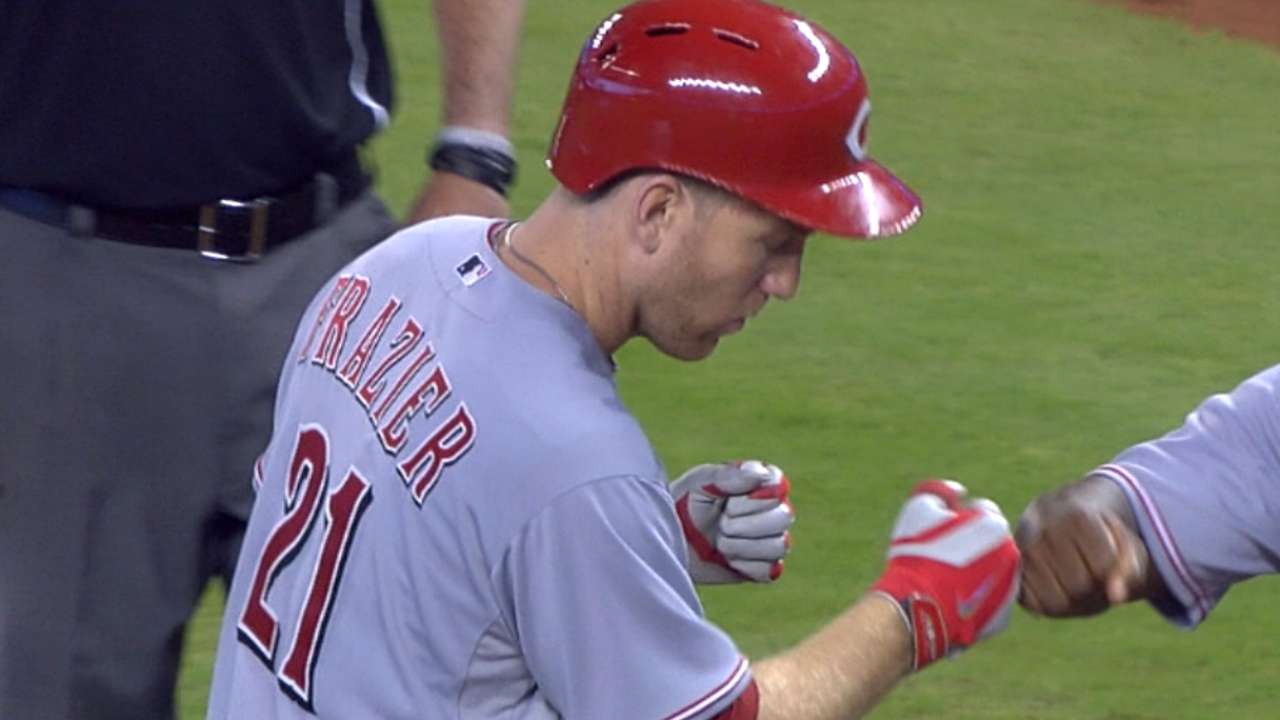 CLEVELAND -- After a rough beginning to their second half, the Reds are hoping Sunday's breakout at the plate can provide a spark for the scuffling offense.
In the absence of former National League MVP Joey Votto, who remains on the disabled list with a distal quad strain in his left knee, the Cincinnati lineup has batted a collective .206 since the All-Star break, including a .191 average with runners in scoring position.
Against the Marlins on Sunday, the Reds pushed across seven runs on 15 hits, four of which came from Todd Frazier. The All-Star third baseman is 6-for-13 in three August games after hitting at a .245 clip with a .284 on-base percentage in July.
"We came back [in the second half] and we just struggled," Frazier said. "Now we've got to look at the positives. We won three of the last four against a really good Marlins team, and you just got to keep going from there. Knowing the year we had so far, and we're only 4 1/2 games out [of the National League Central]. That's impressive to me."
The club has also begun to see a resurgence from outfielder Jay Bruce, who went 2-for-5 on Sunday and recorded a couple of key opposite-field hits during the Marlins' series.
"That's what I work on," Bruce said. "I have been flying open a little too early, my front side. It's not my goal to hit ground balls to left-center, but to stay to the big part of the field, to stay in the middle. When the opportunity's there to take a late pitch that way, hopefully it works.
"When I'm going well, I'm staying on my back side, really utilizing my legs, that's what happens."
With Frazier and Bruce among several Reds who are beginning to regain their offensive rhythm, manager Bryan Price believes his club -- which has pitched consistently for much of the season -- can again vault itself toward the top of the division standings.
"I don't know what happened in those four days off," Price said, "but we kind of lost our feel and approach and mojo. Looks like it's heading back in the right direction now."
Alec Shirkey is an associate reporter for MLB.com. This story was not subject to the approval of Major League Baseball or its clubs.