Diaz earning more responsibility in Reds' bullpen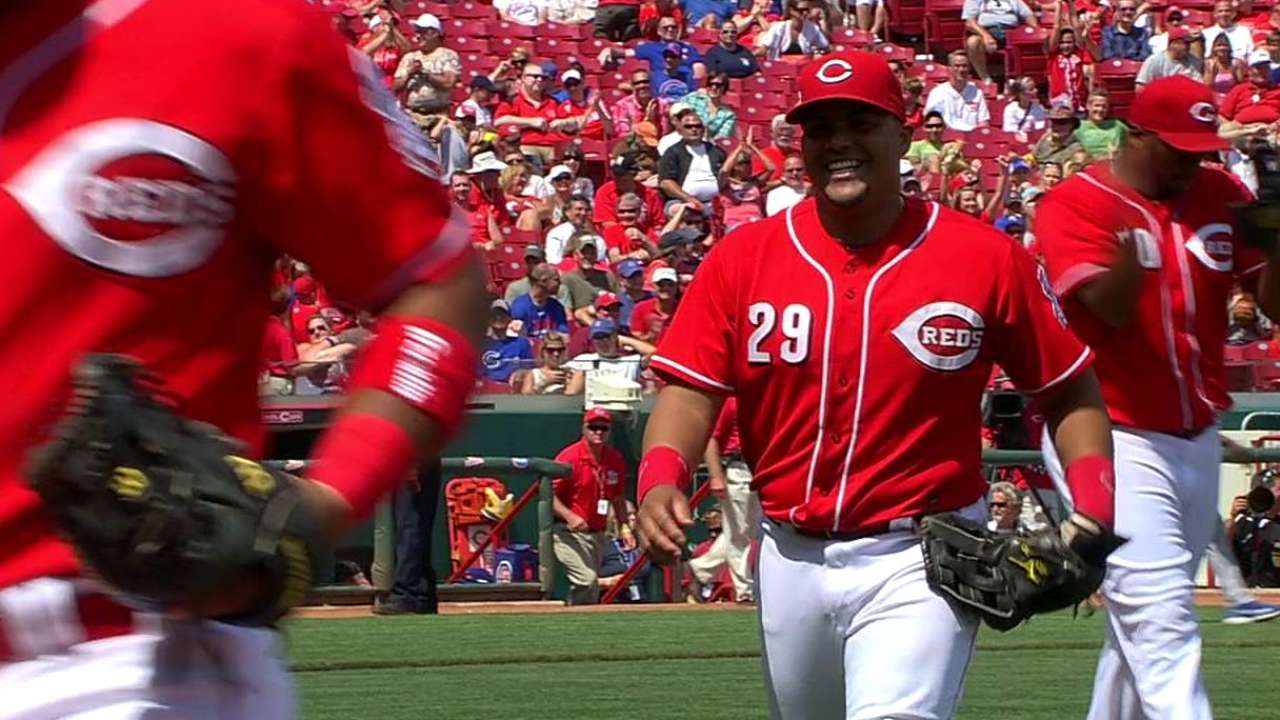 MIAMI -- The way Reds reliever Jumbo Diaz has pitched since his first callup following 12 seasons of Minor League baseball, it's easy to wonder why the 30-year-old wasn't promoted sooner.
Following a rocky debut vs. Toronto on June 20, Diaz entered Sunday with a 1.23 ERA with two earned runs allowed over 14 2/3 innings. On Saturday vs. the Marlins, the right-hander worked 1 2/3 scoreless innings before Cincinnati lost 2-1 in 10 innings.
"It's impressive. The thing that's unusual -- I think the stuff has always been there," Reds manager Bryan Price said on Sunday. "He's always had the velocity. There's nothing new to the velocity; he throws strikes. He has three pitches, he gets lefties out.
"I don't know if it was just the weight and they didn't want to put him out there at 340, 350 pounds or if he's just been more efficient with the weight loss. I know he ran some really good numbers for us before the weight loss -- noteworthy numbers -- but he was never really a topic of conversation whenever we talked about guys in our system at being options of helping us at this level."
Diaz dropped from 347 pounds to 278 pounds in the past offseason, a drop of 69 pounds.
As he's pitched well, Diaz has gotten to work in more and more high-profile situations. He was used Saturday to finish the eighth inning and work the ninth as Jonathan Broxton was unavailable. Price isn't afraid to use him to set up, or even to close, should Aroldis Chapman or Broxton not be available.
"The other part of it that has been impressive has been his demeanor," Price said. "Maybe that's just the maturity of a 30-year-old man with a lot of life experience in this game. He's embraced this opportunity. He's early to the ballpark, he's not cavalier about it. He's been very, very focused on maintaining his in-season shape and fitness. … We haven't been as consistent out of our bullpen in 2014 as we were in '12 and '13, so he's given us a real boost."
Mark Sheldon is a reporter for MLB.com. Read his blog, Mark My Word, and follow him on Twitter @m_sheldon. This story was not subject to the approval of Major League Baseball or its clubs.