Reds catchers learn early how to adhere to new rule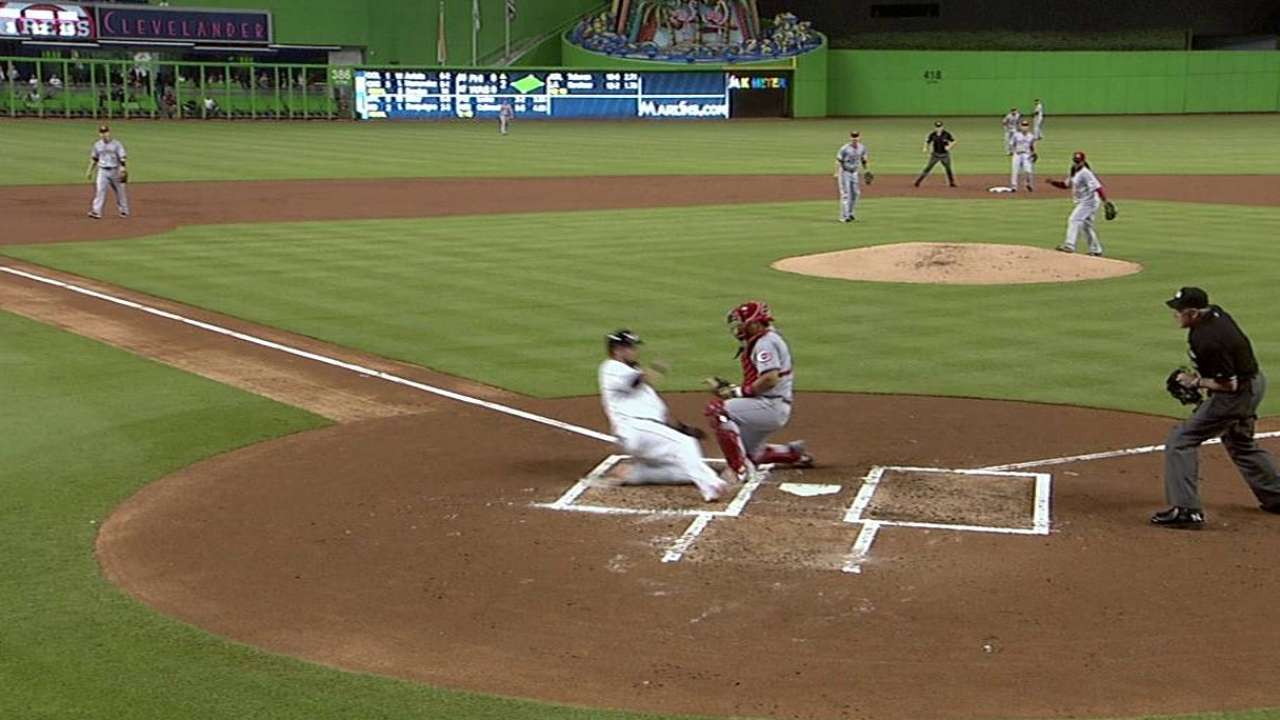 MIAMI -- Major League Baseball's new home-plate collision rule and a crew-chief review that helped give the Reds a 3-1 win over the Marlins on Thursday night remained a hot topic on Friday.
But while Reds manager Bryan Price and the team's catchers aren't fans of the new rule that prevent blocking a runner's path to the plate, they've been working since Spring Training on techniques that both adhere to it and make the tags. Catching coordinator Mike Stefanski has taken the teaching lead with both Devin Mesoraco and Brayan Pena.
"We're going to give them some room for them to slide or whatever they have to do," Pena said on Friday. "It's been working pretty good so far for us."
In the eighth inning, Marlins catcher Jeff Mathis was ruled in violation of Rule 7.13 for not giving Zack Cozart a lane to the plate as he tried to score on a sacrifice fly. After a review, the original out call by umpire Mike Winters was overturned, and Cozart scored the tying run before Cincinnati took a 3-1 victory.
Pena was involved in another play at the plate during the bottom of the first inning when Casey McGehee tried to score on a Garrett Jones single to center field. Billy Hamilton's throw to the plate was perfect and Pena legally stepped in and tagged McGehee out to end the inning.
The important element for the successful play was that Pena set himself in fair territory in front of the plate and between the chalk of the batters boxes. That's exactly how Stefanski teaches the Reds' catchers to be positioned.
"You've got to give the line of chalk," Stefanski said. "You put your outside foot right on the chalk, that gives them the lane. The problem is once the bad throw happens, you have to know how to move without the ball once the bad throw happens.
"We teach our guys that anything from right field, we're going to go with one hand, because 90 percent of those plays the guy is going to slide outside, so you need that long reach. Left field, center field, you can see the runner and go into the runner with two hands in a more fundamental tag."
On the later play Thursday, Mathis was set up with one foot in foul territory and one foot in fair territory to get Cozart.
"I tried to set my feet the right way, especially my left foot," Pena said. "That way I give the umpire a better look of my position. And I anticipate wherever that throw comes from. At the same time, I make sure the runner sees a clear shot to slide or do whatever he does. It's very important for me to set myself in the right position."
During Spring Training, MLB provided teams with video examples of the right way and wrong way to position catchers for plays at the plate. Stefanski took that video and began implementation immediately. Mesoraco and Pena work on it frequently during the regular season.
"As long as you stay in fair territory and the ball comes in your area, then you can do whatever you want," Stefanski said. "You can block it. As you catch it, you can fold anybody up once you have the ball. The old-school rules apply once you have the ball. You want to block the plate in that situation."
Mark Sheldon is a reporter for MLB.com. Read his blog, Mark My Word, and follow him on Twitter @m_sheldon. This story was not subject to the approval of Major League Baseball or its clubs.