Chapman turns up the heat against D-backs
Closer tops 100 mph on 15 pitches, including one at 104 and five at 103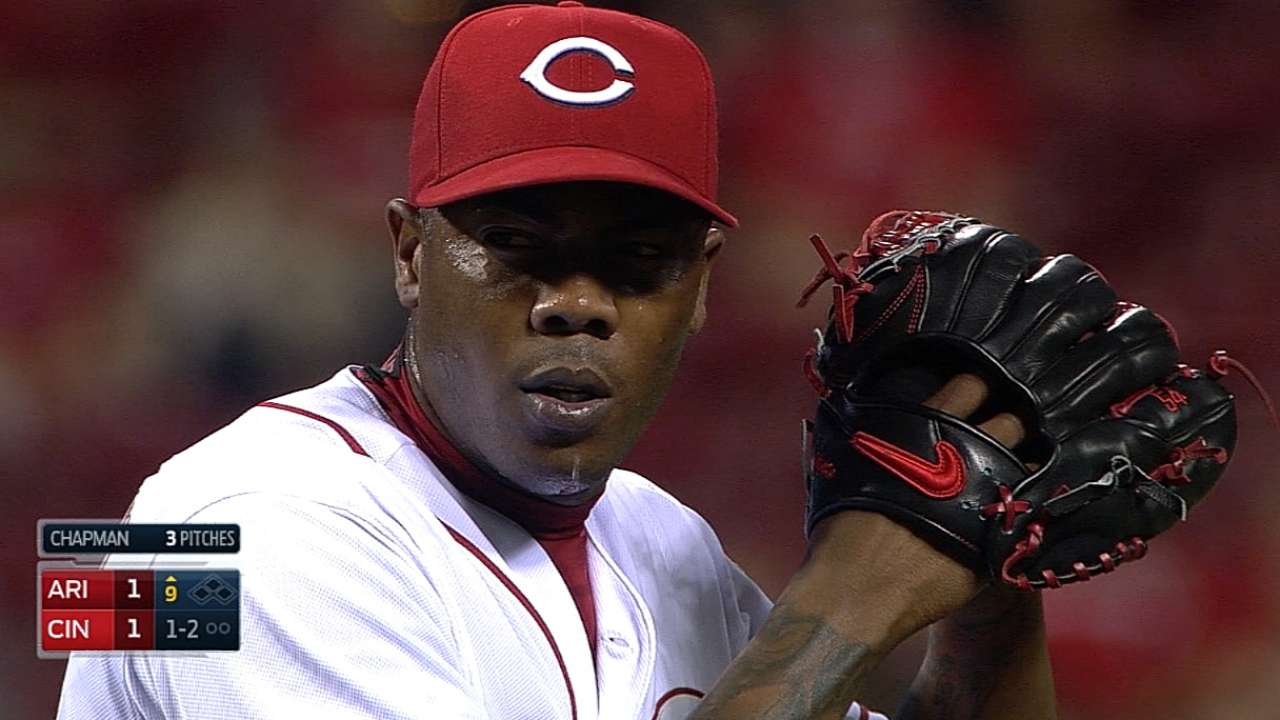 CINCINNATI -- Aroldis Chapman threatened his own record for fastest Major League pitch ever recorded -- 105.1 mph against the Padres on Sept. 24, 2010 -- in Monday night's 2-1, 15-inning loss to the D-backs at Great American Ball Park.
The flame-throwing closer came on to pitch the ninth inning with the game tied at 1 and went through the heart of Arizona's lineup, striking out the side. That he struck out all three batters he faced was nothing out of the ordinary for Chapman -- he's fanned the side nine times in 2014 -- but it was the manner in which he did so that was extraordinary.
• Chapman threw 20 pitches and 15 of them were fastballs.
• None of Chapman's fastballs were clocked at less than 101 mph per Pitch-f/x and the average speed of those pitches was 102 mph.
• Chapman hit 104 mph on a pitch to Paul Goldschmidt and hit 103 mph five times in the inning.
• Of the five non-fastball pitches Chapman threw, three were sliders and two were changeups. The sliders were 91, 92 and 90. The changeups were 91 and 90 mph.
• Chapman has now struck out 20 batters in 8 2/3 innings pitched in July; that's a strikeout-per-nine-innings ratio of 20.8. His strikeout-per-nine-innings ratio for the season is 18.4.
• In fanning Goldschmidt, who led off the frame, Chapman extended his Major League record for most consecutive relief appearances with a strikeout to 44, dating back to Aug. 21, 2013.
"It was nothing special, I was just pitching," Chapman said through translator Tomas Vera. "I can't tell you what was different or why [I was throwing even harder than usual]."
Goldschmidt wasn't aware just how hard Chapman was throwing to him when he was at the plate, but knew it was something unlike he'd ever seen before.
"What'd he hit, 104 tonight?" Goldschmidt asked after the game. "Yeah, as far as velocity it's probably the hardest [I've faced] by four miles an hour or so."
D-backs catcher Miguel Montero, Chapman's final strikeout victim, was not only trying to hit the fastball, but also thinking about what it would be like to catch it.
"I think I'd still like to face him instead of catching him, to be honest," Montero said. "You can see the reaction from [catcher Devin] Mesoraco. Every time he caught the ball he was like, 'Ah!' like he was in pain."
"He's an incredible athlete. Anything that he does doesn't really surprise me," Mesoraco said of Chapman. "He's just a special, special guy. It's unbelievable the way he can throw."
Chapman was rested after having last pitched on Saturday, though he earned a four-out save with that outing in the win over the Nationals, the fourth save of more than one inning in his career.
"With a couple days off, I felt loose, I felt better," Chapman said. "You're just pitching; you can't control how hard you throw."
That's a scary thought for opposing batters.
Manny Randhawa is an associate reporter for MLB.com. This story was not subject to the approval of Major League Baseball or its clubs.