Top to bottom, Reds keeping positive outlook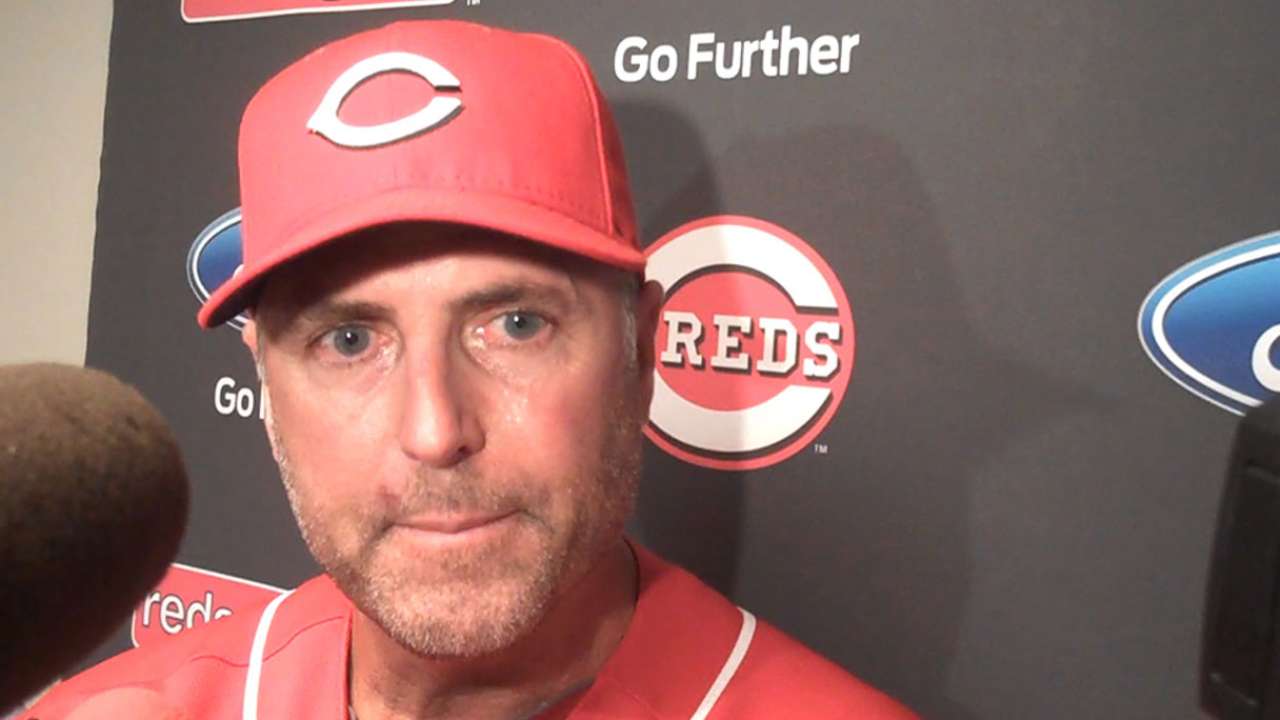 CINCINNATI -- It's not exactly a state secret that the Reds haven't played well since the All-Star break, and if it was, the seven-game losing streak they broke on Saturday was the ultimate telltale sign.
Reds manager Bryan Price has showed a mostly upbeat demeanor during the adversity. Price said that CEO Bob Castellini has also been positive with him during their recent conversations.
"I think he does a really nice job of coming down and integrating with the team and the staff," Price said on Monday. "I don't think it's always to do it as a motivator. He's been great; he's called me a few times to kind of encourage us all to keep our spirits up and know that it's going to turn, especially those first couple months when we started out slow and then here recently.
"You can't always be playing great baseball, and the baseball season is a long, enduring challenge. And when you struggle, it's typically for a period of time and not a collective season. So he's been terrific in how he's handled it, he hasn't put any undue pressures on me or the players or the staff."
That doesn't mean pressure isn't coming from within the clubhouse. Veteran second baseman/outfielder Skip Schumaker admitted that he's been among those pressing to try and help turn things around. Schumaker knows it's tough to stay optimistic when things are going all wrong lately.
"It's human nature. It's not fun coming into the clubhouse when you're losing," Schumaker said. "Nobody likes to lose around here. Everyone in the clubhouse is used to winning and being on a winning team. I feel like we have a bunch of winners on this team. I think it's a matter of time, but it's getting late. We need to start rolling and I don't think we're far off."
Starting with the D-backs series opener on Monday, each of the Reds' next 20 games are against opponents currently with a sub-.500 record. It's a good opportunity to reverse the recent trend and stay with the Brewers, Cardinals and Pirates in the National League Central race.
"Like we say, let's try and get two out of three and hopefully we can sneak a couple other wins in there and these next 20 games will be pretty big and we'll see," third baseman Todd Frazier said. "The other teams are playing some pretty good teams as well, and hopefully we'll gain some ground."
Mark Sheldon is a reporter for MLB.com. Read his blog, Mark My Word, and follow him on Twitter @m_sheldon. Manny Randhawa is an associate reporter for MLB.com. This story was not subject to the approval of Major League Baseball or its clubs.