Reds already preparing to host 2015 All-Star Game
Club learns from Twins' contingent, excited for Cincinnati to serve as host city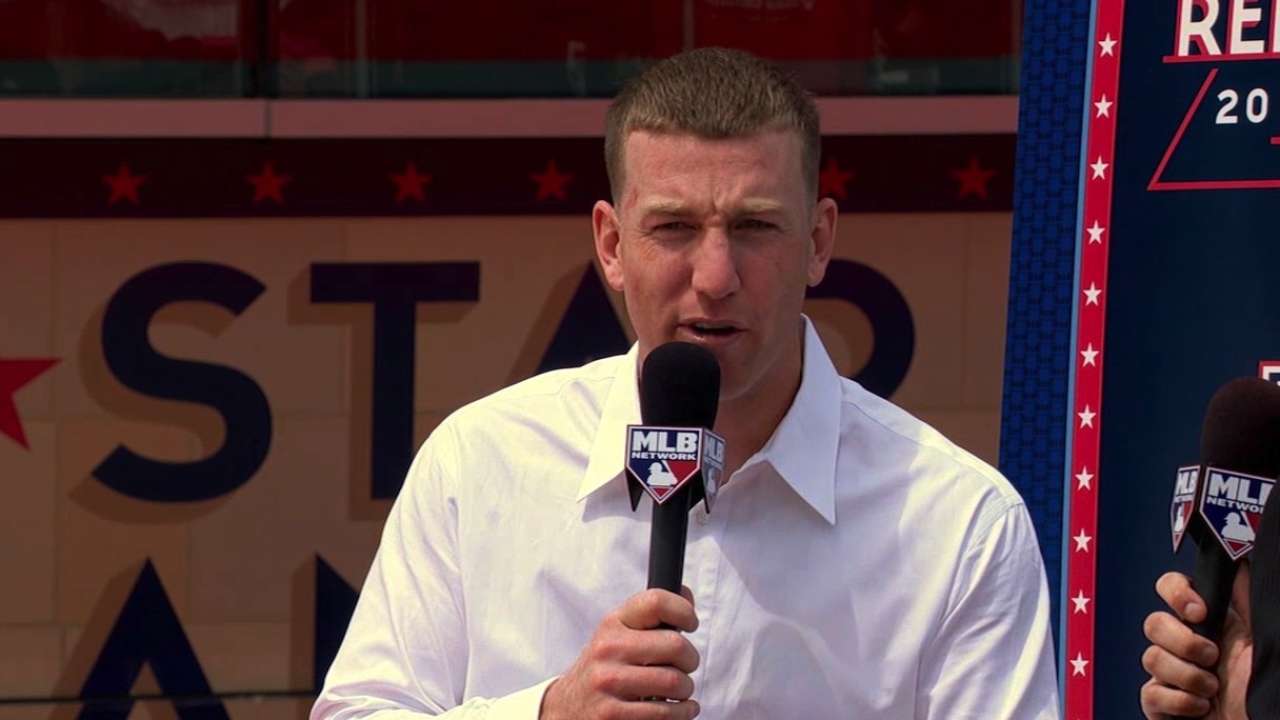 MINNEAPOLIS -- Having waited decades to host another All-Star Game, the Reds and Cincinnati have been preparing for it even before they knew another would come. That preparation has jumped multiple levels this week during the 2014 All-Star Game at Target Field.
Cincinnati, the next All-Star Game in July 2015 is all yours.
"I think we're more than ready," Reds chief operating officer Phil Castellini said.
The 86th edition -- at Great American Ball Park -- will be the fifth All-Star Game played in Cincinnati. It was previously held at Riverfront Stadium in 1970 and '88 and at Crosley Field in '38 and '53.
All-Star Games and their ancillary events have grown to an enormous scope since Cincinnati's last turn as host. In preparation for next year, the Reds had about 30 front-office staff members in Minneapolis -- including the ticketing department, corporate sales, media relations, security, ballpark operations and clubhouse personnel -- to watch, apprentice and take notes. People from the city of Cincinnati and civic groups also came along.
"We've been benchmarking All-Star Games since 2006," Castellini said. "We've usually sent about six people a year to the host cities. We've been keeping an eye on it but this year, the people that are here are actually participating and even working some of the events."
Designed and built for approximately $280 million, Great American Ball Park debuted on March 31, 2003, with a 10-1 Reds loss to the Pirates. The cozy-dimensioned facility, built next door to its Riverfront Stadium predecessor, now has a seating capacity for 42,319 fans.
"We've been joking that finally, Great American 'small park' is perfect for something -- that's the Home Run Derby," Castellini said.
Located on the banks of the Ohio River in downtown Cincinnati, Great American Ball Park has evolved since CEO Bob Castellini and his investors group purchased the Reds in 2006. There are more attractions on the concourses, and a riverboat-styled deck was installed over the batters' eye in center field. Before next season, Castellini said, there will be more cosmetic improvements and full renovations of some of the lower-level concession stands and a redone Riverfront Club.
As the Reds have improved on the field in recent years, GABP has also upped its profile with postseason play there in 2010 and '12. It was also featured on a national baseball stage previously when the Reds hosted the Civil Rights Game in 2009 and '10.
Bob Castellini lobbied hard for Cincinnati to get another Midsummer Classic, and he finally succeeded when MLB awarded the city the game on Jan. 23, 2013.
"It was one of my easier decisions," Commissioner Bud Selig said Tuesday. "It's a great ballpark, a great organization, great history. It was just the right place to go and the right time to do it. They've done a great job here and they'll do a great job in Cincinnati."
Besides the game itself, there will be the All-Star Futures Game, the Home Run Derby and a celebrity softball game. But like it has been this week in the Twin Cities, plenty of All-Star-related activity happens away from the stadium.
Near Target Field for several days was an All-Star block party, and a Red Carpet Parade was held before Tuesday's game. In St. Paul on Sunday, a 5K "color run" was held that drew thousands of participants. There was also a free concert at TCF Bank Stadium at the University of Minnesota.
"Things like the Fan Fest and all the stuff in the ballpark, that's a pretty well-oiled machine," Phil Castellini said. "The league is in charge of it. What makes the All-Star Game unique in each hosting city is where they do the other events -- the galas, the block parties and things before the jewel event at the stadium. That's really what sets it apart. It's a real opportunity to showcase the city to do some of the parties like they've done here."
Of high importance to the Reds were the many community-related initiatives and legacy projects orchestrated by the Twins and MLB that covered brand new youth field dedications, Boys & Girls Club renovations, military programs, hospital visits and an event at the local Ronald McDonald House.
"We've seen firsthand the phenomenal growth of the legacy projects program that the Twins have taken to new heights," Reds Community Fund executive director Charley Frank said. "It's been a dizzying array of community investment that speaks to the incredible legacy of this event beyond the actual week of the game itself. I know Cincinnati, the Reds and the Castellinis will put their own unique stamp on it."
In recent years, development has boomed in and around Cincinnati -- none more pronounced than The Banks district just outside of GABP with an array of bars and restaurants, and the soon-to-be completed Smale Riverfront Park. Blocks away, a redesigned Fountain Square is often buzzing with activity and the redeveloped Over-the-Rhine neighborhood a few more blocks north has blossomed.
"I think they're ready," Reds third baseman and 2014 All-Star Todd Frazier said. "They're building more stuff -- restaurants, places to hang out and to enjoy with the family. It's a family-friendly ballpark, and it should be very exciting to have it there next year."
All of the places -- inside and outside of Great American Ball Park -- should be bustling one year from now.
"What I particularly like having seen these in a bunch of markets in a bunch of sizes, I like the All-Star Game in smaller markets because it is the thing going on -- not one of many things going on," Phil Castellini said. "We're going to have the town looking good."
Mark Sheldon is a reporter for MLB.com. Read his blog, Mark My Word, and follow him on Twitter @m_sheldon. This story was not subject to the approval of Major League Baseball or its clubs.