After beaning, Chapman 'blessed' to be an All-Star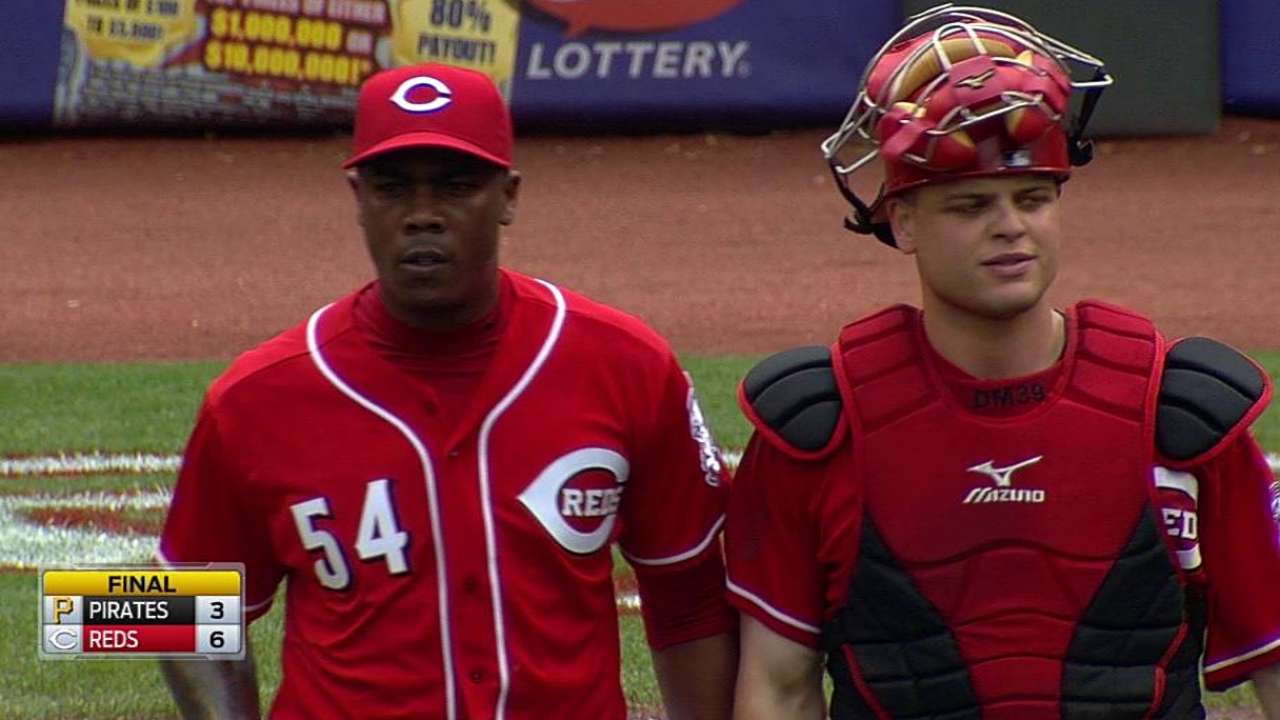 MINNEAPOLIS -- On March 19 during Spring Training, the notion of returning to the All-Star Game was way down on the list of priorities for Reds closer Aroldis Chapman.
It was that evening in the sixth inning against the Royals in Surprise, Ariz., when Salvador Perez hit a 99-mph Chapman fastball up the middle. In an instant, the ball struck Chapman in the front of his face. He was removed by a stretcher and taken to a hospital.
The following day, Chapman had surgery to repair fractures above his left eye and nose. By May 11, he already was off the disabled list and back pitching in the Majors. On Monday, he was at Target Field with the National League All-Star team.
"In March in Spring Training, I was laying down in that bed, I thought it was going to be really hard to be here," Chapman said Monday via translator Tomas Vera. "I'm here. Being here makes me feel happy. I feel really blessed to be in this situation right now. I thought I wasn't going to be able to do it."
Not only is Chapman an All-Star for the third straight year after being elected on the player ballot, but in 29 appearances, he has a 2.12 ERA with 21 saves in 23 chances. Over 29 2/3 innings, he has an astounding 60 strikeouts with just 10 walks. He set a Major League record among relievers with at least one strikeout in his last 41 games dating back to last season. Of his last 16 batters, he has struck out 13 with only one ball being put into play.
In his past years, Chapman's triple-digit fastball would be the answer to why he is so dominant. This year, hitters have more trouble to deal with. Since coming back, Chapman has developed a 90-mph changeup and a slider as plus secondary pitches.
"People always asked me before if I was only a hard thrower, a flamethrower," Chapman said. "I started using the [other] pitches and showed the people that I can use them and they know who I am. I feel I'm using my pitches and knowing how to locate me pitches has helped me to be here."
Mark Sheldon is a reporter for MLB.com. Read his blog, Mark My Word, and follow him on Twitter @m_sheldon. This story was not subject to the approval of Major League Baseball or its clubs.