Hamilton racking up hits with relaxed approach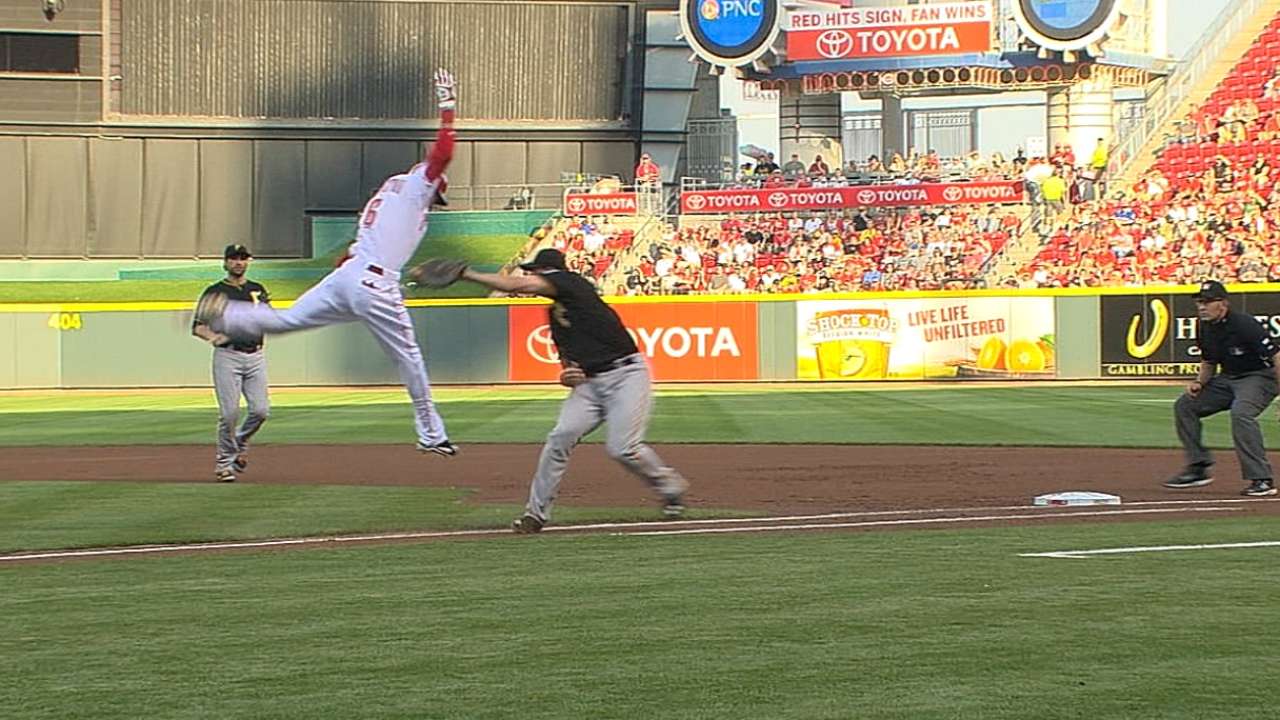 CINCINNATI -- With a 3-for-5 performance in Friday night's 6-5 win over the Pirates, center fielder Billy Hamilton became the third Reds rookie over the past 60 years to register 10 games of at least three hits in his first 88 games of a season, joining Tommy Helms in 1966 and Joey Votto in 2008 (both also achieved the feat in 88 games).
"Me and [Ryan Ludwick] say every day, 'Just get one hit a game,' and then once you get another one, mentally it's about getting hits," Hamilton said. "You want to come in there relaxed in big situations. It's always good to get a hit in the first at-bat, and then you can be more relaxed during the rest of the game and definitely get more hits. It's all about that first at-bat."
In the all-important first at-bat in Friday's game, Hamilton got a hit, but one that couldn't have been more unorthodox. He pushed a bunt single up the first-base line against Pittsburgh starter Jeff Locke, which was fielded by first baseman Gaby Sanchez, who moved toward Hamilton for the tag.
But Hamilton made an incredibly acrobatic leap away from Sanchez, causing him to whiff on the tag. As Sanchez recovered his footing and tried to dive back toward the base for another tag attempt, Hamilton beat him there with a head-first slide.
"I've never done it before [on any level]," Hamilton said of the move. "It was a football move. It's just instincts, you've just got to make something happen. So the first thing that came to mind was just to juke."
Hamilton got the first walk-off hit of his career in Tuesday's 6-5 comeback win in the nightcap of a day-night doubleheader against the Cubs, and he said that as he finds himself in more pressure-filled situations while the season progresses, he is able to relax and produce better results at the plate.
"Coming through the Minor Leagues, I've always struggled with men in scoring position," Hamilton said. "I would think too much. And this year, coming up, I just told myself I'm going to relax and not worry about trying to do too much."
Not worrying about doing too much has led to Hamilton doing much more offensively than anyone could have hoped, particularly with men in scoring position. Going into Friday's game, he was batting .357 (25-for-70) in those situations.
Manny Randhawa is an associate reporter for MLB.com. This story was not subject to the approval of Major League Baseball or its clubs.