Latos exits Reds' victory with back spasms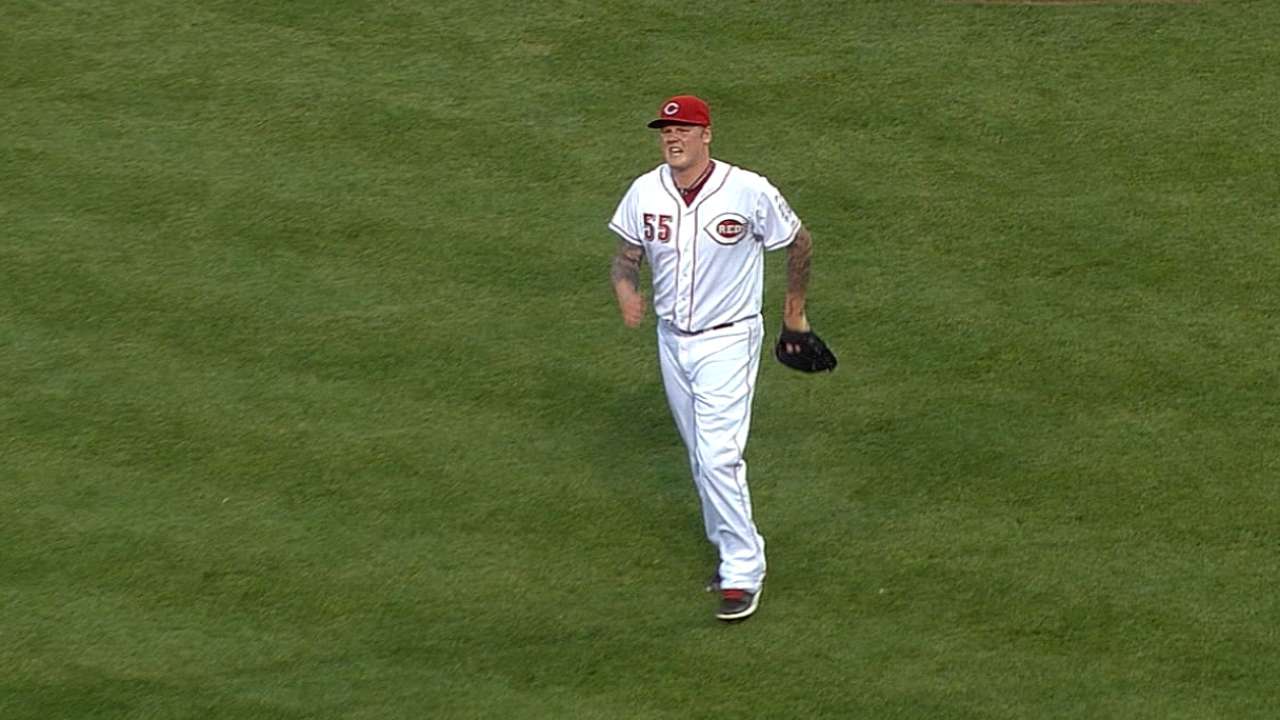 CINCINNATI -- Reds starter Mat Latos left Friday's 6-5 win over the Pirates with low back spasms after completing five innings.
He allowed four runs (three earned) on three hits, walking two and striking out five. All four runs he surrendered came via the home run, as he gave up a solo shot to Andrew McCutchen before a three-run homer to Pedro Alvarez in the fourth inning, which gave the Pirates a 4-1 lead.
Latos appeared to be in discomfort on multiple occasions after delivering pitches before leaving the game.
Once during the third inning and again in the fifth, Reds manager Bryan Price and a trainer went out to check on Latos. Both times, after conferring with the right-hander, Price and the trainer went back to the dugout and Latos carried on.
"After I got the first batter of the third inning, I was just standing on the mound and I got in my ready position like I do to receive the sign, and it just felt like as if [Zack] Cozart or [Ramon] Santiago came up behind me and stabbed me in my lower back. It was real tight."
Latos said he didn't want to come out of the game because the bullpen had to throw so many innings earlier in the week; in Thursday's 6-4, 12-inning loss to the Cubs alone, Cincinnati used six relievers.
"We called up a couple guys to help the bullpen, but me coming out in the third inning wasn't something I was wanting to do," Latos said. "So we came [into the clubhouse] and had the chiropractor adjust me a little bit, and it calmed down for a little bit. It gave me two more innings."
Latos' status was uncertain after the game, and when he was asked how he would be handling the injury moving forward, he said, "I'll do what they tell me to do."
After Latos completed the fifth, Mike Leake pinch-hit for him in the bottom of the frame. Carlos Contreras, called up from Triple-A earlier Friday, relieved Latos in the sixth.
Latos said he didn't feel the pain after running out a sacrifice-bunt attempt that resulted in a 2-6-3 double play in the second, but that it might have been a precursor to the pain he felt later.
"That's a possibility," Latos said. "I could have jarred it trying to beat out that bunt, but I didn't feel it going into the dugout, didn't feel it coming out of the dugout [after that] or during warmups."
Manny Randhawa is an associate reporter for MLB.com. This story was not subject to the approval of Major League Baseball or its clubs.