Phillips has surgery; Schumaker on concussion DL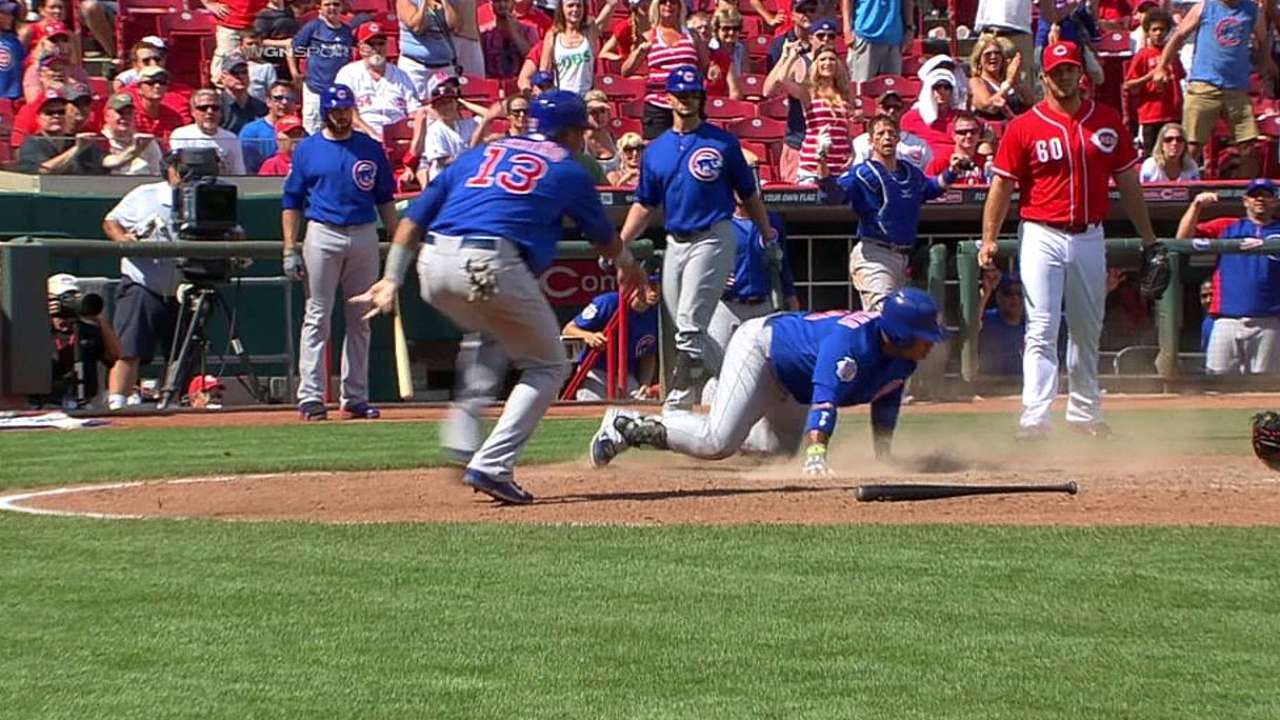 CINCINNATI -- Second baseman Brandon Phillips underwent surgery on his left thumb Friday after tearing a ligament on a diving attempt in the Reds' 4-1 win over the Cubs on Wednesday. He was placed on the 15-day disabled list and is expected to be out approximately six weeks.
"I haven't spoken with Dr. [Timothy] Kremchek yet, but I've gotten correspondence from him, and it sounds like it went as well as it could possibly go, and it wasn't necessarily more extensive than they anticipated," manager Bryan Price said. "So we hope that the protocols will be what we expect, and not longer."
Phillips, who bent his thumb on his glove hand back as he dove for an Anthony Rizzo ground ball in the eighth inning, was batting .272 with 19 doubles, seven home runs and 40 RBIs as the regular No. 3 or 4 hitter in the lineup. He also played his usual stellar defense at second base.
One of the two players Price was planning on utilizing at second base in Phillips' absence, Skip Schumaker, was placed on the seven-day concussion disabled list prior to Friday's series opener against the Pirates. Outfielder/first baseman Donald Lutz was recalled from Triple-A Louisville and was with the team for Friday's game.
Schumaker slammed hard into the right-field wall trying to make a leaping catch of Luis Valbuena's eventual two-run, go-ahead triple in the 12th inning of Thursday's 6-4 loss to the Cubs.
"When he came out of it, he said, 'I feel good,' and the thing is, [the medical staff] figured that with that type of an impact they should do a concussion test," Price said. "And there were some signs. And we followed up with a doctor, and it just seemed to make sense, because there were signs and we couldn't guarantee that it would be a two- or three-day deal."
"I hit [the wall] hard, yeah," Schumaker said a couple of hours before it was announced that he had been placed on the concussion DL. "I feel like I played maybe in an NFL game today. I hit it harder than I wanted to, but when you're going after the ball, you don't really care where the fence is, especially when it's two outs and [the 12th inning]. ... I'm OK. I'll be all right."
Schumaker had been struggling at the plate, batting .118 (2-for-17) over his previous five games.
Price's other option at second base, Ramon Santiago, had already been seeing increased playing time due to the injury of Joey Votto necessitating Todd Frazier's move to first base on occasion, and he's played well. Going into Friday's contest, he was batting .353 (6-for-17) with two doubles and three RBIs over his previous five games.
"We're going to miss Brandon, no doubt about that," Santiago said. "But nobody's going to feel sorry for us. We're going to go out there with what we've got right here. Now we've just got to come out every day and help the team win ballgames."
Manny Randhawa is an associate reporter for MLB.com. This story was not subject to the approval of Major League Baseball or its clubs.