Bailey expects to make next start after break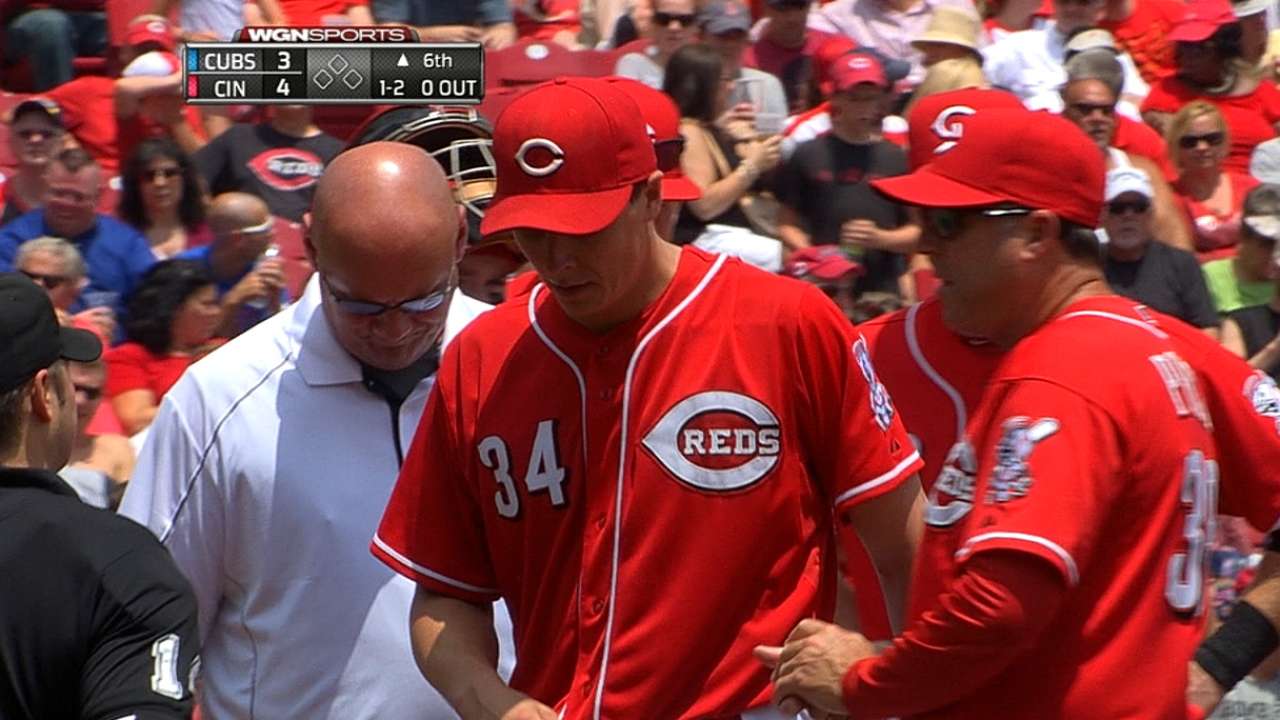 CINCINNATI -- Homer Bailey's early exit in Thursday's 6-4, 12-inning loss to the Cubs gave the already injury-weary Reds a scare, but his slightly strained right knee does not appear as though it will cause him to miss his next start after the All-Star break.
Bailey said before Friday's series opener with the Pirates that his knee felt a little better, and he's optimistic about making that next start.
"It's still pretty sore, it's not like I can go and run a marathon or anything," Bailey said. "Stuff like that happens and kind of puts a big scare into you with the amount of pain that was there, but a little bit of rest, a little bit of R &R is going to go a long way."
Bailey said he felt the pain initially on the pitch before the halted delivery that prompted him to come out. When he tried to make his next delivery, he felt it again and stopped mid-motion before releasing the pitch to Starlin Castro in the sixth inning.
"My cleats kind of got hung up in the rubber and in the dirt and stuff," Bailey said of the first pitch. "When I tried to throw the next one, it was just out of the question."
As far as which spot in the rotation he anticipates being in after the All-Star break, Bailey said he's not planning that far ahead yet.
"I'm going to do whatever the medical staff and [manager Bryan Price] recommend," he said.
"I've thought about [the rotation post-All-Star break] but there are a few things that could hinder that," Price said. "Certainly the All-Star selections and so on, and so forth; certainly at some point in time maybe [Alfredo] Simon is a consideration if one of these Sunday starters is not able to pitch or they have to tweak the roster at all. And the Homer injury.
"So we'll probably have a better idea as we get into Sunday and we have a better idea on the final All-Star setup -- and to make sure that Homer is coming along, and there's nothing to suggest that he won't be ready coming out of the All-Star break."
Manny Randhawa is an associate reporter for MLB.com. This story was not subject to the approval of Major League Baseball or its clubs.