Phillips to have thumb surgery, out six weeks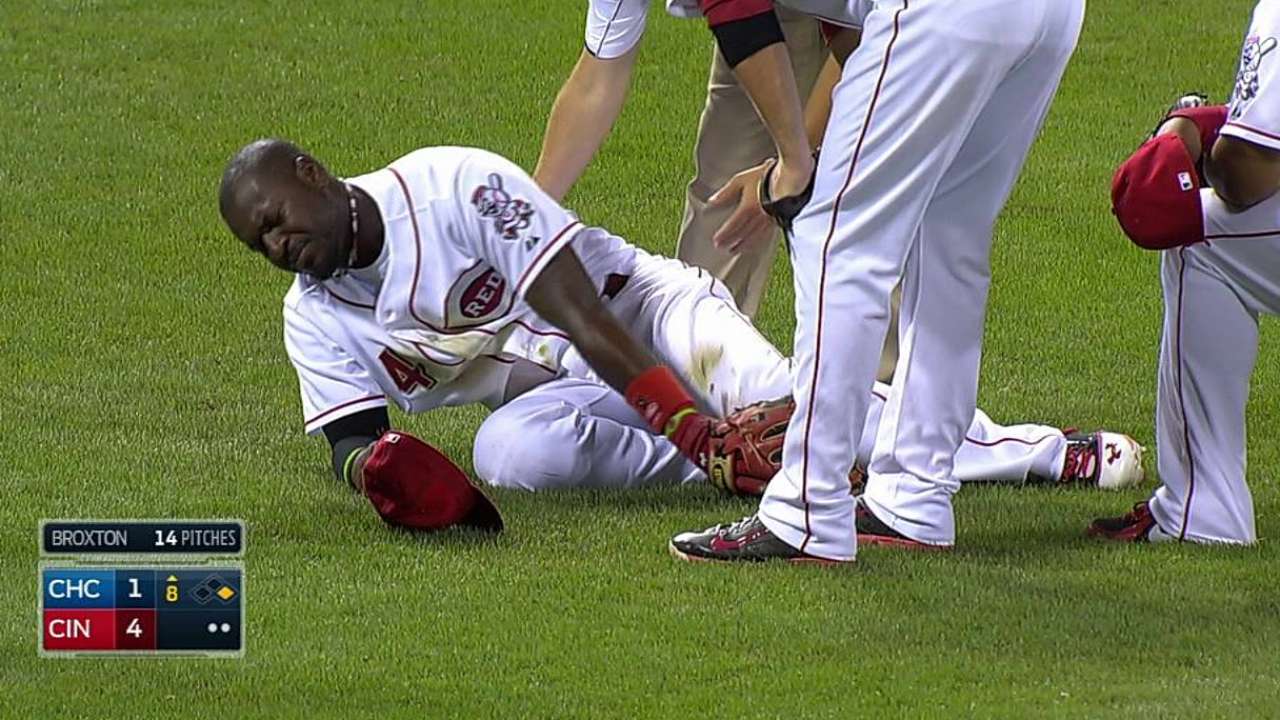 CINCINNATI -- Brandon Phillips has a torn ligament in his left thumb and will undergo surgery on Friday. He will be out approximately six weeks.
Phillips bent his thumb on his glove hand backwards when the glove got stuck in the grass as he tried to make a diving grab of an Anthony Rizzo grounder in the eighth inning on Wednesday.
"It's a big blow," manager Bryan Price said after Thursday's 6-4, 12-inning loss to the Cubs. "He's a great two-way player, and he's been really consistent for us offensively. He's sat in the middle of the order, mostly No. 3 and 4 most of the year. And he's been spectacular defensively. So definitely a blow, but we'll weather it."
Shortstop Zack Cozart is very familiar with Phillips' abilities and will miss his double-play partner.
"It's tough," Cozart said. "I knew he was hurt pretty bad, because when he makes a play like that, he wants to finish it, and he couldn't even turn over and throw the ball. I thought it was his shoulder at first, but it could be even worse. ... It's tough. Me and Brandon, we play pretty well up the middle together, so it's going to be tough for our team."
The news on Phillips comes on the heels of Cincinnati placing first baseman Joey Votto on the disabled list for the second time this season due to a left quad injury.
"I feel like we've had our team healthy for about a month this whole year," said Skip Schumaker. "So it's been a tough road, no doubt about it. It just hasn't been one guy; it's been about three or four superstars. Brandon's a big part of this organization and a big part of this team. He's our three-hole hitter; that's tough to replace. ... I haven't seen anything like this, it's crazy. It seems like right when we get someone back, another guy goes down. They're freak injuries. Brandon's dove a million times. Why now? It's just kind of weird."
Price said he was planning to use a combination of Schumaker and Ramon Santiago to fill the void at second. He also didn't rule out the potential of getting help via a trade as the July 31 non-waiver Trade Deadline approaches.
"It's possible," Price said of acquiring help from outside the organization. "That'll be a conversation I'm sure we'll be talking about for some time now, and it's the month for considering what we can do to help our club. … Schumaker will be all over the place; he certainly will play some second. I'm very, very comfortable with Santiago at those three infield spots [other than first]. So they'll both see a lot of playing time, I'm sure."
Center fielder Billy Hamilton also exited Wednesday's game in the eighth. He had a tight left hamstring and was listed as day to day, but pinch-hit in the 10th inning on Thursday, flying out to right.
Manny Randhawa is an associate reporter for MLB.com. This story was not subject to the approval of Major League Baseball or its clubs.