Hamilton, Phillips exit with injuries vs. Cubs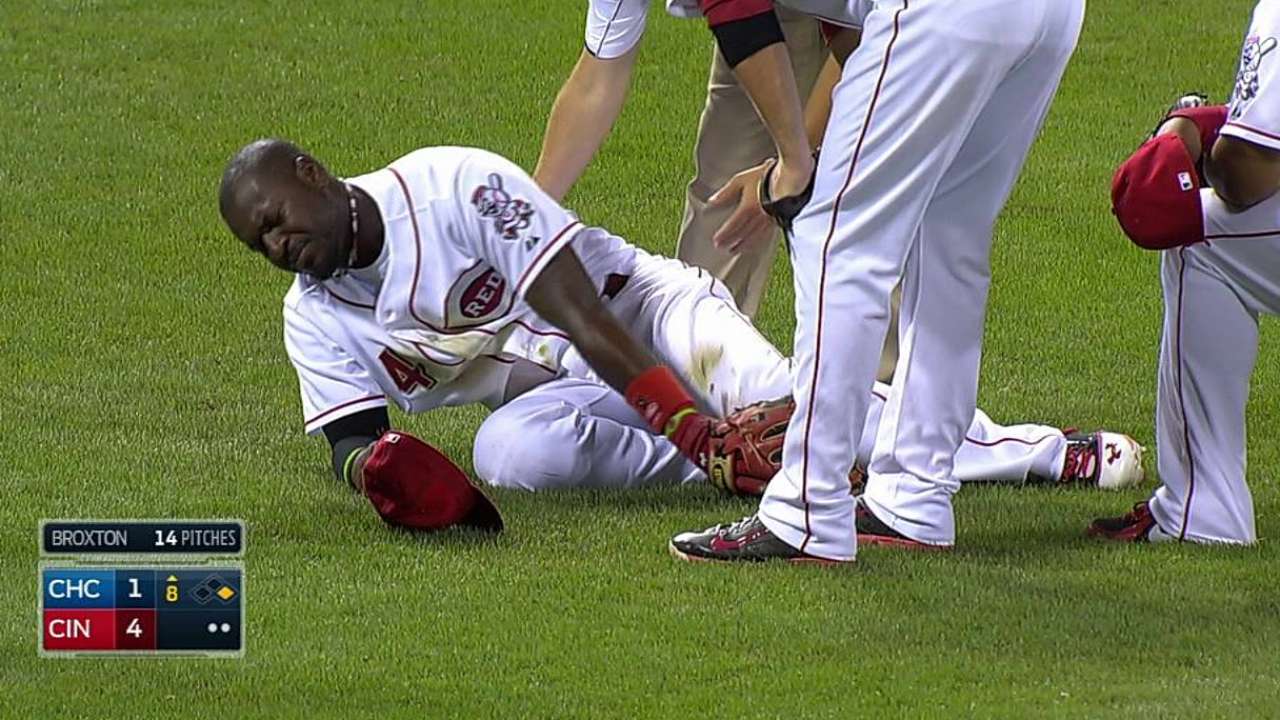 CINCINNATI -- Reds center fielder Billy Hamilton and second baseman Brandon Phillips both left Wednesday night's 4-1 victory against the Cubs with injuries.
Hamilton departed because of a tight left hamstring after he hit a foul ball during his seventh-inning at-bat. He was replaced in center field by Chris Heisey in the eighth.
"It's been going on for a couple of days," Hamilton said. "I'm feeling it the same way as when I hurt it in Spring Training. I felt it a little bit on the slide [during a stolen-base attempt in the third inning]. And then on the triple [in the fifth] I felt it again, but it's just something where I don't want to tell nobody about it.
"And then in that last at-bat when I was swinging right-handed, I stepped down and it pulled on me a little bit. And then I hit the ball and started running, that's when I felt it the most."
Hamilton said it's a day-to-day situation with the hamstring and he would see how he felt on Thursday morning before the series finale against Chicago.
"I think that's what happens when you get sprinters out there; he's so sinewy and there's not a lot of fat on him," manager Bryan Price said. "He's going to be that guy who's always going to be aware of being loose and limber and staying as loose as he can."
Phillips left in the eighth inning after spraining his left thumb while making a diving effort on a ground ball hit by Cubs first baseman Anthony Rizzo. X-rays on Phillips' thumb were negative.
Rizzo hit the ball in the hole between first and second, and Phillips dove to his left, snared it and rolled over to make the throw, which wasn't in time. As he rolled over, Phillips hurt his thumb as his glove jammed into the ground during the play.
Ramon Santiago replaced Phillips after moving from third to second base, and All-Star Todd Frazier came in the game to play third.
After the game, Phillips was wearing a brace on his left thumb.
"He expected when he was laying out for that glove to just slide on the grass and it ended up where it stuck and kind of jammed on him and rolled that wrist and bent the thumb back," Price said. "I think with the sprain, it certainly can be more significant than we believe that it is at this time. But right now the initial signs are that hopefully it's not a brutal injury and that we can have him back sooner than later."
With first baseman Joey Votto already on the disabled list with a strained left quad, the Reds can ill afford serious injuries to key players such as Hamilton and Phillips.
"It makes it better that we're playing well because these guys are going to get a day and need the rest," Jay Bruce said. "Both Brandon and Billy are very big parts of the wheel we call the Reds here. We have to make sure they are healthy. We already lost Joey, obviously. Hopefully that is short and sweet as well. I'm hoping for the best."
Mark Sheldon is a reporter for MLB.com. Read his blog, Mark My Word, and follow him on Twitter @m_sheldon. Manny Randhawa is an associate reporter for MLB.com. This story was not subject to the approval of Major League Baseball or its clubs.