Reds' bench starting to make its mark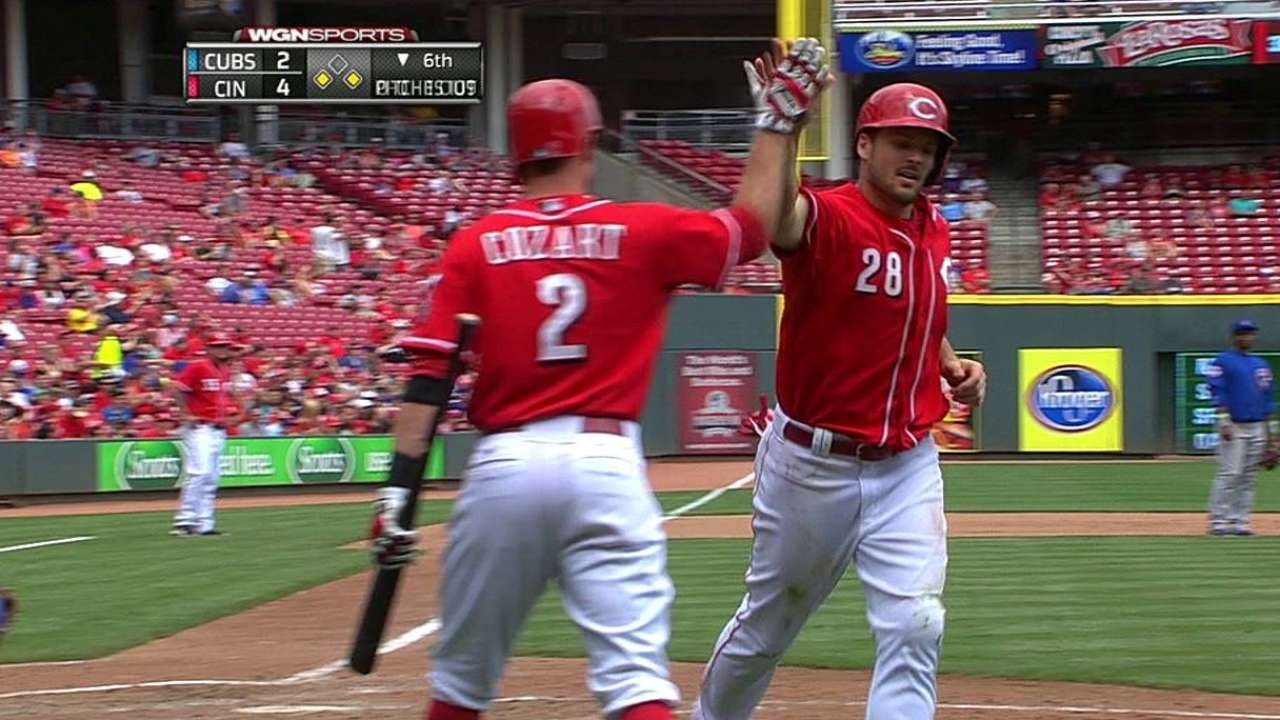 CINCINNATI -- In the early part of the season, the Reds' bench was often underused and at times did not produce the desired results. Neither point could be made lately, however.
With Joey Votto on the disabled list and a doubleheader on Tuesday, reserve players have been needed more than ever by the Reds. And they've answered the bell.
Ramon Santiago, who started a game for the fourth day in a row when he played third base in place of Todd Frazier, went 3-for-4 in Game 2 of the doubleheader, a 6-5 win for Cincinnati over the Cubs. Chris Heisey was 3-for-3 in Game 1, while outfielder Skip Schumaker came into Wednesday's game 5-for-13 on the homestand and hitting .341 since June 15.
"It is a goal of mine to try to utilize the entire bench as much as I could this year, and I haven't done a great job of that," manager Bryan Price said on Wednesday. "I would like to have Chris Heisey and Ramon Santiago have more playing time and more at-bats at this point in time, and they don't. But the time is here now, it's definitely going to happen now, for sure. And if [Tuesday is] an indicator, they're certainly both ready to contribute significantly."
Santiago came in with 31 games played and 65 at-bats, by far the lowest among players that have been with the club all season. He has done his best to be ready.
"I always take extra hitting. I've killed the machine," Santiago said. "I get a lot of extra work with [hitting coach] Don Long to stay sharp. You never know when a situation is going to come and you'll be in there. You have to catch up with the other guys playing every day. Preparation is very important. Playing or not playing, I take my groundballs at third base, shortstop and second base. I take 25-30 minutes of groundballs every day. That's my cardio."
Schumaker believes a good bench is an important facet for a good team.
"The teams that I've been on that have won have always had strong benches," Schumaker said. Guys are going to get hurt, that's the nature of the game. With the platoon situation we have in the outfield, there are a lot of guys that could be playing every day that aren't and you haven't heard a peep out of any one of them. And that's just the sign of a good team. That's when you know you're winning, and everyone's on the same page, and that's a good feeling."
Mark Sheldon is a reporter for MLB.com. Read his blog, Mark My Word, and follow him on Twitter @m_sheldon. Manny Randhawa is an associate reporter for MLB.com. This story was not subject to the approval of Major League Baseball or its clubs.