Nasty Boys see championship potential in Reds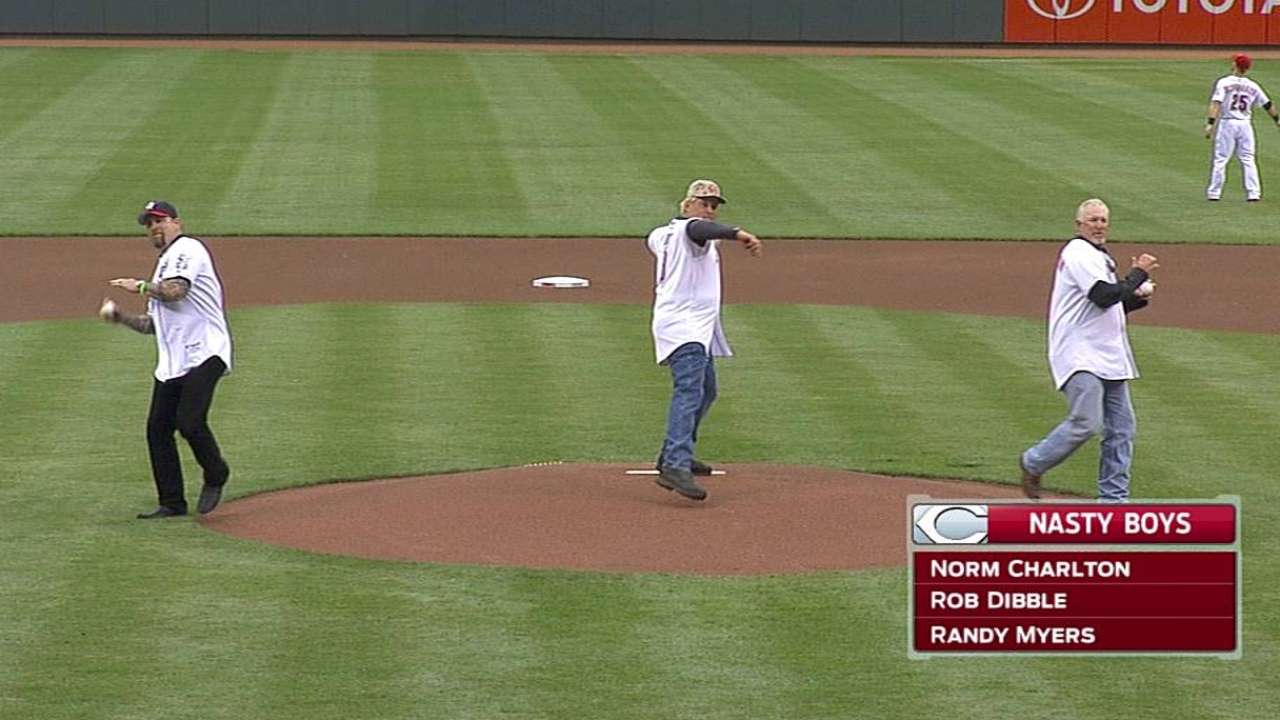 CINCINNATI -- The Nasty Boys were back in Cincinnati on Monday.
Rob Dibble, Norm Charlton and Randy Myers, the trio of relievers that became a staple in the Reds' bullpen and helped Cincinnati to the 1990 World Series championship, were at Great American Ball Park to throw out the first pitch before the Reds opened a five-game series with the Cubs.
"It's a great baseball town and they have great facilities here so it's always a pleasure to come back," Myers said.
The three former All-Star relievers, members of the last Reds club to win a World Series, see a lot of potential in the current roster to compete for another championship, but say health will be key.
"I like them a lot," Dibble said. "I mean, you've got Johnny Cueto, [Mat] Latos, [Mike] Leake, they've got three frontline guys that can go up against anybody. Then you've got one of the best bullpens in the National League, so you start from there. Try to get them enough runs, try to get the starters deep into games.
"But you've gotta have Joey Votto in the middle of that lineup; he just changes the complexion of a game. When he's not in the lineup, as three ex-pitchers, we'd love to face that lineup without Votto in there."
Charlton said when comparing the current bullpen to that of the championship relief corps of the 1990 team, the current club needs another piece.
"They're missing another guy," Charlton said. "They need a third dominant guy. It was pretty nice if Randy had to take a day off, then Dibbs was next in line to close a game. If something happened to both of them, then I was next in line to close a game. … On a daily basis, you rarely ended up running up against a Reds team that didn't have somebody to close the game. They could run into that situation.
"But they have the talent to win it. They have the talent and they have the coaching staff, they've just got to get healthy."
Manny Randhawa is an associate reporter for MLB.com. Teddy Cahill is a reporter for MLB.com. Follow him on Twitter at @tedcahill. This story was not subject to the approval of Major League Baseball or its clubs.