Bruce starts pair of impressive relays to catch runners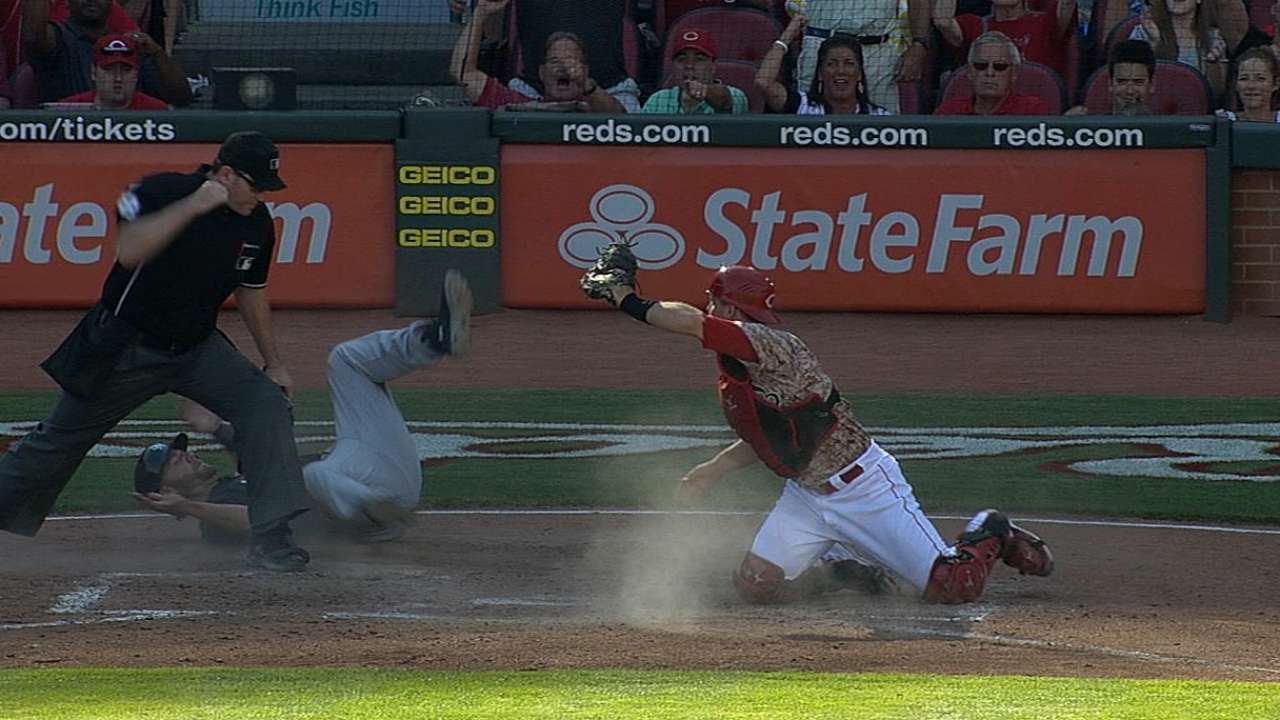 CINCINNATI -- In Saturday's 1-0 loss to the Brewers at Great American Ball Park, the Reds' league-leading defense was on display in the sixth and seventh innings, when Jay Bruce began two relays that ended in outs at home plate.
With Aramis Ramirez at first and two outs in the sixth, Khris Davis hit a double off the wall in right field. Bruce tracked it down and fired to shortstop Zack Cozart as Ramirez rounded third and headed for the plate. Cozart made the relay throw to nail Ramirez and end the inning, preserving a one-run deficit.
Then in the following frame, the same scenario unfolded. With Mark Reynolds on first and two down, Scooter Gennett hit a sharp one-hopper past Joey Votto at first and down the right-field line. Bruce fielded it and threw to second baseman Brandon Phillips, who made a perfect relay throw to Devin Mesoraco at home plate to get Reynolds trying to score.
It marked the second time this season a Reds outfielder began two relays that resulted in outs at home in the same game. Billy Hamilton accomplished the feat against the Phillies on June 7. The two relays started by Hamilton on June 7 also occurred in the sixth and seventh innings, were both on doubles, and both also resulted in the third out of the inning.
Hamilton fielded a double by Philadelphia's Domonic Brown in the sixth inning of that game and began a relay that got Marlon Byrd at the plate. Then in the seventh, Hamilton fielded a Chase Utley double and started a chain that cut down Carlos Ruiz at home.
Three of Bruce's four assists this season have come against the Brewers and his last game with multiple assists came on July 8, 2013, also against the Brewers. Bruce and Hamilton are tied for most outfield assists (four) on the Reds this season.
"They were both with two outs, so you know the third-base coach is going to send him in that situation," Mesoraco said. "I felt like they weren't super fast guys at third base, so I definitely thought we had a chance going into it."
Milwaukee manager Ron Roenicke didn't regret sending his runners in those situations.
"You have to do it. It's going to be tough to score runs, going to be tough to put together a lot of hits in a row off of Bailey, and I think when you get the opportunity, you make them have to make a great play. And they did …They're not like they're blowing us up easy. They're close."
"I just try and do my job," Bruce said. "I'm just happy to assist there, and our infielders are some of, if not the best, in the league defensively overall. We take a lot of pride in our defense, and we were able to keep runs off the board."
Mark Sheldon is a reporter for MLB.com. Read his blog, Mark My Word, and follow him on Twitter @m_sheldon. Manny Randhawa is an associate reporter for MLB.com. This story was not subject to the approval of Major League Baseball or its clubs.