Ondrusek struggling to find consistency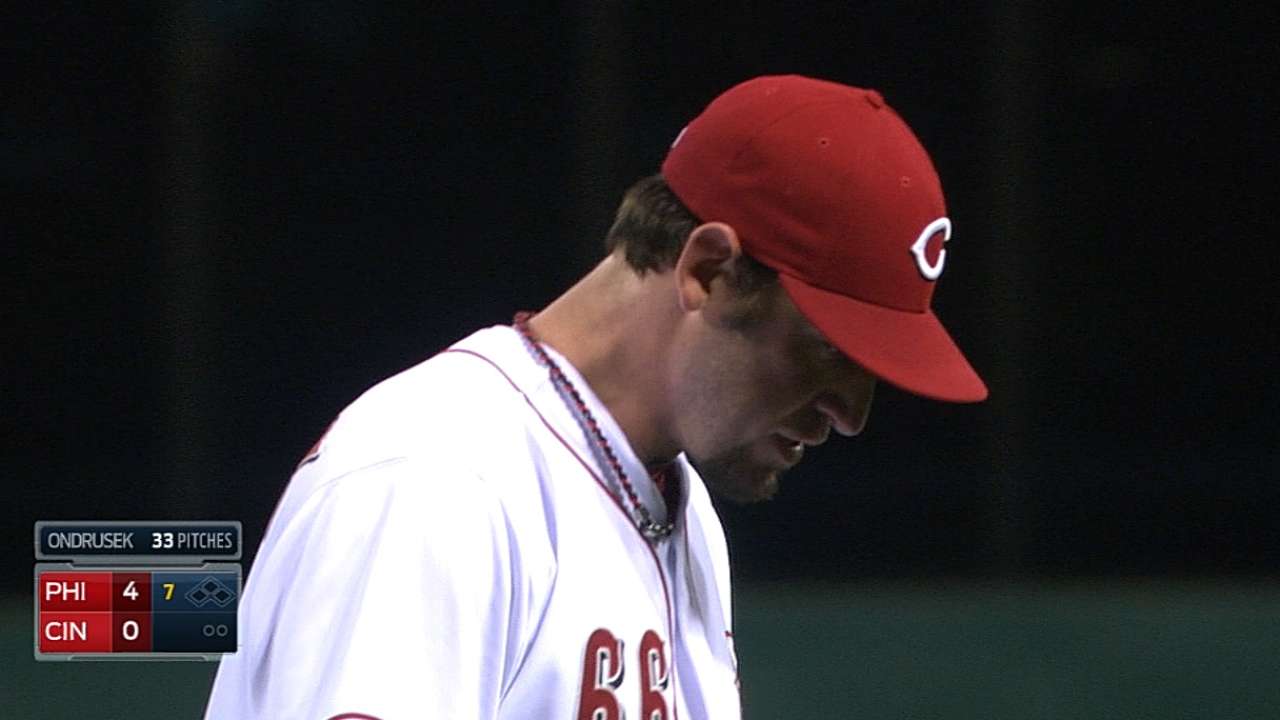 SAN DIEGO -- Reds reliever Logan Ondrusek has been searching for consistency. There are times when he seems close, but then games like Tuesday happen.
In the 8-2 loss to the Padres, Ondrusek entered what was a two-run game and gave up four runs and two hits, including Carlos Quentin's two-run homer. After the homer, he walked Yasmani Grandal.
"It's been more of a challenge to get him into a groove, in large part because there's times he comes in and he's very sharp, and other times where he's not," Reds manager Bryan Price said on Wednesday. "It's been hard to get him on a roll or keep him on an extended roll."
Overall, Ondrusek has a 4.76 ERA in 27 games with 35 hits, 13 walks and 25 strikeouts over 28 1/3 innings. He has stranded 13 of 19 inherited runners. In Ondrusek's last 12 appearances before Tuesday, he had a 1.26 ERA and had given up six walks with 14 strikeouts over 14 1/3 innings.
Much of the front end of the Reds' bullpen has been used sparingly of late. Until Tuesday, Ondrusek's last appearance was on June 23, when he threw 10 pitches over one inning.
"There hasn't been as many opportunities for these guys to pitch with the regularity they're used to," Price said. "That's not an excuse. The job is to come in and do your job when you're called upon, and do it well on a consistent basis. That's why you're in the big leagues."
Mark Sheldon is a reporter for MLB.com. Read his blog, Mark My Word, and follow him on Twitter @m_sheldon. This story was not subject to the approval of Major League Baseball or its clubs.