Votto giving '100 percent' despite leg injury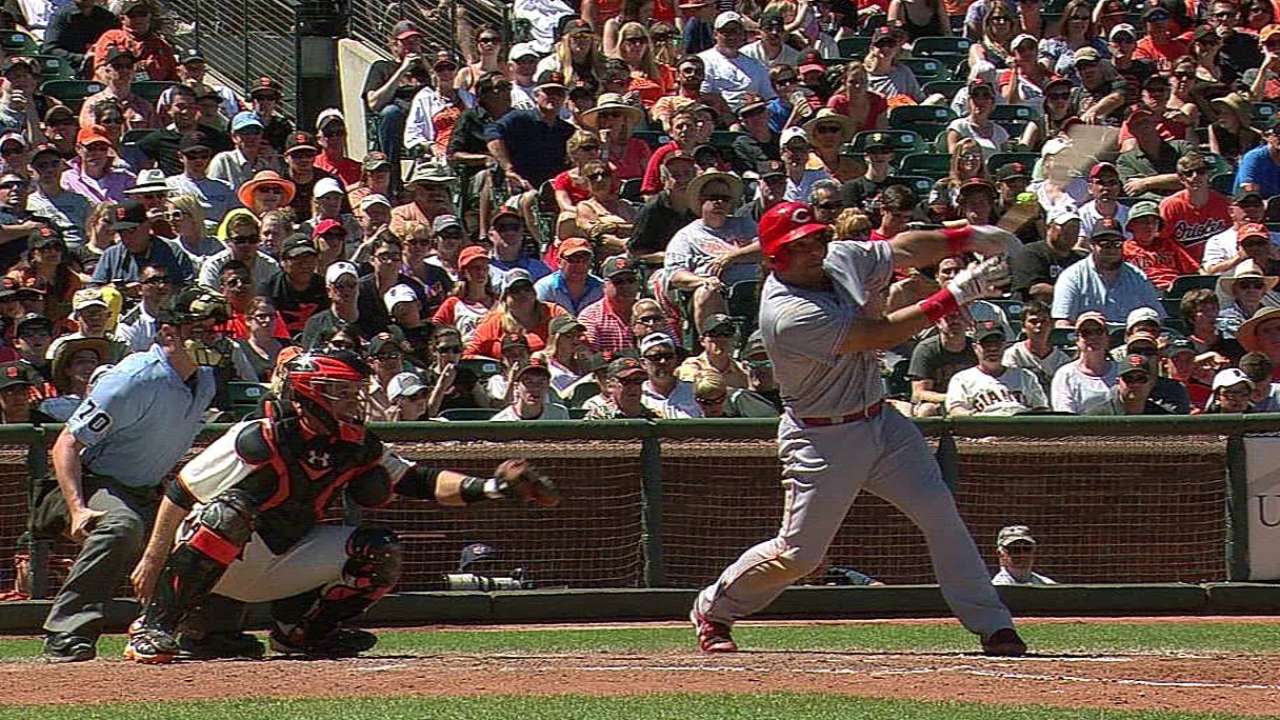 SAN DIEGO -- When the Reds got Joey Votto back from the disabled list after he strained his left quadriceps near his knee, manager Bryan Price repeatedly noted he was aware the first baseman wouldn't be 100 percent healthy -- likely for the rest of the season.
That couldn't have been more clear during Sunday's 4-0 win over the Giants when Votto appeared to be favoring his leg on a couple of swings. In the ninth inning when he was on second base, he didn't attempt to take third base as Todd Frazier scored on Brandon Phillips' sacrifice fly. Votto also limped as he scored from second base on Brayan Pena's RBI single.
Votto, who has yet to hit a home run since his return, did not want to characterize the status of his leg when approached Monday.
"As long as I'm playing, I'm 100 percent," said Votto, who was out from May 16-June 9. "That's going to be the interaction between you guys and me. If I choose to go on the DL, I'm on the DL. If I choose to play, I'm 100 percent. ... You should expect the very best from me if I'm out there."
In 18 games since activation, Votto entered Monday batting .265/.378/.368 with seven doubles and 10 RBIs. He was also 3-for-21 in the first seven games of the road trip.
"I'm talking about the fans in general, if I'm out there and I choose to be out there, they have every right to boo or be disappointed or expect more from me," Votto said. "If you're on the DL, you're not playing. If you're on the field, you're playing. I can't say anything more than that. The expectation for me should be to play at or near my best all the time. If I'm out on the field not performing well, it's because I'm not performing well, not because I'm not healthy."
Price and the Reds remain watchful about Votto's health but have no new concerns about his status. There were no expectations he would return to the DL, unless he regressed to where he was when he first was injured.
"I don't even want to suggest that we're close to that," Price said. "We're just trying to keep tabs on it and see where it goes and stay optimistic that the knee will hold up and he'll be able to give us what's got to give us every day he's in the lineup."
Mark Sheldon is a reporter for MLB.com. Read his blog, Mark My Word, and follow him on Twitter @m_sheldon. This story was not subject to the approval of Major League Baseball or its clubs.