Reds confident in heavy use of Chapman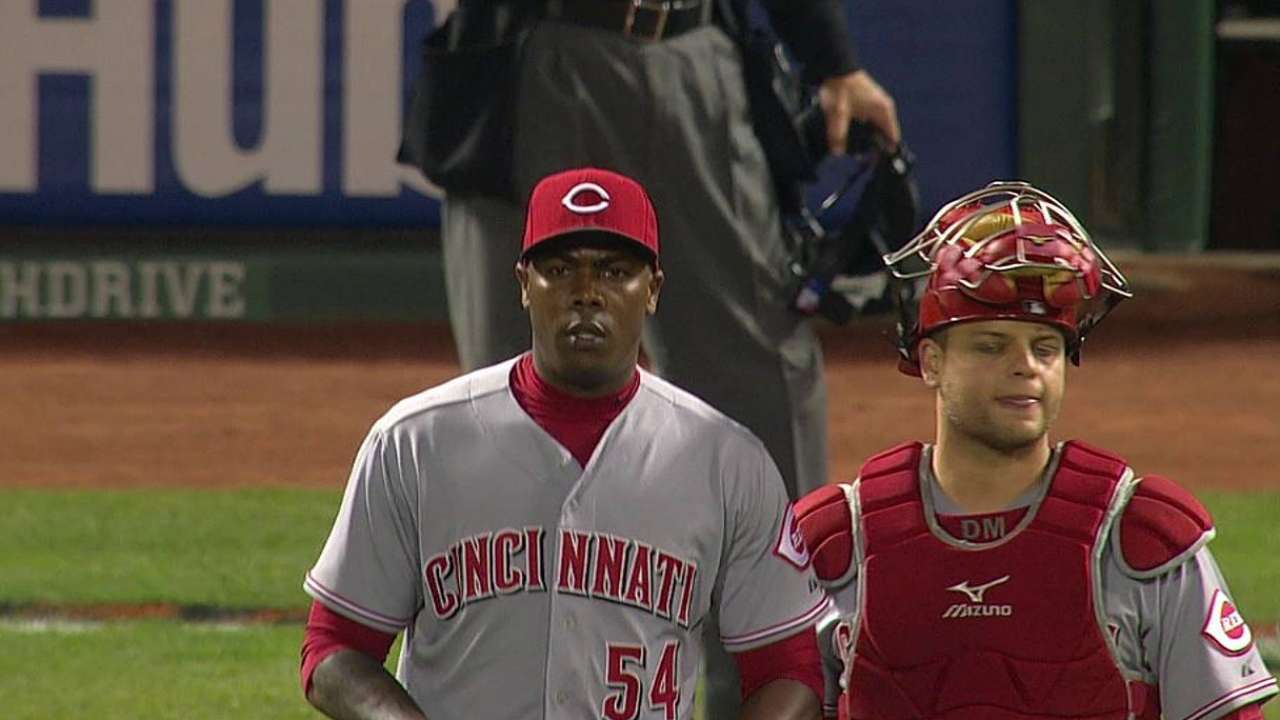 SAN FRANCISCO -- Reds closer Aroldis Chapman already worked three days in a row, but manager Bryan Price didn't feel like he was playing with fire Saturday by using him a fourth vs. the Giants.
This time, Chapman did not get a save. He blew his second in 18 chances by giving up a ninth-inning run that erased a 2-1 lead. The Reds survived to take a 7-3 victory in 11 innings. Price did not second-guess himself.
"Second-guess is something you do when you're not sure what you should do before the game starts," Price said. "I went out and watched him throw in the outfield, I talked to him, Jeff [Pico, the pitching coach] talked to him, he felt great; as you saw, he was 99-102 mph with a good slider."
In the previous three games, Chapman threw nine pitches, 10 pitches and 20 pitches. On Saturday, he wound up throwing 31 pitches. The only other time he worked four days straight, Sept. 3-6, 2013, Chapman struck out the side in the fourth game.
This time, Chapman's first batter, Hunter Pence, beat a shift and rolled a single through an open right side. In a 10-pitch plate appearance that exceeded Chapman's pitch count from the previous night, Pablo Sandoval fouled off four two-strike pitches and drew a walk. Pinch-hitting, Buster Posey laced the game-tying RBI double to the left-field wall, scoring Pence, and putting runners on second and third base with no outs.
With his infield playing in, Chapman battled through and got back-to-back groundouts from Hector Sanchez and Joaquin Arias. Adam Duvall struck out on a 100 mph fastball to end the inning.
"It was very impressive because he stayed strong," Price said. "That's one of those games as a closer that the game can get away from you and you can get a loss, but he buckled down big-time and gave us that opportunity for the big inning and gave us the ability to win that game.
"That saved the game for us. He didn't save the game for us in the ninth, but he saved the game for us in the ninth."
The strikeout of Duvall to end the ninth gave Chapman at least one strikeout in 35 straight appearances, dating back to last season. It's the longest active streak in the Majors by a reliever and is tied for the second-longest in league history since 1900. Eric Gagne also had a 35-game streak in 2003-04 and Bruce Sutter holds the record of 39 straight games with a strikeout in 1977.
Chapman has a 2.66 ERA in 23 games this season. Don't expect him to get a fifth straight day of work.
"It was really a gritty performance and we knew if he pitched today, he wouldn't most likely be able to pitch tomorrow," Price said. "That most likely will be the case. I don't like to say that, but I think the Giants can figure it out."
Mark Sheldon is a reporter for MLB.com. Read his blog, Mark My Word, and follow him on Twitter @m_sheldon. This story was not subject to the approval of Major League Baseball or its clubs.