Power surge ends, but Mesoraco's All-Star case strong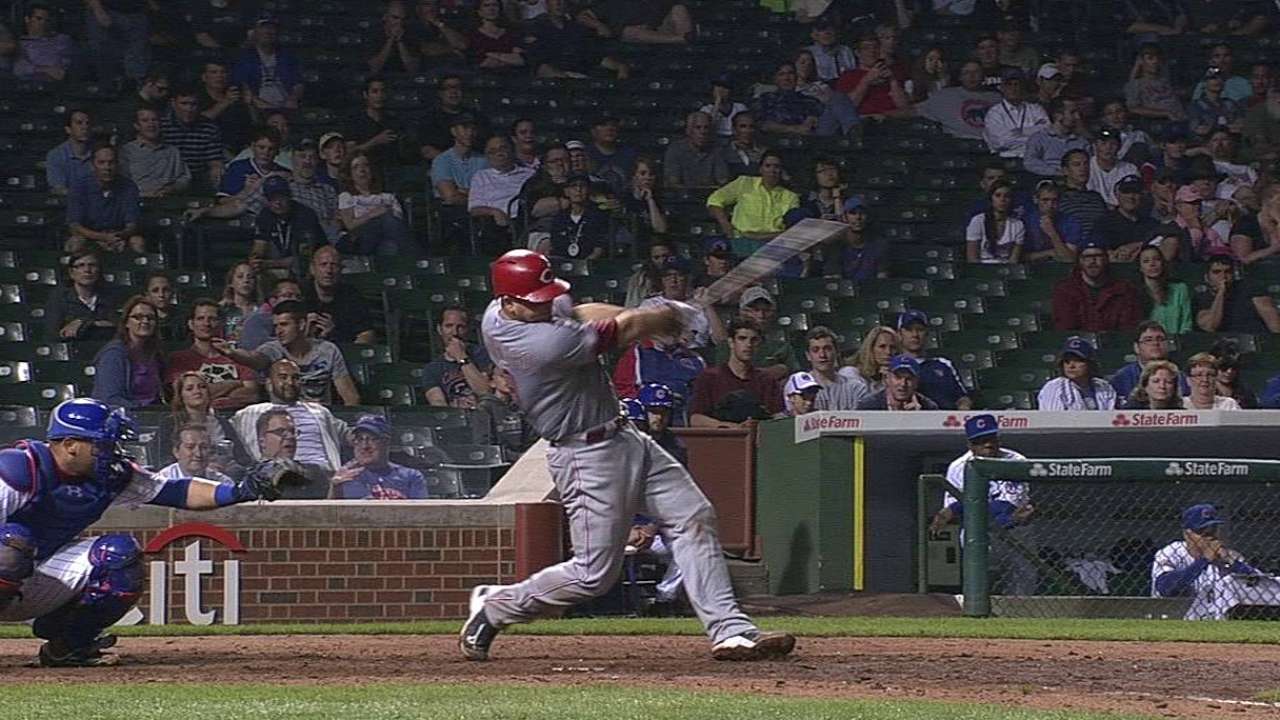 CHICAGO -- Devin Mesoraco sits fifth among National League catchers in All-Star voting, but perhaps his recent record-tying streak turned some heads.
Mesoraco's surge of five consecutive games with a home run came to an end Wednesday night, though the Reds recorded a 4-1 win over the Cubs at Wrigley Field to take the series. The streak tied a franchise record and was one shy of the all-time Major League record for consecutive games with a home run by a catcher.
That shouldn't put a damper on what Mesoraco has accomplished this season.
With a single in the sixth inning, Mesoraco extended his hitting streak to eight games, and he's hitting .458 with five homers and 13 RBIs in that span. Mesoraco's All-Star case is probably hurt by the fact that he spent time on the disabled list with a strained left hamstring, but in the 44 games he has played, the backstop is batting an impressive .318 with 14 homers and 40 RBIs.
"That's something that would be a real honor to be a part of, and if I had an opportunity, I would be very, very thankful," Mesoraco said of a potential All-Star nod.
Reds outfielder Ryan Ludwick had some words of support for Mesoraco and third baseman Todd Frazier, who's also vying for a spot on the NL squad.
"It's good to see these young guys kind of blossoming before our eyes," Ludwick said. "It's been a tremendous upside for this team. To be in this situation we're at right now, without their performances as individuals, we could be further back in the loss column. They've really stepped up for us."
Mesoraco is a realist when it comes to his chances of making the All-Star Game. He has good numbers but faces an uphill battle at what has become a loaded position -- especially within his own division. He'd have to pass perennial All-Star Yadier Molina, as well as the Brewers' Jonathan Lucroy, who is having a monster year.
"I think that the catcher position overall in the Major Leagues is really doing very well swinging the bat," Mesoraco said. "There's a lot of good competition, but I think it speaks volumes of the quality of catchers in the game right now."
Either way, Mesoraco has been a major reason why the Reds have won their last four series to climb a game above .500 at 39-38.
"In how he's handled himself behind the plate -- this isn't just an offensive catcher anymore or a guy that everyone I think, maybe everybody saw as an offensive catcher," Reds manager Bryan Price said. "I think we're seeing a kid that is turning the corner as a defender, a game-caller, a guy that people really like to throw to on our staff, as well as a huge offensive contributor."
Joe Popely is an associate reporter for MLB.com. Carrie Muskat contributed to this story. This story was not subject to the approval of Major League Baseball or its clubs.