Stephenson, Winker to compete in Futures Game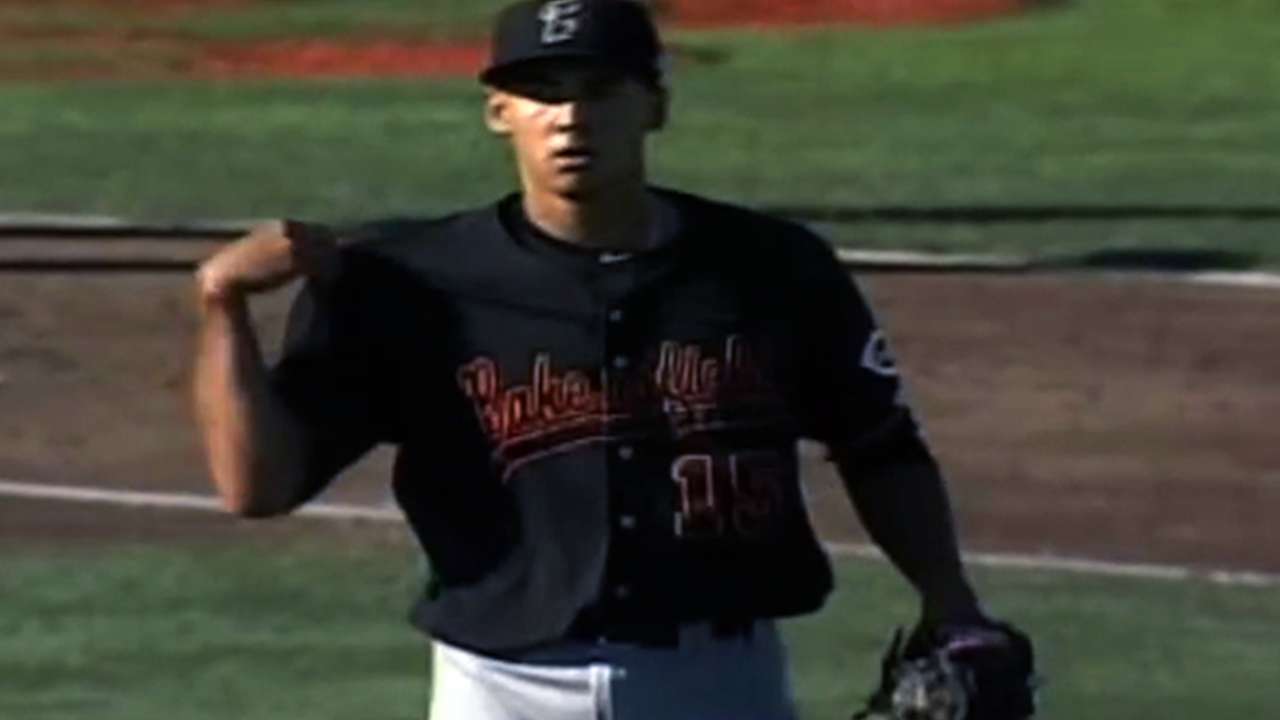 CHICAGO -- Rosters for the 2014 SiriusXM All-Star Futures Game were announced Tuesday afternoon, and two Reds prospects were named to the U.S. team.
Right-hander Robert Stephenson and outfielder Jesse Winker, teammates at Double-A Pensacola, earned two of the 25 available roster spots.
Now in its 16th year, the Futures Game pits top Minor Leaguers against each other, with a team of U.S. prospects competing against a World Team of international prospects. This year's game will be played at 5 p.m. ET on Sunday, July 13, at Target Field.
There are currently 244 players (152 from the U.S. team and 92 from the World team) from the previous 15 Futures Games on active rosters or disabled lists of Major League teams.
That includes the Reds' Jay Bruce, who participated in the 2007 Futures Game, Ryan Ludwick ('01), Brandon Phillips ('02) and Joey Votto (2006-07).
"It was really the first taste of what the Majors Leagues, what you could expect or hope for it to be like in the Major Leagues," said Bruce, who tripled in the 2007 game. "For that one day, it was kind of a Major League treatment on a Major League field, and you hadn't been in that situation before. It was basically each team's best prospect at the time, and it was a blast, man."
The left-handed-hitting Winker was recently promoted to Pensacola after hitting .317/.426/.580 with 13 home runs and 49 RBIs in 53 games for Class A Advanced Bakersfield. The 20-year-old was drafted in the first round (49th overall) by the Reds in the 2012 First-Year Player Draft out of Olympia High School in Orlando, Fla.
Stephenson, a 21-year-old righty, has posted a 3.97 ERA, 1.27 WHIP and 9.4 strikeouts per nine innings rate in 15 appearances (14 starts) for Pensacola. The Reds' first-round selection (27th overall) in the 2011 First-Year Player Draft, Stephenson notched a 3.06 ERA in 179 1/3 innings across four levels in his first two seasons, reaching Pensacola at the end of the 2013 campaign.
"Enjoy it. Take it all in. Play hard," Bruce said as advice for participants. "Have a blast, and use it as motivation to get back."
Joe Popely is an associate reporter for MLB.com. This story was not subject to the approval of Major League Baseball or its clubs.