Pipeline Inbox: Draftees as clubs' No. 1 prospects?
Jim Callis responds to fans' questions about baseball's top future stars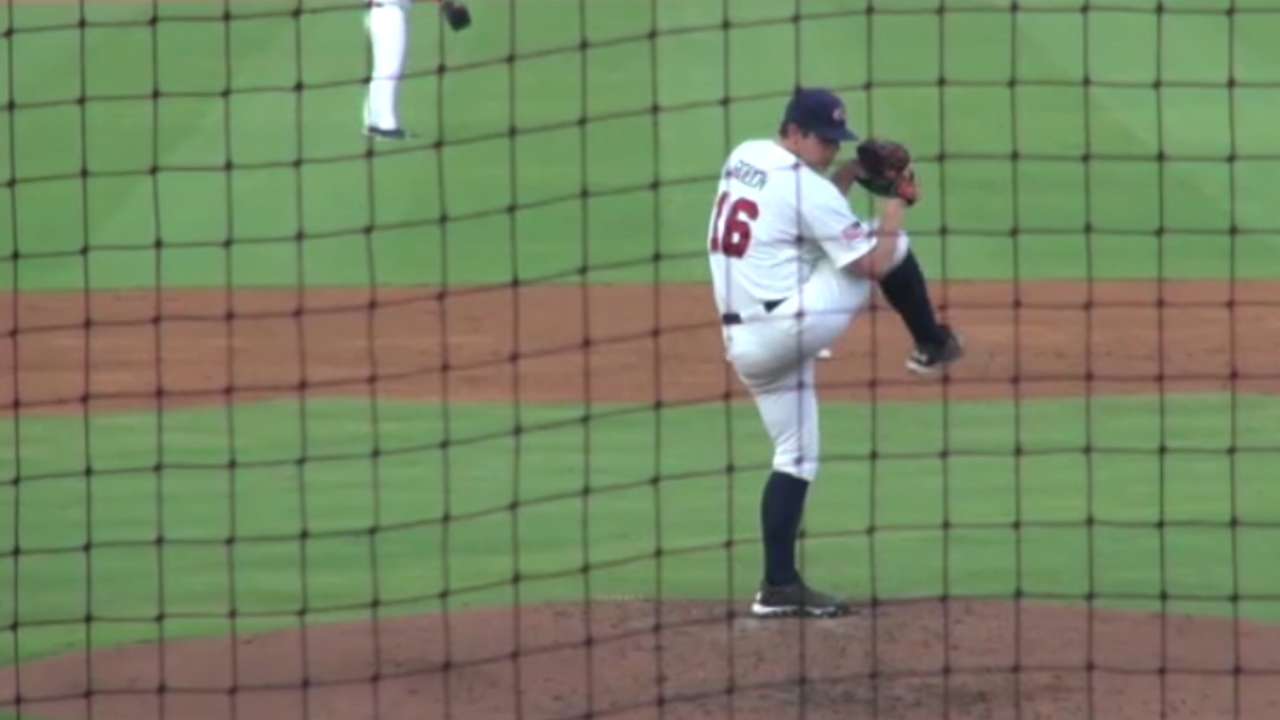 This edition of the Pipeline Inbox comes to you from Omaha, Neb., where I'm taking the baton from Cash Kruth in MLBPipeline.com's coverage of the College World Series. I've been to 26 of the last 28 CWS, and it's still my favorite baseball event on the calendar. If you haven't been, you're missing out on tremendous talent, competitive games and great hospitality from the host city.
I arrived Tuesday, and the first game I attended matched the record for the longest in CWS history. Virginia outlasted Texas Christian, 3-2, in 15 innings, with 2014 first-rounders Brandon Finnegan and Nick Howard and projected 2015 first-rounder Riley Ferrell all looking dominant on the mound. Vanderbilt and Virginia are the most talented teams on either side of the bracket, and now they're each one win away from reaching the championship series next week.
Which players drafted this year automatically become their parent team's No. 1 overall prospect once they sign?
-- J.P., S. Springfield, Ill.
I try to be conservative by nature when it comes to comparing recent signees to prospects already in the Minors, because the new guys look better because they haven't had a chance to fail yet. That said, I see six 2014 Draftees who should rank as their team's No. 1 prospect.
The two biggest slam dunks are a pair of college left-handers, Carlos Rodon (White Sox) and Sean Newcomb (Angels). Two less-than-obvious but still clear-cut choices are first baseman Casey Gillaspie (Rays) and outfielder Derek Hill (Tigers). I'd also go with right-hander Tyler Kolek over Andrew Heaney with the Marlins, and with righty Aaron Nola over Maikel Franco with the Phillies, though those are closer calls.
Most of the Braves' best prospects are struggling, but I'm not ready to anoint outfielder Braxton Davidson as the prize of that system. Though Archie Bradley and Taijuan Walker have had health issues, they entered the year as the best pitching prospects in baseball, so I'm not ready to supplant them with Touki Toussaint (Diamondbacks) or Alex Jackson (Mariners). I could be talked into Jackson, however, because he has the best offensive potential in the 2014 Draft.
While Kolek and Rodon were the Nos. 2 and 3 picks in the Draft, the other top-five selections can't quite make the cut. Left-hander Brady Aiken (Astros) finishes a close second behind fellow No. 1 overall choice Carlos Correa. Catcher/outfielder Kyle Schwarber (Cubs) is a talented slugger, but not as talented as Kris Bryant or Javier Baez, and shortstop Nick Gordon (Twins) is in the same organization as baseball's best prospect, Byron Buxton.
How will Brady Aiken signing for $6.5 million ($1,422,100 under slot) and Tyler Kolek signing for $6 million ($821,800 under slot) affect Carlos Rodon's signing bonus? Is Rodon's market set below Kolek's bonus? If so, will Rodon accept the $5,721,500 slot? If not, how much over will the White Sox go to sign Rodon?
-- Nick D., Chicago
The Aiken and Kolek bonuses and the savings with them versus their assigned pick values won't have any affect on what Rodon gets from the White Sox. The only pertinent numbers are what Chicago has spent compared to its bonus pool for the first 10 rounds, and what it has left.
The White Sox have signed all of their choices in the second through 10th rounds for a total of $3,402,600, a savings of $385,600 versus their combined assigned values. Rodon's No. 3 slot comes with an allotment of $5,721,500. That means Chicago can spend $6,107,100 without exceeding its pool and up to $6,582,585 without losing a future first-round selection.
I can't remember the last time the White Sox signed a high-profile Boras Corp. client like Rodon, and owner Jerry Reinsdorf isn't a fan of paying above-slot bonuses. Yet I believe Rodon -- and every other currently unsigned first-rounder -- will eventually come to terms. Chicago hasn't surpassed its pool in either of the first two years under the new Draft rules, and my guess is that the White Sox won't do so in 2014 either, paying Rodon in the neighborhood of $6 million.
Who was your gut-feel guy from the 2014 Draft, someone who didn't make the MLBPipeline.com Top 200 list or get taken in the top 10 rounds?
-- Toni R., Laguna Beach, Calif.
I like this question so much that I'll give you two answers. Among pitchers, my gut-feel guy is Lemont (Ill.) High left-hander Jake Latz, who went in the 11th round to the Blue Jays. He's still a work in progress, but the Louisiana State recruit is a 6-foot-2, 185-pounder who can touch 94 mph with his fastball and flash a plus curveball.
Among hitters, my super sleeper is Washington State infielder Nick Tanielu, the Astros' 14th-round pick. He's a gifted hitter who drills line drives from gap to gap with a compact right-handed stroke. He doesn't have a ton of power, so he profiles better at second base rather than third.
Is Athletics second-base prospect Chad Pinder's bat for real, or is it a byproduct of playing in the California League?
-- Ed L., Oakland, Calif.
Pinder's first year in pro ball has gone much better than his first. After signing for $750,000 as a supplemental second-round pick from Virginia Tech last summer, he went out and hit .200/.286/.293 at Class A Short-Season Vermont. The A's still skipped him a level to high Class A this year, and he has responded by batting .308/.349/.577.
The Cal League significantly favors hitters, but Pinder is a legitimate prospect. He'll need to improve his strike-zone discipline, but he has the hand-eye coordination and bat speed to hit for a solid average and produce double-digit home run totals. Pinder profiles nicely, offensively and defensively, at second base.
Jim Callis is a reporter for MLB.com and writes a blog, Callis' Corner. Follow @jimcallisMLB on Twitter. This story was not subject to the approval of Major League Baseball or its clubs.