Reds still mulling Cingrani's fate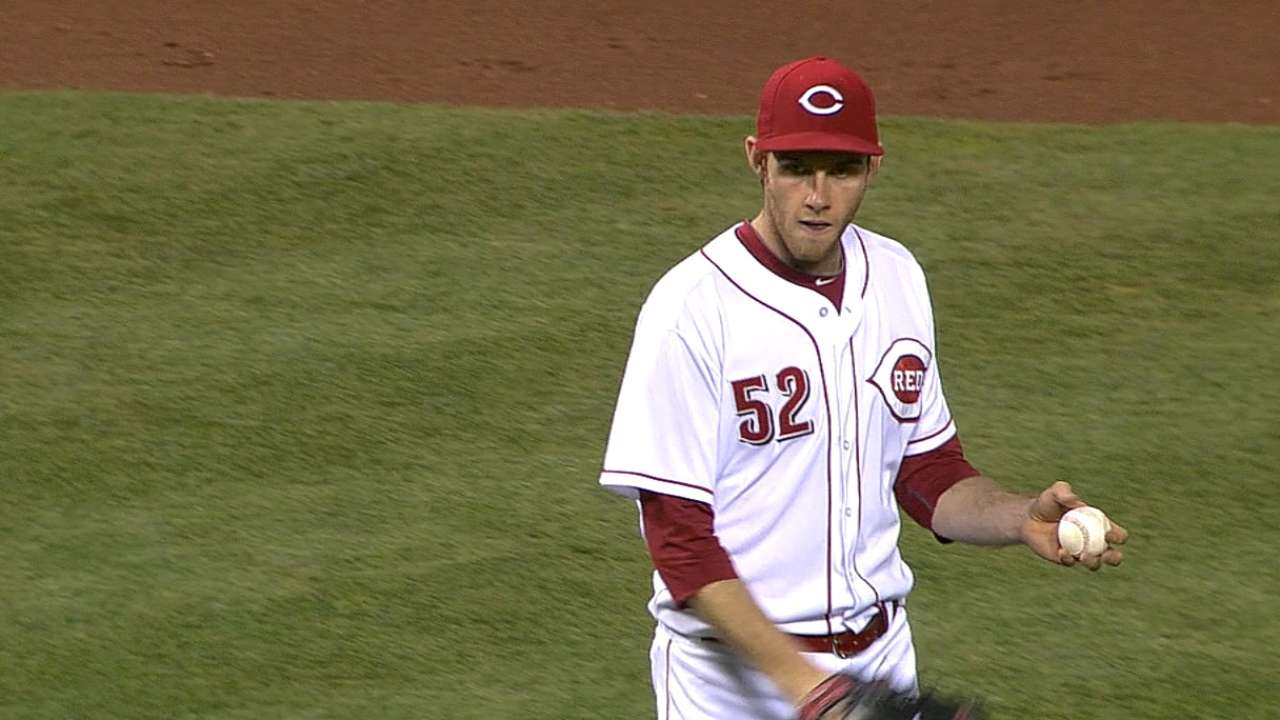 MILWAUKEE -- Left-hander Tony Cingrani understood the situation. With Mat Latos due to return from the disabled list and start in his spot on Saturday, Cingrani is the odd man out of the rotation. Alfredo Simon, who had replaced Latos in Spring Training, has pitched too well to come out.
The only question left is this: Does Cingrani go to Triple-A Louisville to start, or remain with the Reds and pitch out of the bullpen? Manager Bryan Price and the team are still mulling that over.
"Obviously, we have to make that decision here in the next 24 hours," Price said. "We're trying to figure out what is the best thing for our club."
Cingrani is 2-7 with a 4.68 ERA in 11 starts overall and 0-5 with a 6.26 ERA in six games since returning from the disabled list on April 30 after dealing with mild tendinitis in his left shoulder. Simon is 9-3 with a 2.95 ERA in 13 starts.
"Whatever they want me to do, I'm just along for the ride right now, because Simon is doing so well. I can't really have an opinion right now," Cingrani said. "I'm comfortable throwing wherever. Obviously, I love being up here and everything that goes with it. I'll do what they want me to do and always take the positive out of it and go do my job where I need to go do it."
Because Simon went from the bullpen to the rotation, the Reds have lacked a long reliever all season. They have been fortunate not need one, as the rotation has the second-most innings pitched in the National League.
"But between rain delays and ineffectiveness -- you can't ask for starters to play 60-plus games and not have a start where they're knocked out in the second or third inning every now and again," Price said. "When you want to win, and we do -- we expect to win -- we want to have our best club on the field. At this point you could make a very strong case for Tony staying with us."
Should he be sent down, Cingrani is ready to make the most of it.
"Basically, I need to work on staying focused the whole game and repeating my mechanics every single pitch and eliminating the mistakes," he said. "Obviously, when I make a mistake, they hit a home run. That's not a good mistake. If I do get sent down, I'll just work on my mind for a while and try to mix pitches and work on things that I haven't been able to work on up here."
Mark Sheldon is a reporter for MLB.com. Read his blog, Mark My Word, and follow him on Twitter @m_sheldon. This story was not subject to the approval of Major League Baseball or its clubs.