Latos takes nothing for granted as activation looms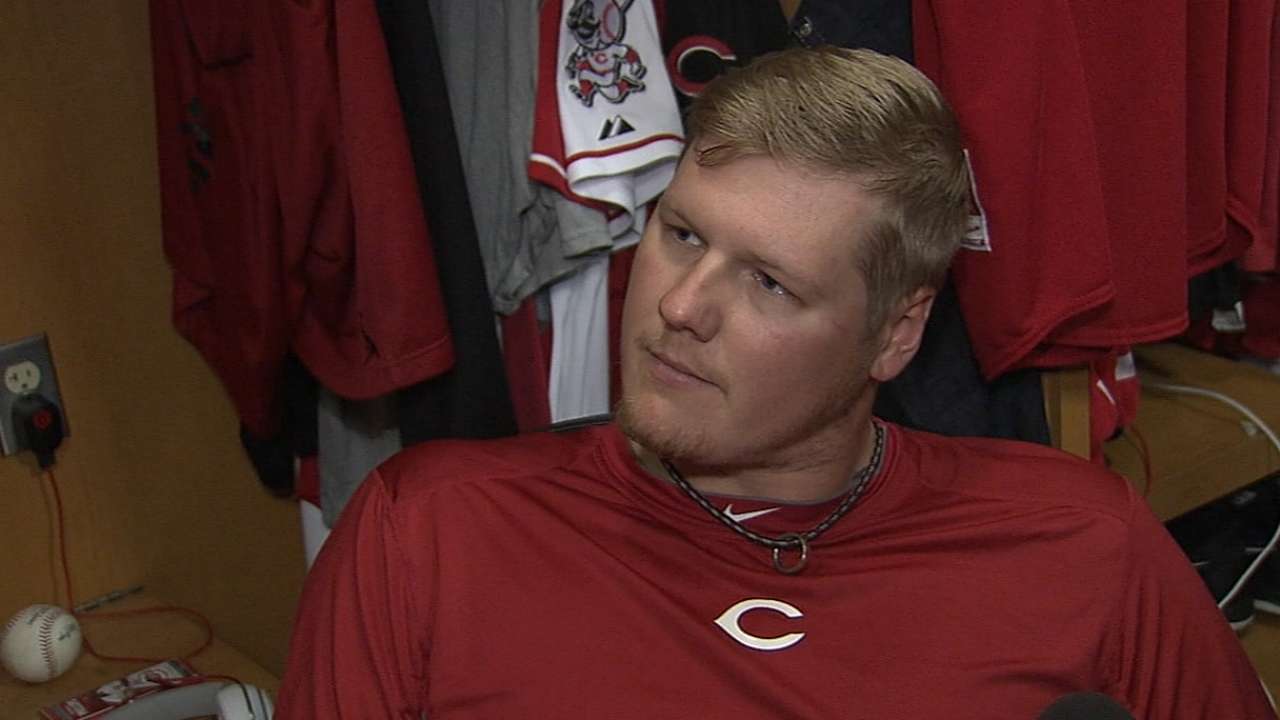 MILWAUKEE -- Right-hander Mat Latos has been through so much since he last stepped on the mound for the Reds, he takes nothing for granted, even on the eve of his activation from the 60-day disabled list.
Latos will make his season debut vs. the Brewers and Yovani Gallardo on Saturday, having last pitched on Sept. 25, vs. the Mets. After that he was scratched from the Wild Card Game vs. the Pirates because of soreness in his arm. He had elbow surgery in October to remove bone chips, and in February, just as Spring Training opened, there was surgery to repair torn meniscus cartilage in his left knee.
In April there was another setback -- a strained flexor mass tendon in his right forearm. And last week, during his third rehab start for Triple-A Louisville, a cramp in his calf ended his night early and led to one more outing.
"I feel really good. It's always a thought in your mind. 'I haven't been here in a while. I haven't done this in a while.' I really haven't faced good, quality hitters, big league caliber, since September," Latos said on Friday. "I know the stuff that I have. I know a lot of the hitters. It's just more 'How I'm going to do?' It's nervousness."
This has been the first time Latos dealt with injuries that kept him out for a long period.
"I do the right thing to make myself better to come back and pitch for the ball club I love performing for and more [stuff] keeps happening," Latos said. "It was, 'When do I get to the light at the end of the tunnel?'"
Latos passed a final test with a successful bullpen session on Thursday before manager Bryan Price could finally and formally put him on the schedule.
"He brings a lot to the table. He brings a lot of wins," Price said. "He has a real high winning percentage as a young Major League starting pitcher and a lot of wins for us the last two years. We're always looking for a boost. That's a boost."
Price did not reveal the planned transaction to make room for Latos on the 25-man roster. Left-hander Tony Cingrani will come out of the rotation, but it hasn't been decided if he will go to Triple-A Louisville to work as a starter or remain in the Reds' bullpen.
Mark Sheldon is a reporter for MLB.com. Read his blog, Mark My Word, and follow him on Twitter @m_sheldon. This story was not subject to the approval of Major League Baseball or its clubs.