Broxton nearly airtight out of bullpen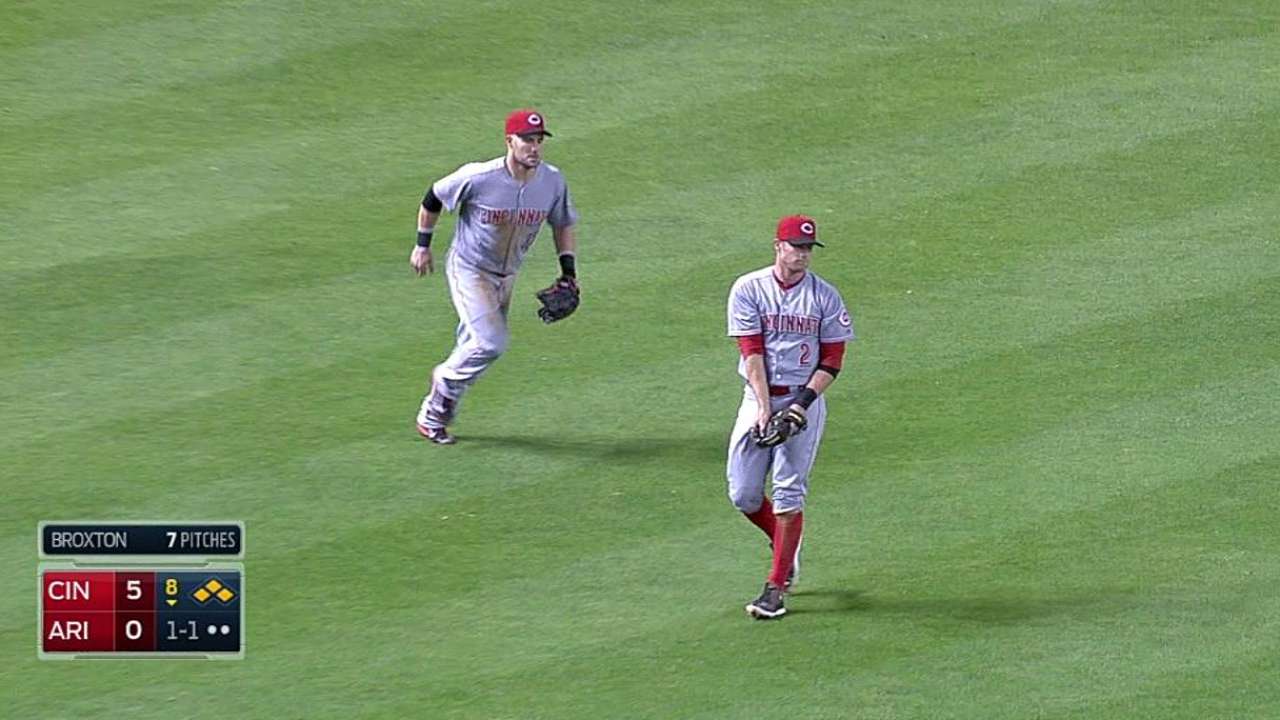 CINCINNATI -- Reds right-handed reliever Jonathan Broxton has been airtight in the late innings. Broxton has not allowed a run in any of his last 12 appearances and in 20 of his 21 overall for a 0.44 ERA, entering play Thursday. It's been a great start, especially considering that Broxton had season-ending surgery to repair a torn flexor mass muscle in his right forearm in August and started this season on the disabled list to finish his rehab.
"I feel fine. I'm trying to make pitches and mix it up a little bit," Broxton said. "As a bullpen as a whole, we're just trying to get outs no matter where it's at -- the sixth, seventh or eighth to give [closer Aroldis Chapman] all the spotlight. For the most part, we've done that all year."
Broxton pitched a season-high 1 2/3 innings in Wednesday's 5-0 win over the Dodgers. He inherited a one-out, bases loaded jam in the seventh and got a double play before working a scoreless eighth, giving up just a walk.
"I think even under normal circumstances, if [Broxton had] been healthy, it's pretty special what he's doing," Reds manager Bryan Price said. "The seventh inning really proved to be that make-or-break inning for us, because we got ourselves in a bit of trouble. … To get that double play was huge."
Setup men are rarely recognized with invites to the All-Star Game, but Broxton could be a worthy candidate. It has happened with former Reds lefty reliever Arthur Rhodes, who was selected in 2010. Broxton was a two-time All-Star as a closer with the Dodgers in 2009-10.
"I think the thing is now that the All-Star Game is more than just an entertainment vehicle, it's important," Price said. "Home-field advantage in the World Series is a pretty big deal. It seems to me that managers will be looking for putting together their best team when they have the ability to make those choices.
"If things continue and he can throw numbers like this up in the middle of July and maintain this type of pace, he would have to at least be in consideration, even if he doesn't have a bunch of saves."
Mark Sheldon is a reporter for MLB.com. Read his blog, Mark My Word, and follow him on Twitter @m_sheldon. This story was not subject to the approval of Major League Baseball or its clubs.