Chapman adds slider to devastating arsenal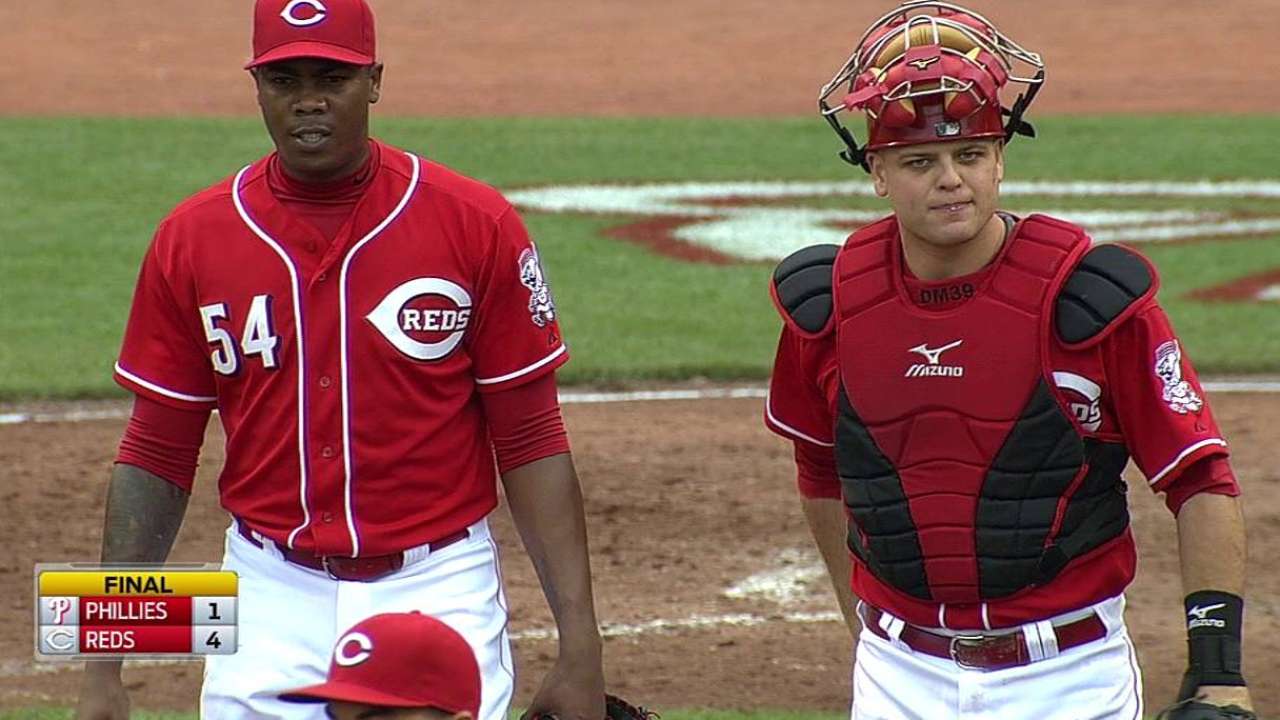 CINCINNATI -- Reds left-handed closer Aroldis Chapman was already a rarity with his 100-mph fastball. Since he's returned from the disabled list, Chapman has shown another rare trait as a power closer with three strong pitches in his repertoire.
To collect his ninth save in the Reds' 4-1 win over the Phillies on Sunday, Chapman struck out the side. All three strikeout pitches were with his slider.
"A 100-mph fastball and 90-mph changeup. You'd say that's too hard. But it's not when the fastball is 100," Reds manager Bryan Price said. "That slider at 89-91, those brackets are unheard of, they really are. I think the only other person I know that throws a changeup as hard as that -- I saw Felix Hernandez striking some guys out yesterday at 88-89 on that changeup type of pitch, and he doesn't throw as hard as Chapman."
Entering Monday, Chapman had retired 19 batters in a row and 29 of 30 with one hit allowed. Since his lone blown save on May 21 at Washington, he's converted seven straight saves, with the last six being perfect appearances with 12 strikeouts. Chapman was activated from the DL on May 10 after being hit in the face by a line drive during Spring Training that fractured the bone above his left eye.
"It's a saying that you don't get beat with your third-best pitch. But if you're John Smoltz and you have a fastball, slider and split and all three are the best in the game, then what does it matter?" Price said. "With Chapman you've got fastball, slider, changeup, and they're all plus-plus pitches. Now, you can't say that."
One key to Chapman's success is that he's avoided walking batters. This season, he has only three walks in 13 innings.
With Chapman having a more diverse arsenal, could Price be more tempted to use him in multiple-inning saves?
"He will be used in those multiple-inning situations quite often when we feel we're short," Price said. "The guy that we've been bringing in for the eighth inning [Jonathan Broxton] has a [0.47] ERA. It's hard to argue with that."
Mark Sheldon is a reporter for MLB.com. Read his blog, Mark My Word, and follow him on Twitter @m_sheldon. This story was not subject to the approval of Major League Baseball or its clubs.