Mesoraco on eye-popping tear at plate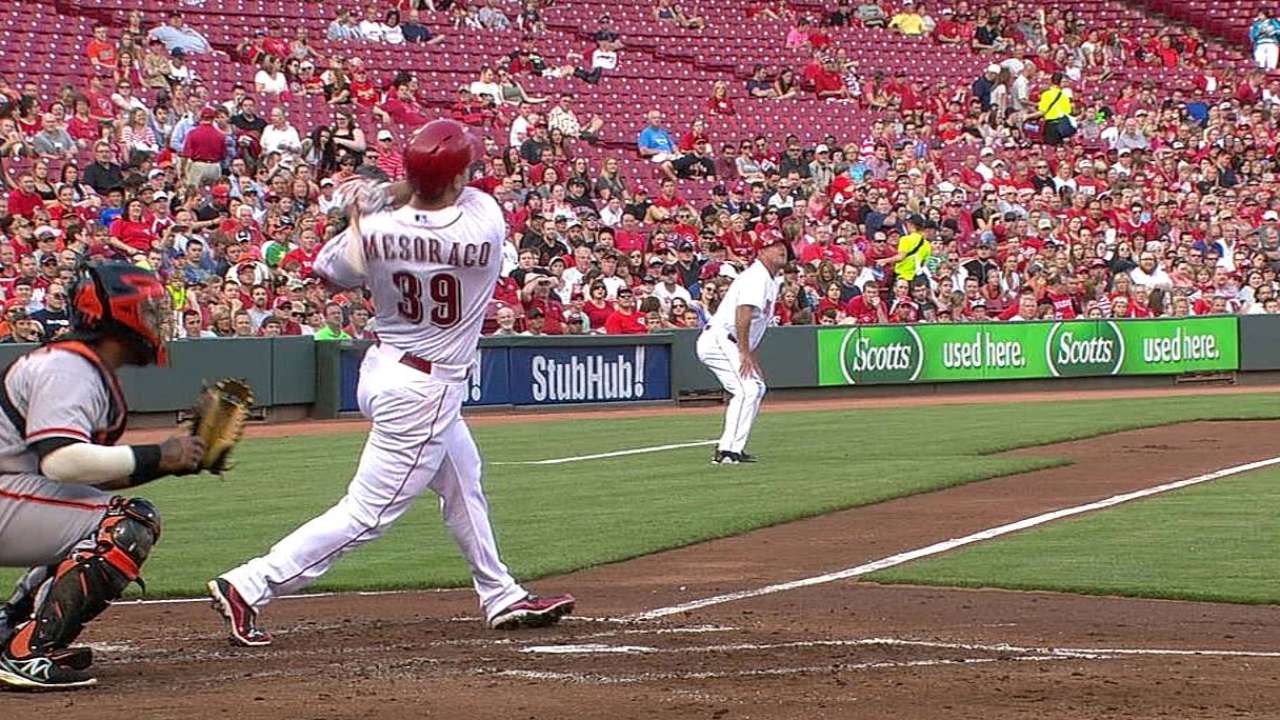 CINCINNATI -- Reds manager Bryan Price can't recall being around another catcher that's had as good of an offensive stretch as Devin Mesoraco is currently enjoying.
"I don't know if I've seen a better offensive run by a catcher," Price said Wednesday. "I know Miguel Montero, when I was in Arizona, was just starting to get more playing time when I left there, so he's had some pretty prodigious offensive moments in Arizona. But realistically, no, I don't think I've had a catcher that's swung the bat as well as Devin has."
Mesoraco entered Wednesday's game against the Giants hitting .347 with eight doubles, nine home runs and 27 RBIs. His nine homers have come in 101 at-bats, or roughly one-third of the number of at-bats he had in 2013 (323), a season in which he totaled nine homers. Mesoraco is slugging .693 and has a 1.084 OPS (on-base plus slugging percentage).
"I don't think it's a completely different feeling [from other stretches in my career]," said Mesoraco, who homered off Tim Lincecum in Tuesday's 8-3 win. "I still have pitches that I miss and I still get upset when I don't produce in certain situations, but I feel like if I go up there, do what I'm able to do, the results are going to show, and I think you just roll with it as long as you can."
Mesoraco had a two-homer, five-RBI game against the D-backs in Arizona last Friday, including a grand slam. But despite his sensational performance at the plate so far this season, he remains grounded, not getting too high or too low with each plate appearance, but instead focusing on helping his team in any way he can.
"I think when it comes down to it, the only thing I'm really focused on is helping the team win," Mesoraco said. "Offensively or defensively, those are both ways that I can really affect the game, and I'll just go out there and continue to do what I've been doing, and hopefully if those things happen, great, and if not, no big deal."
Mark Sheldon is a reporter for MLB.com. Read his blog, Mark My Word, and follow him on Twitter @m_sheldon. Manny Randhawa is an associate reporter for MLB.com. This story was not subject to the approval of Major League Baseball or its clubs.