Votto's workout test in Cincy thwarted by rain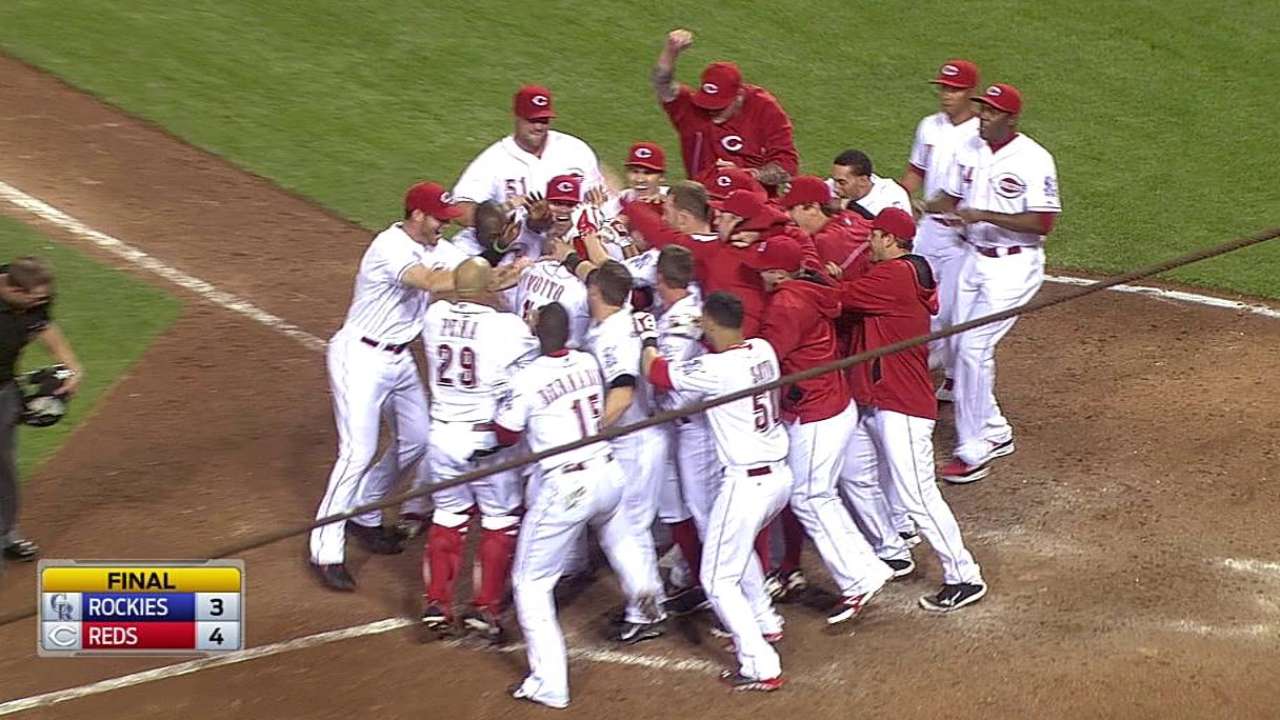 CINCINNATI -- Both the Reds and first baseman Joey Votto have been pleased enough with recent improvements with his strained left quadriceps that he was slated to take the next step forward Tuesday by taking batting practice with the team on the field.
"I feel good, a lot better than a few weeks ago," Votto said before going on the field. "I'm looking forward to getting out there and being a part of the routine. It's been awhile since I've been able to do the things that are asked of us on a daily basis. I'm excited."
However, rain cut short Reds batting practice before it could really begin. Besides hitting on the field, Votto was also expected to run the bases and take ground balls. Although he did some hitting while the team was away on a road trip last week, he didn't run or take grounders.
Most importantly, Votto felt like he was getting the strength back in his leg after a couple of weeks of rehab. He's been out of the lineup since his last game May 15 and went on the disabled list May 21.
"I feel like I was before I got hurt earlier in the season," he said. "If I can get to a good place, you're going to see a little bit more of the younger version of me.
"It's one of these injuries that takes a little bit of time. Strength can't happen in a short period of time. It takes a little bit of time to get it there and integrating the baseball stuff, which is something I haven't really done as much."
Once Votto shows he can hit, field and run without issue, he is expected to begin a rehab assignment. The length isn't known, but it will likely be at least two games.
"We'll have a chance for the next day or two to assess ourselves where he is and get some feedback from our trainers that are seeing him for the first time in a week," Reds manager Bryan Price said.
Mark Sheldon is a reporter for MLB.com. Read his blog, Mark My Word, and follow him on Twitter @m_sheldon. This story was not subject to the approval of Major League Baseball or its clubs.