Reds place Mesoraco on DL, recall Barnhart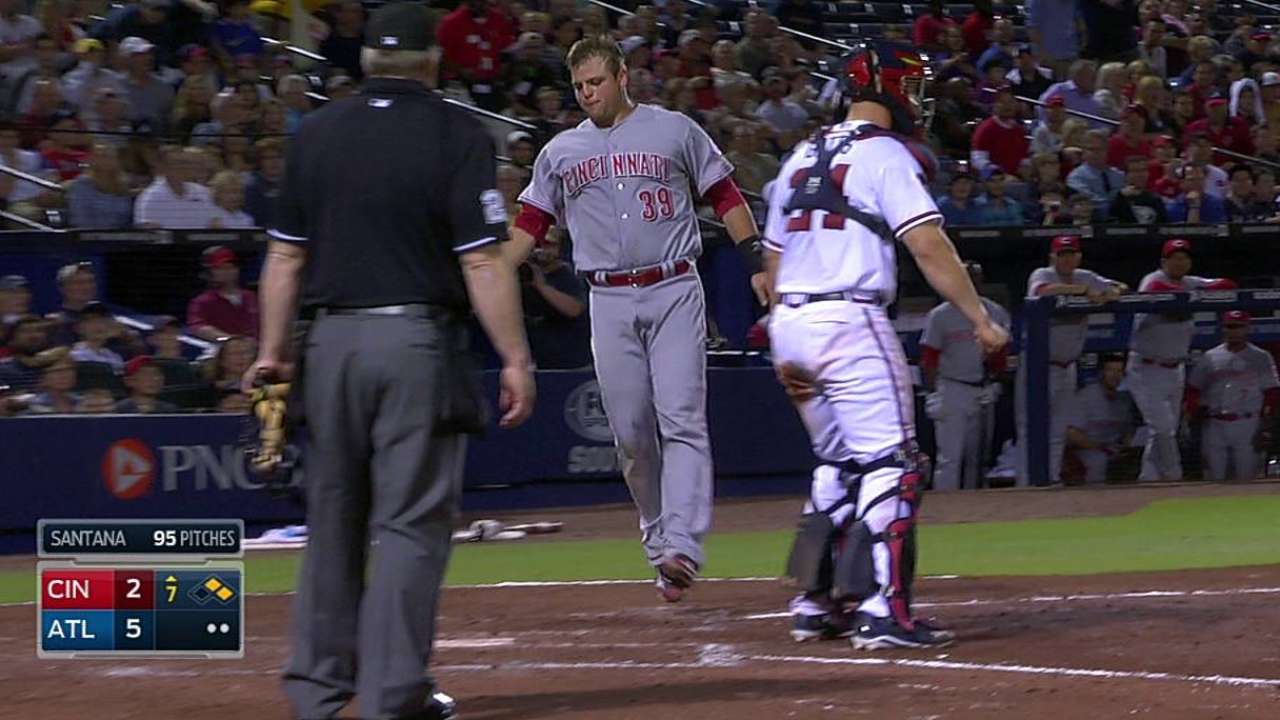 ATLANTA -- The Reds on Saturday placed catcher Devin Mesoraco on the 15-day disabled list with a strained left hamstring and recalled catcher Tucker Barnhart from Triple-A Louisville. Mesoraco was injured during Friday's 5-4 loss while scoring on a Billy Hamilton double.
"It just isn't something that's going to be better in three-to-five days, it's probably every bit of 10-14," Reds manager Bryan Price said. "We really can't go without a second full-time catcher. Neftali Soto can catch, but we're not going to turn a full game over to him. We need Tucker here to support Brayan Pena."
Mesoraco, who grabbed the back of his leg and fell down before scoring on Friday, felt like he could still catch, but running would have been a problem.
"There was no way I could do any type of that stuff at this point," Mesoraco said on Saturday.
Mesoraco began the season on the DL because of a strained left oblique but promptly became the Reds' hottest hitter upon his return on April 7. He went on a career-high 11-game hitting streak that was snapped on Thursday.
In 13 games, Mesoraco is hitting .468 with three home runs, and his 13 RBIs are second on the team. He has had hamstring strains earlier in his career, he said, but nothing like this.
"This one, it's so hard to tell right now because it's so early," Mesoraco said. "In the next couple of days, we'll see how it responds to the treatment and everything. My goal is to be back on the 16th day. I want to be back as soon as I possibly can be. That's my focus at this point."
Pena will take over the bulk of the catching duties, and although he has hit well, the club will miss Mesoraco's presence in the lineup. However, Price expects the Reds to overcome this setback.
"It really comes down to how we see ourselves," Price said. "Our guys don't have to do more because Devin is not in the lineup. They just have to do their part, as do Brayan and Tucker."
Barnhart was batting .250 with one homer and five RBIs in 13 games at Louisville. During his first callup to the big leagues at the start of the season, he was 2-for-8 in three games. The Bats pulled Barnhart from their game vs. Syracuse on Friday, and the call came just before the team departed Louisville for a series in Buffalo.
"They had to pull my stuff off the bus just as it was getting ready to leave the parking lot," Barnhart said. "I felt like I was playing pretty well and things were going good."
Mark Sheldon is a reporter for MLB.com. Read his blog, Mark My Word, and follow him on Twitter @m_sheldon. This story was not subject to the approval of Major League Baseball or its clubs.