Chapman throws live BP without screen
Reds closer wants another 'pen session before rehab assignment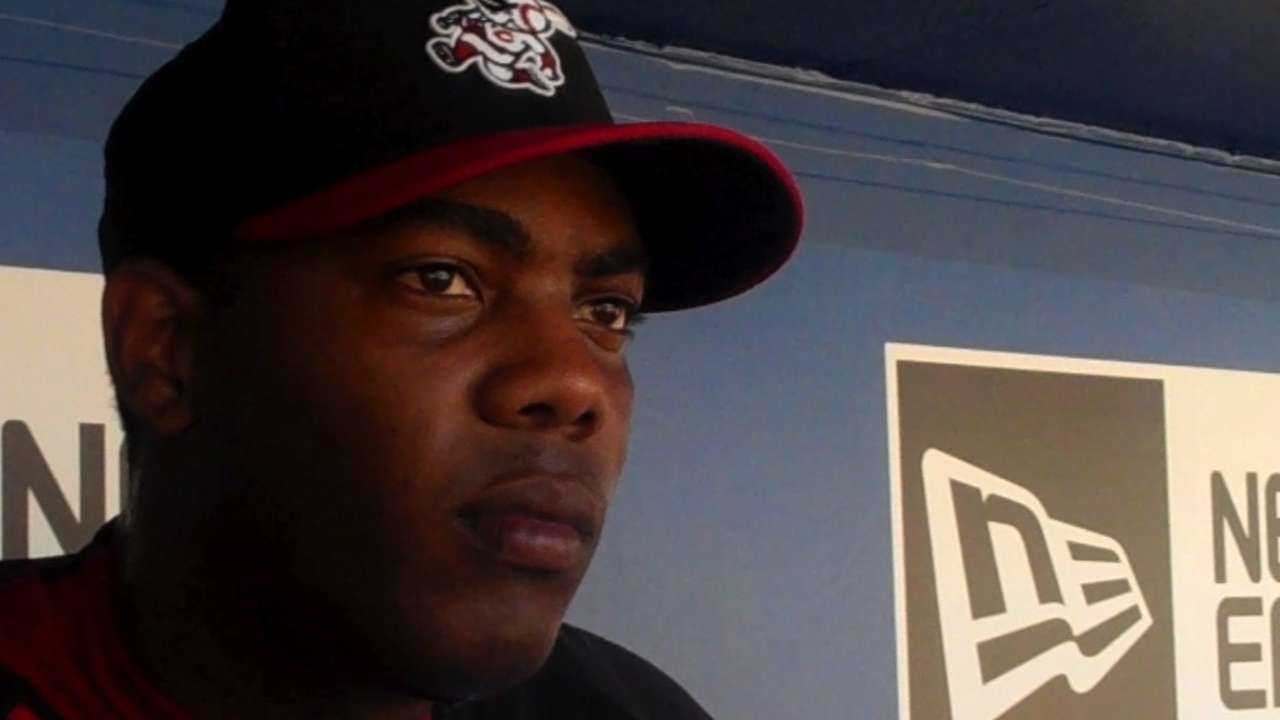 ATLANTA -- Reds closer Aroldis Chapman had a successful second live batting practice of pitching to Reds hitters on Saturday, namely because he did it without using a screen. But Chapman would like one more session of live BP before going out on a rehab assignment to improve his physical stamina.
"I would be able to go to the Minor Leagues right now, but to be honest, I need at least one more simulated game," Chapman said via translator Tomas Vera. "I think that's what we're going to do -- throw another simulated game before I decide to go somewhere else."
Chapman is tentatively scheduled for another live BP on Tuesday at Great American Ball Park.
"The first thing is I want to keep facing hitters here on the team," Chapman said. "Our hitters are better for me to face than some of the other ones. The other thing is I feel like a couple of more days working on my physical condition and being in shape will help me. I want to be in the shape that I know I can be."
On Saturday, Chapman threw 43 pitches to teammates Tucker Barnhart, Neftali Soto and Ramon Santiago. To simulate a game situation, he pitched a 20-pitch first inning, rested for about five minutes and threw another 23 pitches. Only a couple of his pitches were hit out of the infield.
"He looked really good, woo. Really, really good," Barnhart said.
It was a significant day, according to manager Bryan Price, because Chapman worked without a screen for the first time after using one on Wednesday in Pittsburgh. He appears to have fully recovered, physically and mentally, from being struck in the face by a line drive on March 19, which left him with fractures above the left eye and nose that needed to be repaired surgically.
"I think it was a big step today to throw without a protective screen for the first time since the incident happened in Surprise," Price said. "If one more outing makes him feel physically and mentally more prepared to face hitters in a game situation, that's great.
"I also feel these simulated games we're throwing are as valuable in his preparation to be activated, even if he'll be pitching in Cincinnati in a simulated game on Tuesday. That's one more day of rehab we knocked off had he been in Louisville, Dayton or Pensacola. I think he's shaving days off of his rehab every time he goes out there and throws."
Price was confident that Chapman wouldn't need a long rehab assignment once he is ready. Unlike relievers Sean Marshall and Jonathan Broxton, who recently returned from disabled-list stints, Chapman did not have an arm injury and has been able to maintain a throwing program.
"He got stretched out in Spring Training, he got to three innings. His arm is in great shape, we're still working a little on stamina after the time off," Price said. "I hate to put a number on it, because that'd be reckless, but I don't think that once we send him out, it'll be much more than a week, I wouldn't guess."
Chapman has no concerns about being re-injured by another ball hit back towards the mound.
"I feel normal. I feel about the same. Actually, I'm really positive," Chapman said. "Since everything that happened to me, I've been really positive. I've never had a bad thought about if things can happen again or if I can have any trauma on my head again. They wanted to put [the screen] on the first time and we used it the first time just because it was the first time. I always felt that everything is going to be OK. I don't think it's possible it will happen again. I'm positive, mentally, that this will be OK. My mind is back to being able to do things without thinking about this."
Mark Sheldon is a reporter for MLB.com. Read his blog, Mark My Word, and follow him on Twitter @m_sheldon. This story was not subject to the approval of Major League Baseball or its clubs.