Pipeline Preview: Reds, Braves' ace prospects meet
Matchup of Cincy's Stephenson, Atlanta's Hursh headlines Saturday's Minors slate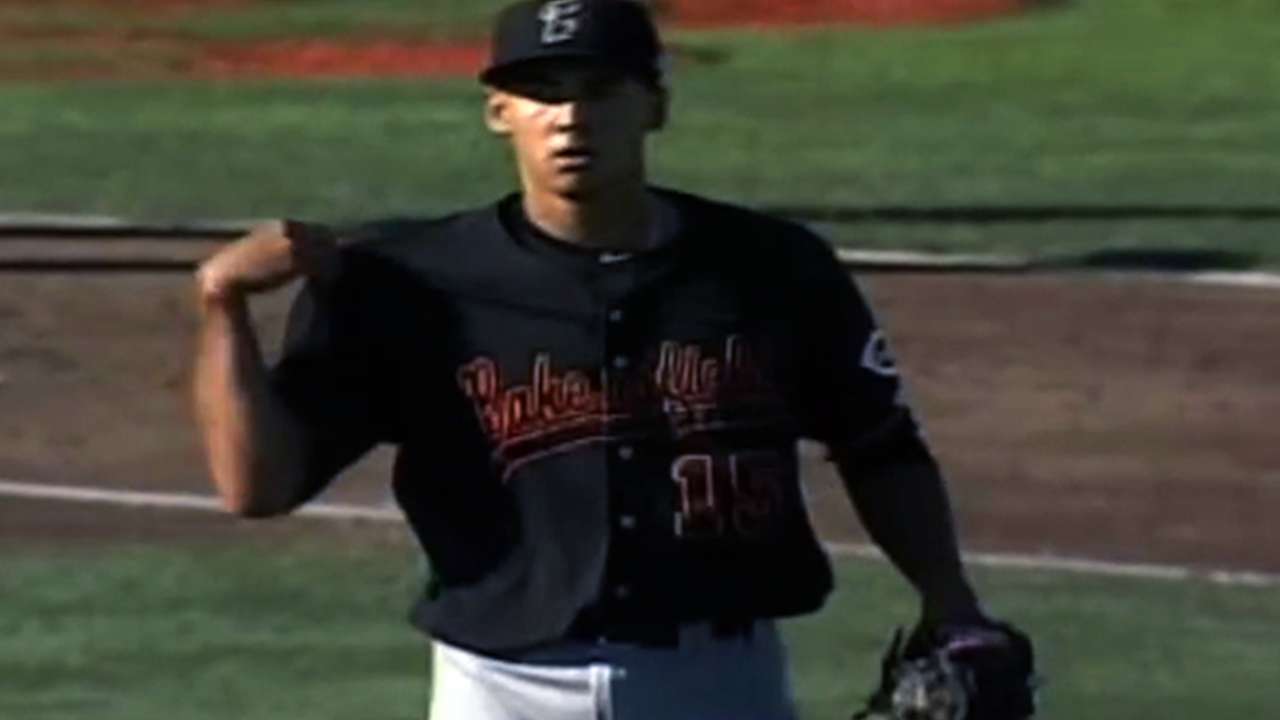 Saturday's premier Minor League pitching matchup pits Reds' No. 1 prospect Robert Stephenson against Braves' No. 3 prospect Jason Hursh as Double-A Pensacola hosts Mississippi. The game can be seen on MiLB.TV at 7:30 p.m. ET.
Stephenson, ranked No. 18 on MLB.com's Top 100 Prospects list, has had an up-and-down start to the season. He enters the game with a 4.41 ERA and a 21-to-13 strikeout-to-walk ratio in 16 1/3 innings.
Hursh was the Braves' first-round selection in the 2013 First-Year Player Draft. He pitched well at Class A Rome after signing, emboldening the Braves to push him to Double-A for his first full professional season. He has a 2.95 ERA and a 10-to-8 strikeout-to-walk ratio in 18 1/3 innings this season.
Other pitchers ranked in the Top 100 who are scheduled to start Saturday include Archie Bradley (No. 5), Kevin Gausman (No. 30), Kyle Crick (No. 31), Eddie Butler (No. 39) and Lucas Sims (No. 57). Fans can watch all but Sims on MiLB.TV.
Elsewhere, catcher Tommy Joseph will look to stay hot as Double-A Reading faces New Hampshire in a game that can be seen on MiLB.TV at 5:05 p.m. The Phillies' No. 16 prospect has an eight-game hitting streak and has hit three home runs in four games after going deep Friday against the Fisher Cats.
Joseph, who was acquired from the Giants in July 2012 as a part of the Hunter Pence trade, missed much of the 2013 season due to issues stemming from a concussion he suffered in May. While he is now healthy, he struggled at the outset of this season. He went 2-for-22 with seven strikeouts in his first seven games before his hitting streak began April 13 at Harrisburg. He is hitting .364 with a .687 slugging percentage during the streak.
Top prospect probables
Jason Adam (Royals' No. 9), Northwest Arkansas at Tulsa
Cody Anderson (Indians' No. 4), Akron vs. Altoona
Christian Binford (Royals' No. 12), Wilmington vs. Myrtle Beach
Archie Bradley (D-backs' No. 1), Reno vs. Salt Lake City
Eddie Butler (Rockies' No. 2), Tulsa vs. Northwest Arkansas
Andrew Chafin (D-backs' No. 13), Mobile vs. Jackson
Adam Conley (Marlins' No. 5), New Orleans vs. Omaha
Tim Cooney (Cardinals' No. 10), Memphis at Round Rock
Kyle Crick (Giants' No. 1), Richmond vs. New Britain
Jacob deGrom (Mets' No. 13), Las Vegas vs. Tacoma
Michael Feliz (Astros' No. 10), Quad Cities at Peoria
Kevin Gausman (Orioles' No. 2), Norfolk vs. Columbus
Drew Gagnon (Brewers' No. 17), Huntsville at Tennessee
Kyle Hendricks (Cubs' No. 15), Iowa at Colorado Springs
Jason Hursh (Braves' No. 3), Mississippi at Pensacola
Luke Jackson (Rangers' No. 8), Frisco at Corpus Christi
Felix Jorge (Twins' No. 10), Cedar Rapids at Clinton
Dace Kime (Indians' No. 15), Lake County at South Bend
Cody Kukuk (Red Sox No. 17), Greenville vs. Lexington
Jairo Labourt (Blue Jays' No. 12), Lansing vs. Bowling Green
Matt Magill (Dodgers' No. 12), Albuquerque at Fresno
Cody Martin (Braves' No. 10), Gwinnett at Toledo
Adalberto Mejia (Giants' No. 3), Richmond vs. New Britain
Andrew Mitchell (White Sox No. 17), Kannapolis at Rome
Mike Montgomery (Rays' No. 18), Durham vs. Scranton Wilkes Barre
Sean Nolin (Blue Jays' 10), Buffalo vs. Louisville
Keyvius Sampson (Padres' No. 14), El Paso at Sacramento
Angel Sanchez (Marlins' No. 16), Jacksonville vs. Montgomery
Luis Severino (Yankees' No. 10), Charleston at Delmarva
Lucas Sims (Braves' No. 1), Lynchburg vs. Potomac
Robert Stephenson (Reds' No. 1), Pensacola vs. Mississippi
Domingo Tapia (Mets' No. 14), St. Lucie vs. Bradenton
Taylor Williams (Brewers' No. 16), Wisconsin at Kane County
Teddy Cahill is a reporter for MLB.com. Follow him on Twitter at @tedcahill. This story was not subject to the approval of Major League Baseball or its clubs.