Mesoraco, Frazier exit due to injuries
Catcher strains hammy; third baseman has tight groin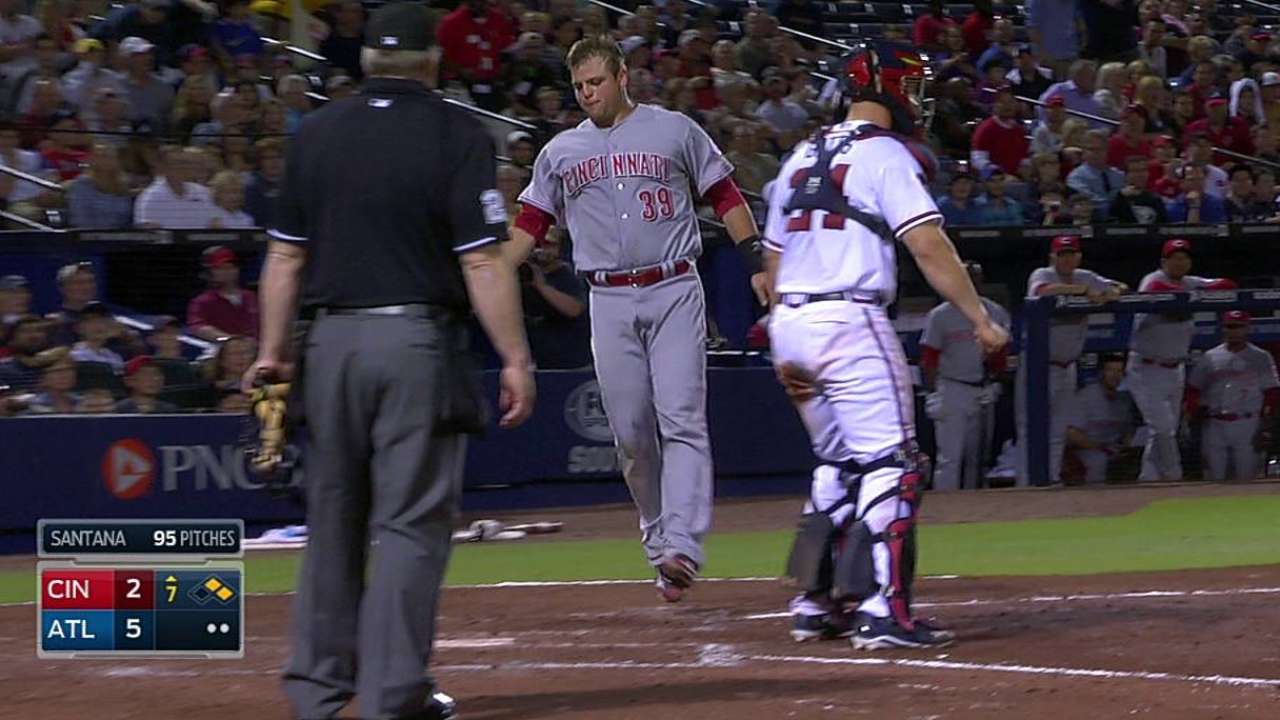 ATLANTA -- It was a costly Friday night for the Reds during their series-opening 5-4 loss to the Braves as two key players -- catcher Devin Mesoraco and third baseman Todd Frazier -- exited early with injuries.
Mesoraco suffered a strained left hamstring while scoring on a Billy Hamilton double in the seventh inning. He fell down after rounding third base and limped home to score the run.
"It balled up once I got my right foot off the bag and once my left foot planted there, it kind of balled up," Mesoraco said.
Before the bottom of the seventh, Mesoraco was replaced by Brayan Pena. Mesoraco could not say how serious the injury was.
"I don't know. We'll see tomorrow," Mesoraco said. "We'll see in the next couple of days. It definitely doesn't feel like it's a day or two thing. It feels like it's a little bit longer than that. It's just tough to tell right now."
The Reds did not announce a roster move, but prospect Tucker Barnhart was pulled from the game at Triple-A Louisville on Friday evening. Barnhart could be in Atlanta in time for Saturday's game, in case he is needed.
"The severity is it could be significant or it could be something that's a couple or three days," Reds manager Bryan Price said. "We'll see. I think we'll have more news for you tomorrow."
If Mesoraco is out long term, it would mean the loss of the club's hottest hitter. Mesoraco, who had a career-high 11-game hitting streak end on Thursday, is hitting .468 with three home runs, and his 13 RBIs are second on the team. He was 1-for-3 with a single in the seventh inning on Friday.
Mesoraco already spent the first week of the season on the disabled list because of a strained left oblique.
Frazier, who was diagnosed with tightness in his left groin, was 1-for-2 in the game and hit a leadoff double in the second inning. He initially showed some discomfort after that hit, enough to bring head trainer Paul Lessard and Price out of the dugout to check on him. Frazier remained in the game, however, and grounded back to the pitcher in the fourth inning. He was lifted before the bottom of the fifth and replaced by Neftali Soto.
"Before the game, it felt pretty tight," Frazier said. "I was on second trying to tell [third-base coach Steve Smith], because after I hit the double, I felt just a little tighter than usual. I told him not to send me if it's going to be close with two outs. It brought them out and I explained to them my legs were tight. They know it's been going on for a little bit. Nothing popped, nothing like that. Maybe just a day off would probably help it out 100 percent. I'm not really worried about it. I'm just being precautious."
Having started all 23 games this season, Frazier is batting .256 with a team-leading four home runs and also 10 RBIs. He had been hitting .389 (7-for-18) over his previous five games.
"My concern was that if it gets worse, it could be significant loss of time," Price said of Frazier. "As all these guys are, they're very valuable pieces to our club and our ability to be successful. He's a big part of our lineup and brings energy every day. I just didn't want to think about any long-term injury and came to the conclusion he needed to come out."
Mark Sheldon is a reporter for MLB.com. Read his blog, Mark My Word, and follow him on Twitter @m_sheldon. This story was not subject to the approval of Major League Baseball or its clubs.