Mesoraco wielding red-hot bat at bottom of lineup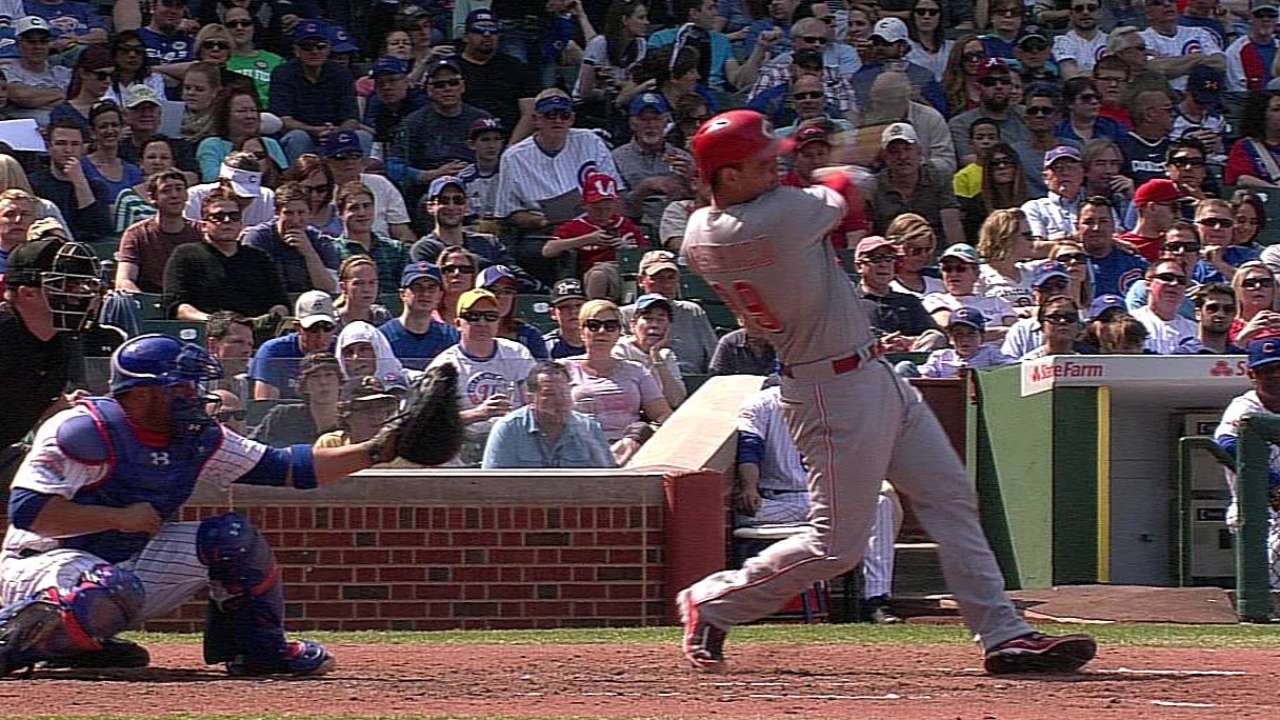 PITTSBURGH -- Reds catcher Devin Mesoraco didn't even try to think about when the last time he had been this hot at the plate. That's because it hadn't previously happened.
"Never ever. Not rec ball, Little League, high school, Minor Leagues," Mesoraco said. "I'll stay with the routine, go out there and keep doing exactly what I've been doing the past week or two. Just keep riding it. It just seems like everything is falling in. Every ground ball I hit is finding a hole. You know at some point you will square up some line drives and it will go right to the shortstop or left fielder."
Mesoraco, who leads the club with 12 RBIs despite missing the first week with a strained left oblique, entered Monday with hits in each of his nine games played, and made it 10 early with a single in the second inning. That's the longest Reds streak to start a season since Barry Larkin opened 1995 with a 12-game hitting streak.
Despite going 3-for-4 in Monday night's 6-5 loss to the Pirates to raise his batting average to .541, Mesoraco remains in the lower third of the Reds' lineup, batting seventh. There are no immediate plans by manager Bryan Price to move him up in the order.
"If there comes a time, be it injury or some real significant long-term struggle, then I could see making some adjustments," Price said. "But right now, I kind of like the flow of the lineup as it is. I like having some weaponry there at the bottom."
Mesoraco hasn't minded batting behind middle-of-the-order hitters Jay Bruce, Todd Frazier and Ryan Ludwick.
"It's definitely not like I'm coming up with nobody on base every time up," Mesoraco said. "I like to help the team score runs. If being in the middle of the order would do that, maybe that's something we'll look at. I think right now, I'm very comfortable with where I'm at. I just trying to go out there and have good at-bats."
Mark Sheldon is a reporter for MLB.com. Read his blog, Mark My Word, and follow him on Twitter @m_sheldon. This story was not subject to the approval of Major League Baseball or its clubs.