Ludwick feeling healthy as camp closes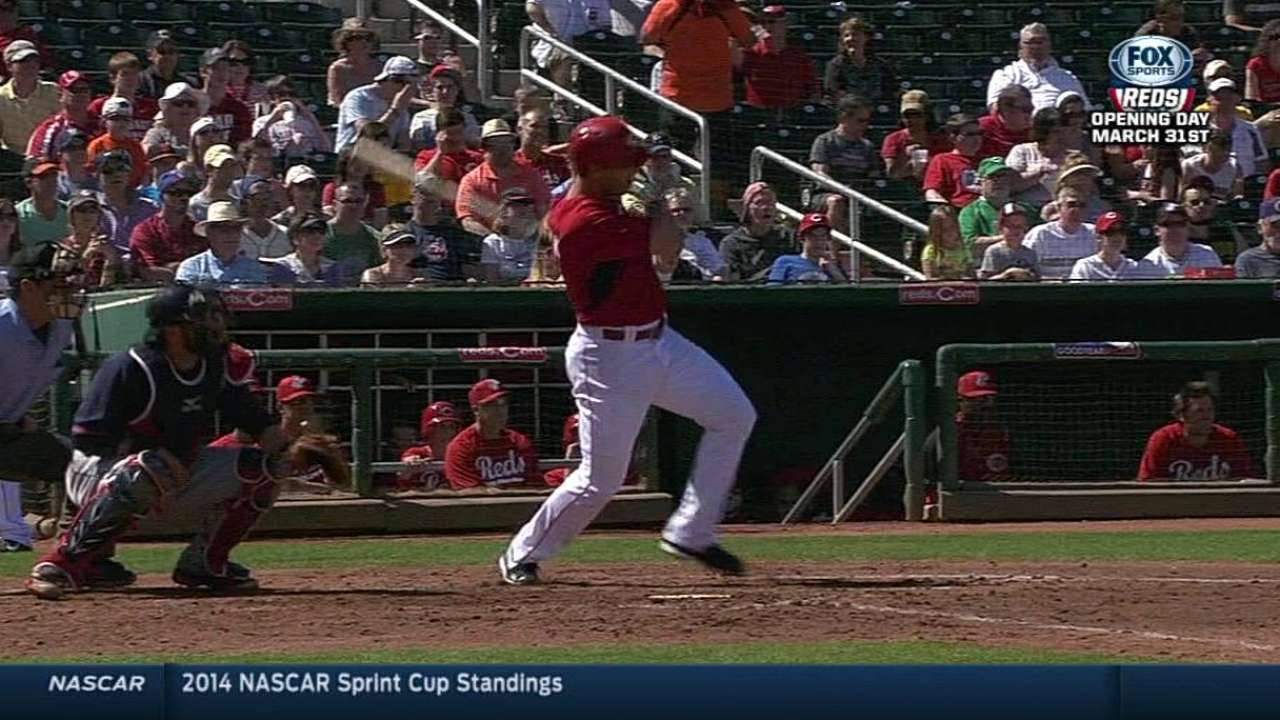 LOUISVILLE, Ky. -- By the official calendar, the anniversary still is a few days away, but by the method with which baseball marks time, Monday is the one-year anniversary of the injury that cost Ryan Ludwick virtually the entire 2013 season.
Ludwick suffered a right shoulder injury while sliding headfirst into third base during the third inning of Cincinnati's Opening Day game against the Angels in Cincinnati last April 1 -- one day later than the 2014 opener, which is scheduled for Monday at Great American Ball Park. The injury was severe enough to require surgery and kept him sidelined until mid-August, but he wasn't at full strength when he did return.
If the 35-year-old Ludwick isn't back to full strength, he is much closer as the 2014 season approaches than he was at the end of 2013. The right-handed hitter, who is expected to be the Reds' everyday left fielder, put together a problem-free Spring Training in which he batted .250 with one home run and five RBIs over -- and this is perhaps the most important stat -- 19 Cactus League games. That's one more than rookie Billy Hamilton.
"I don't feel good as far as numbers, but if you look at my last three or four Spring Trainings, they haven't been good," Ludwick said before the Reds' exhibition game against the Triple-A Bats in Louisville on Saturday. "I don't know why. Maybe I can't get the intensity going, but I feel good. My shoulder's healthy. Hopefully, that will translate into better numbers when the lights go on."
Ludwick, who grounded into a double play in his only at bat during Saturday's exhibition game, hit .220 in Spring Training in 2013, but he hit .283, .283 and .303 in each of the previous camps, all while playing at least 17 games. Still, the numbers -- good or bad -- aren't as important to him as simply feeling good.
"Ask them how many times I've iced my shoulder," he said, gesturing toward the Reds' clubhouse at Louisville Slugger Field while standing in the tunnel near the door. "None. Ask them how many times they've had to work on my shoulder. None."
Mark Schmetzer is a contributor to MLB.com. This story was not subject to the approval of Major League Baseball or its clubs.