Soto trying to catch on with Reds in any way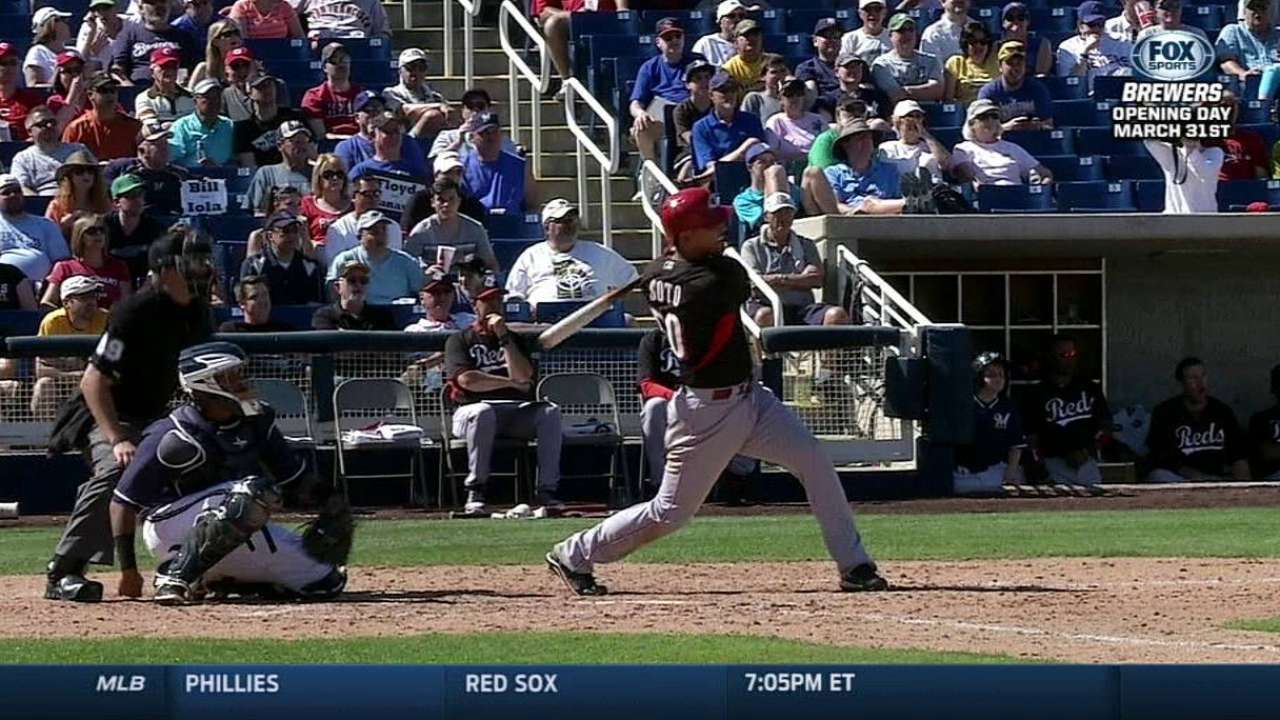 GLENDALE, Ariz. -- Neftali Soto has been trying to make the Reds' 25-man roster any way he can, and remains on the bubble.
A corner infielder seeking a bench spot, Soto came to camp last month with the catchers and has worked with pitchers in the bullpen. On Wednesday against the White Sox, Soto caught in a game for the first time when he took over behind in the plate in the seventh inning. He was 1-for-1 with a single in the eighth.
"I thought it was great," Reds manager Bryan Price said after a 9-5 loss. "He was very comfortable back there. His heart might have been beating a mile a minute, I'm sure, but he seemed very under control. It didn't look like he hadn't been back there in a while. He's worked hard with [catching coordinator] Mike Stefanski all of Spring Training. I wasn't surprised by it, but it was certainly good to see."
The Reds are looking at catching options, especially with No. 1 catcher Devin Mesoraco battling a strained left oblique muscle. Soto, the No. 3 catcher if he makes the team, last caught games in Class A during the 2010 season.
"Being able to catch, especially if he can elevate himself to be a No. 2-caliber type of guy, would immensely improve his status in this organization and his chances of getting more playing time," Price said. "He's had a great spring. He's worked hard on his catching. We really wanted to see it first-hand. With Devin being out, this is going to give us an opportunity to see what Nefi can do. He's obviously, still a work in progress."
Mark Sheldon is a reporter for MLB.com. Read his blog, Mark My Word, and follow him on Twitter @m_sheldon. This story was not subject to the approval of Major League Baseball or its clubs.