Cueto feels ready, if tabbed, for Opening Day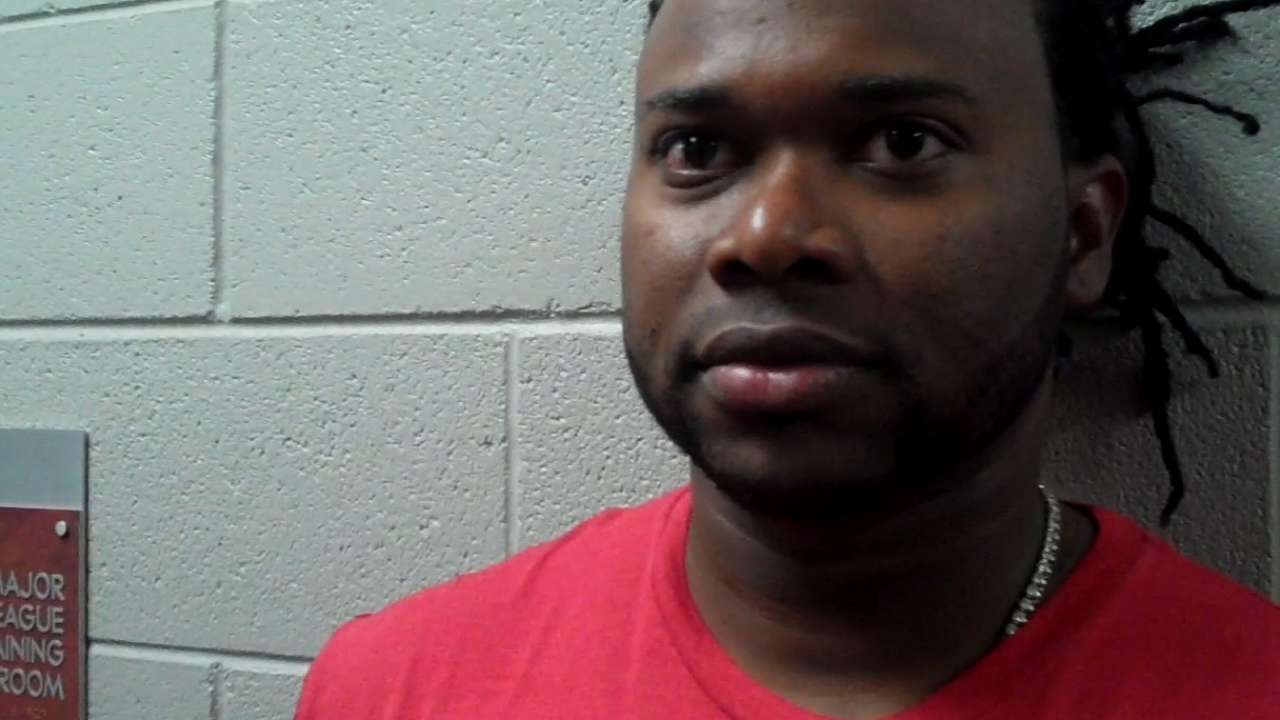 GOODYEAR, Ariz. -- Perhaps the best sign of all about Reds pitcher Johnny Cueto's outing for Class A Bakersfield.on Tuesday came when it was over. After Cueto reach his pitch limit two batters into the sixth inning, he asked pitching coach Jeff Pico for one more batter.
That request was denied.
"I said I need one more; [Pico] said, 'No you're finished,'" Cueto said.
Before Tuesday's outing against Class A Advanced Carolina, Cueto's previous start was scratched after he felt a mild irritation in his right scapula. Because he was limited to 11 starts in the 2013 regular season because of a strained right lat muscle, the club took no chances.
"He might have been able to go five days ago," Pico said. "As a precautionary reason, we wanted to make sure he was ready to go. So we held him out of that game and he got treatment. It's great to see he's feeling really good now."
In five-plus innings, Cueto allowed six earned runs and seven hits with one walk and 11 strikeouts. He threw 89 pitches, including 59 for strikes. Four of the runs and five of the hits came in the first inning, before Cueto settled into a groove.
Cueto struck out the side in the second inning. A couple of his fastballs in the outing reached 94 mph.
"I'm happy today; I threw everything fine," Cueto said. "I'm ready to go for the season."
"The main thing was that he felt great and he felt healthy and he felt strong," Pico said. "That was No. 1 on my list. He went in and out of his rotation a little bit early, getting lateral a little bit, but corrected that as the game went on and threw some really good pitches today."
Pico sent Cueto back out to face two more batters in the sixth. One reached on an infield hit, and another singled to center field. Both runners scored after Cueto was lifted.
"I wanted him to get up and down six times," Pico said. "I know he only had a few more pitches left in him. That's the number we wanted to get to, and it was just a matter of sitting down and going back out six times."
Cueto has started the last two Opening Days for the Reds, and, until his injury, he seemed to have the inside track to be tapped by manager Bryan Price for Monday's opener against the Cardinals at Great American Ball Park.
"I don't know yet; I don't know what's going on," Cueto said. "I will be ready. I want to. Bryan has said nothing."
Mark Sheldon is a reporter for MLB.com. Read his blog, Mark My Word, and follow him on Twitter @m_sheldon. This story was not subject to the approval of Major League Baseball or its clubs.