Bailey faces Dodgers Minor Leaguers in return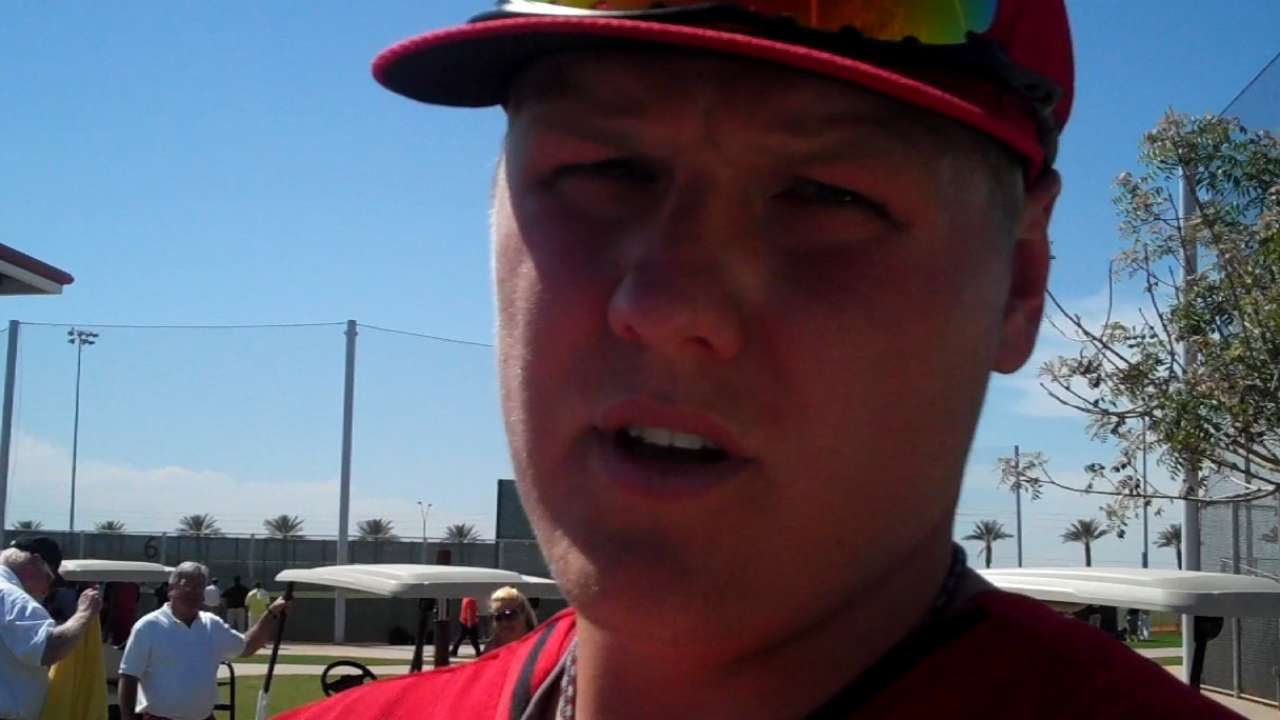 GOODYEAR, Ariz. -- In his first game of any kind since March 10, Reds pitcher Homer Bailey pitched five innings for Triple-A Louisville against Dodgers Minor Leaguers on Monday. Bailey, who had been out with a strained right groin, threw 76 pitches.
The early innings went smoothly for Bailey, including a third inning in which he needed only seven pitches. He gave up hits in the fourth and fifth innings and was stopped in the fifth when he reached his pitch limit.
"Early on it almost felt too good, because I hadn't been on the mound in so long," Bailey said. "Then in that fifth, I did start cramping up just a little bit, but that can kind of be expected."
Bailey's fastball velocity ranged generally from 90 to 93 mph, and he topped out at 94 mph. He also threw a few off-speed pitches.
"I don't know how much you can expect the first time out after taking some time off," Bailey said. "I did feel kind mechanically a little off from just not being on the mound and stuff. Physically, I felt all right."
Bailey played it safe and did not cover first base on a couple of ground balls.
"It was something we haven't done yet," Bailey said. "I kind of took a step and said, 'Whoa, not today.' I didn't want to reinjure it covering a base. That was the only hesitation. We've got a week left; let's cool down a little bit."
Assuming Bailey is still feeling OK, his next start would most likely be on Saturday for the Reds in an exhibition at Louisville. That could put him on track to pitch the third game of the regular season, which would be April 3 against the Cardinals.
Bailey seems confident that he will not need to begin the season on the disabled list.
"I don't think I will start on the day I was scheduled to from the beginning of spring, but that's kind of part of being the starter," Bailey said. "You have to wait every fifth day, yada, yada."
Mark Sheldon is a reporter for MLB.com. Read his blog, Mark My Word, and follow him on Twitter @m_sheldon. This story was not subject to the approval of Major League Baseball or its clubs.