Marshall taking advantage of opportunity in spring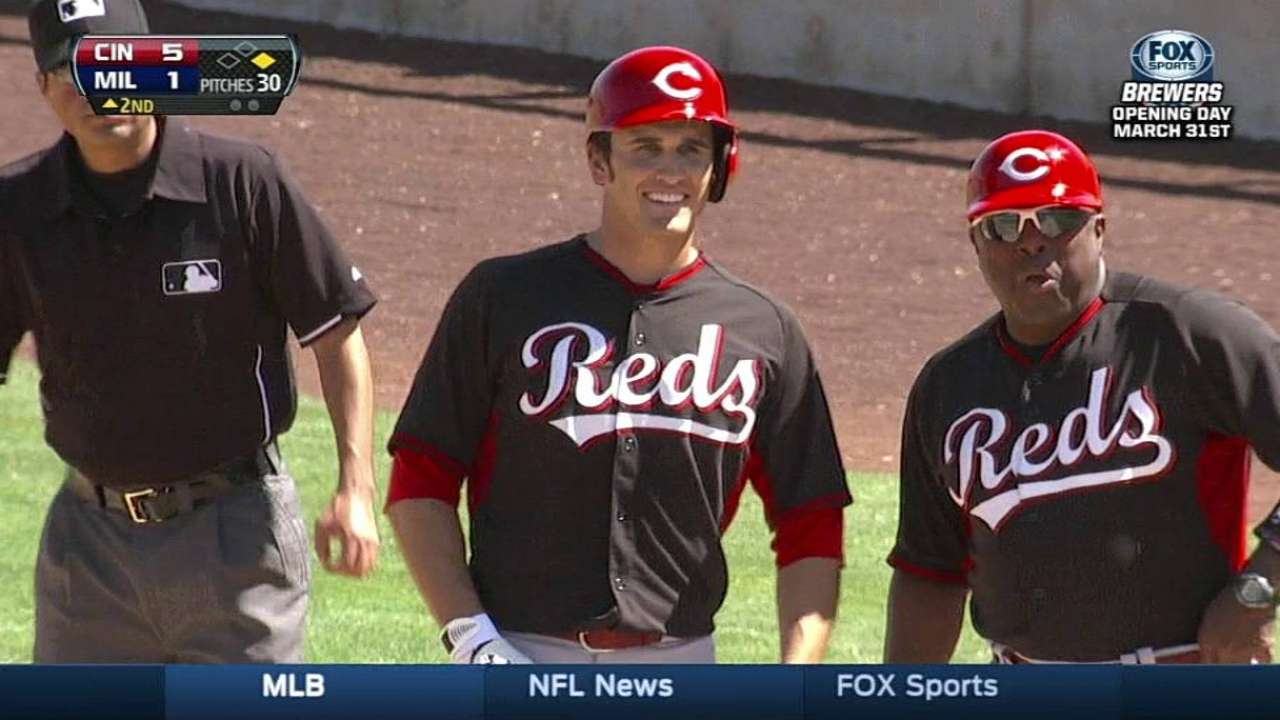 GOODYEAR, Ariz. -- Claimed off waivers by the Cubs from the Yankees in December, pitcher Brett Marshall had already made his way to Spring Training a couple of days early with his new club. On Feb. 12, Marshall's plans, and his uniform, changed abruptly.
"I got here for three days and they said, 'Hey, you got claimed by the Reds.' I was like, 'All right, it was nice meeting ya'll and I'll see ya'll later,'" said Marshall, who turned 24 on Saturday.
Because of injuries to both Mat Latos and Homer Bailey, Marshall has gotten a long look from the Reds this spring. He is 3-0 with a 2.08 ERA in five games, including four starts. He has walked 10 and struck out 15 in 13 innings.
"I'm definitely excited about the opportunity," Marshall said. "It sucks that we keep losing guys. That's not OK. We've got a good team. Hopefully, we'll get back healthy and we'll be able to start the year off with a healthy team.
"Every game, I felt like all of my stuff has been on. My command is getting a little better. I'm starting to find pitches a lot more. All of my offspeed is starting to work well. I'm really excited about that, especially going into the season."
Marshall logged three big league appearances last season for the Yankees and posted a 4.50 ERA in those 12 innings. He had 13 wins and a 3.52 ERA at Double-A two seasons ago but struggled in Triple-A during 2013 as he went 7-10 with a 5.13 ERA in 25 starts.
The attrition to the pitching staff could get Marshall on the Reds when they break camp. It's possible he could be in the rotation. His being the long man in the bullpen is also a possibility.
"He could be [in the bullpen]," Reds manager Bryan Price said. "It helps that he's thrown the ball well. It helps that he's on our 40-man roster. It helps that he's getting stretched out as a starter. It looks like a strong possibility that [Alfredo] Simon will start the season in our rotation so we'll need length. Brett has worked hard."
During Friday's start vs. the Royals, Marshall gave up two runs and two hits over four innings with three walks and four strikeouts. He allowed only one hit over his first three scoreless innings before giving up a double and all three walks in the fourth.
"I was lost a little bit and I got it back. I buckled down and I got those strikes," Marshall said.
"He's got to be able to stay away from those periods of time where he gets erratic with his command," Price said. "That role as a long man in the bullpen, or as a starter, it's imperative that you keep yourself in the game and force the opposition to get base hits to get on base. We re-emphasized that he needs to work within the strike zone."
Mark Sheldon is a reporter for MLB.com. Read his blog, Mark My Word, and follow him on Twitter @m_sheldon. This story was not subject to the approval of Major League Baseball or its clubs.