Cueto or Bailey to start Opening Day for Reds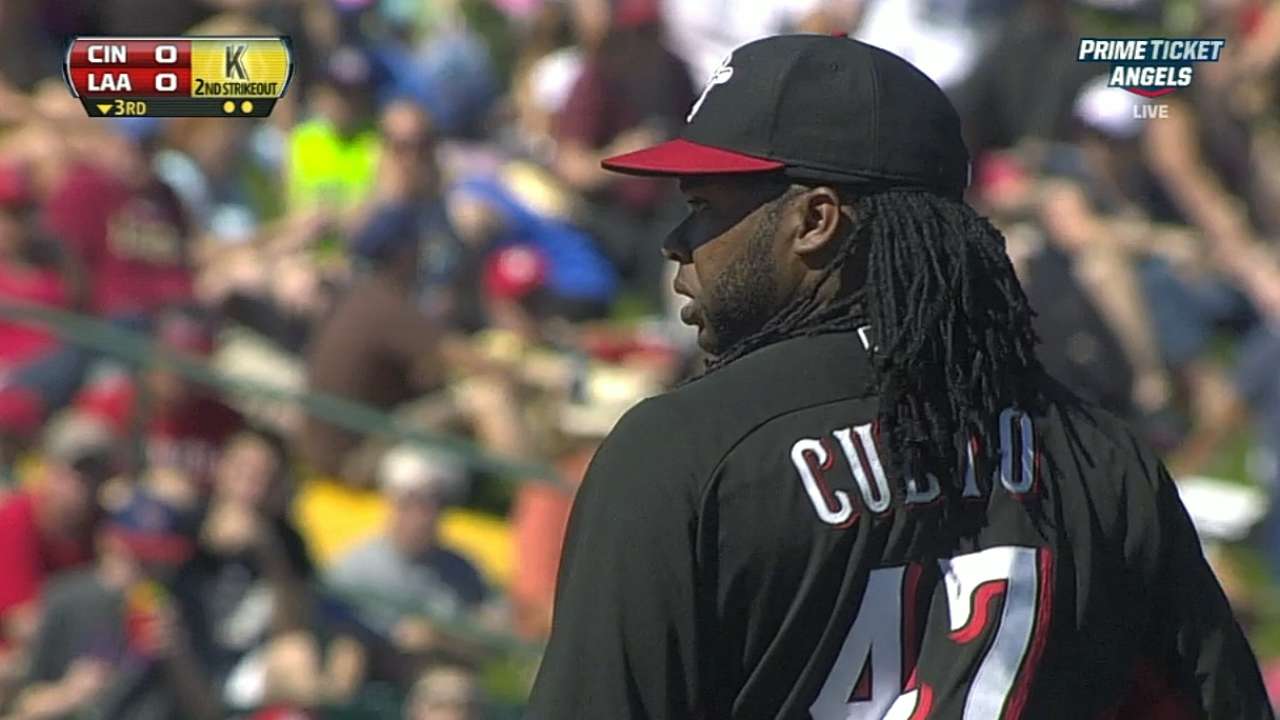 GOODYEAR, Ariz. -- The assignment of starting Opening Day for the Reds had not been determined as of Sunday. However, manager Bryan Price has it narrowed down to two candidates: Johnny Cueto and Homer Bailey.
Cincinnati opens the regular season on March 31 vs. the Cardinals.
"The whole thing really has been about health," Price said. "One thing we've had a challenge with this spring is keeping all of our guys on a regular schedule. Johnny is coming off a season where he made only a handful of starts compared to the other guys."
Complicating matters was that Bailey missed a start on Saturday because of a mild right groin strain. There is also Mat Latos, who has yet to get into a game after left knee surgery on Feb. 14.
"Before we made a commitment to any of them, I wanted to get through the bulk of Spring Training and make sure we were in good shape," Price said. "Certainly, there are only so many things we can do with the order. But I'd like to get through a little bit closer, probably through one more start."
Cueto has started the past two regular-season openers for Cincinnati. In 2012, he allowed three hits over seven scoreless innings for a win against the Marlins. In 2013, he gave up one run and three hits over seven innings and received a no-decision in a 3-1 loss to the Angels.
In the past four seasons, former manager Dusty Baker preferred to set up the rotation by splitting up the power pitchers with Bronson Arroyo and Mike Leake. With Arroyo gone and lefty Tony Cingrani also being a power arm, separating pitchers isn't viewed as a priority.
"I think probably more importantly what you'd like are matchups against certain teams that you play," Price said. "That doesn't really serve a great purpose because it's something you can't really control a lot, No. 1. No. 2, you don't want to have certain pitchers avoid certain teams because I think it sends the wrong message if you have starting pitchers that historically have struggled against a certain team. Eventually, they've got to find their way to get through that lineup, so you've got to give them that opportunity."
Barring injuries or the unexpected, whatever order the Reds start with will likely carry through the first half. As pitching coach, Price preferred to use off-days as a means of skipping a starter so everyone gets an extra day of rest.
Mark Sheldon is a reporter for MLB.com. Read his blog, Mark My Word, and follow him on Twitter @m_sheldon. This story was not subject to the approval of Major League Baseball or its clubs.