Heisey standing tall after adjustments at plate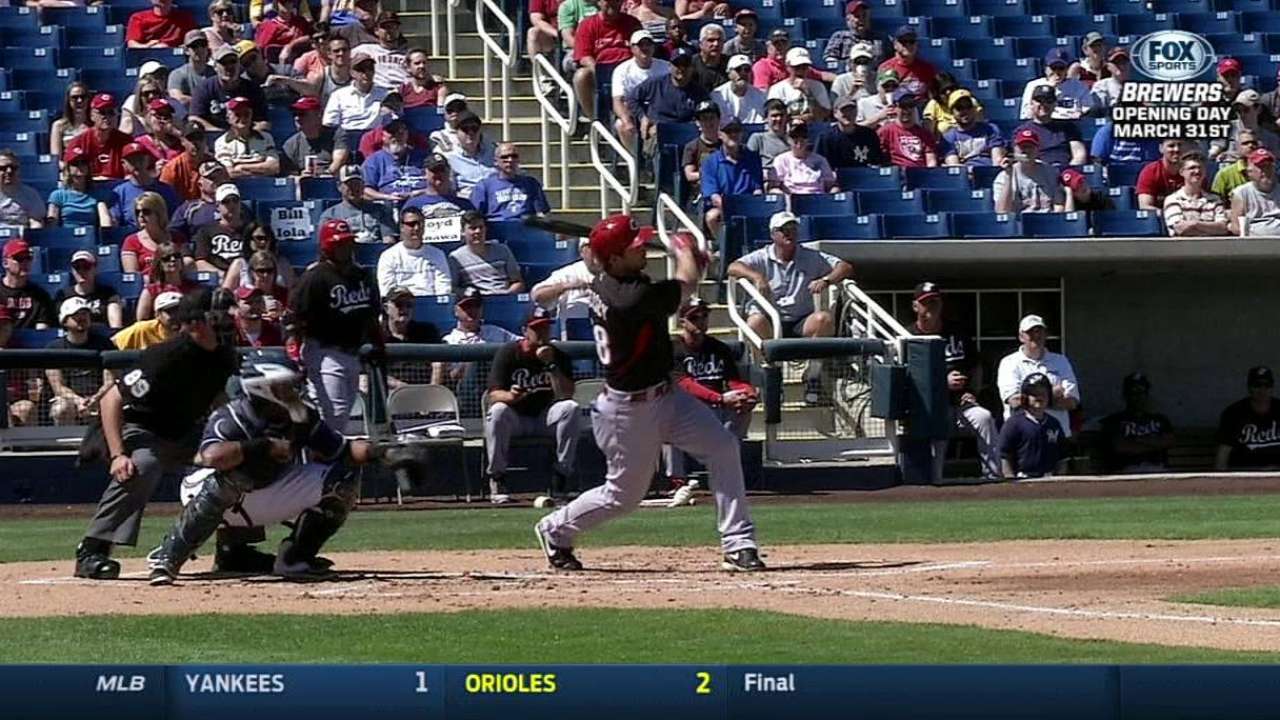 PHOENIX -- Reds outfielder Chris Heisey has never been afraid to tinker with his batting stance, especially when things aren't going well at the plate. This spring, it appears that Heisey has found an approach that is working.
During Saturday's 16-4 Reds win against the Brewers, Heisey hit his Major League-leading fifth home run of spring -- a two-run shot to left field with two outs in the first inning. In the third inning, he hit a double to left field and later scored.
"There hasn't been a day when I felt like it's not clicking," Heisey said after exiting the game. "Every day hasn't been perfect, but every day I've felt like I can compete up there, and I think it's a byproduct of that relaxed kind of feeling. When I get tense, I start speeding things up, and I've been able to kind of slow the game down up there and recognize some pitches. I'm in a good spot because of being relaxed and loose to put the barrel on it."
In 13 games this spring, Heisey is batting .412 (14-for-34) with 10 extra-base hits and 11 RBIs.
Heisey, projected to be the Reds' fourth outfielder, estimated that he had probably used more than 10 different batting stances in the past five years. He developed his current one during an offseason workout with Mets Minor League outfielder Joe Tuschak. The two players both live in Dillsburg, Pa., during the winter.
"He has his hands real low and just looked real relaxed," Heisey said. "It's kind of what I've been trying to get to, a place where I can just relax and be loose. One day I just tried it, and it felt real good. So I came into spring hitting like that, not really knowing how once I got into a game it would translate. So far, I've felt really good and relaxed. Hopefully I can keep it going."
Mark Sheldon is a reporter for MLB.com. Read his blog, Mark My Word, and follow him on Twitter @m_sheldon. This story was not subject to the approval of Major League Baseball or its clubs.