Seeing Hamilton run never gets old for Reds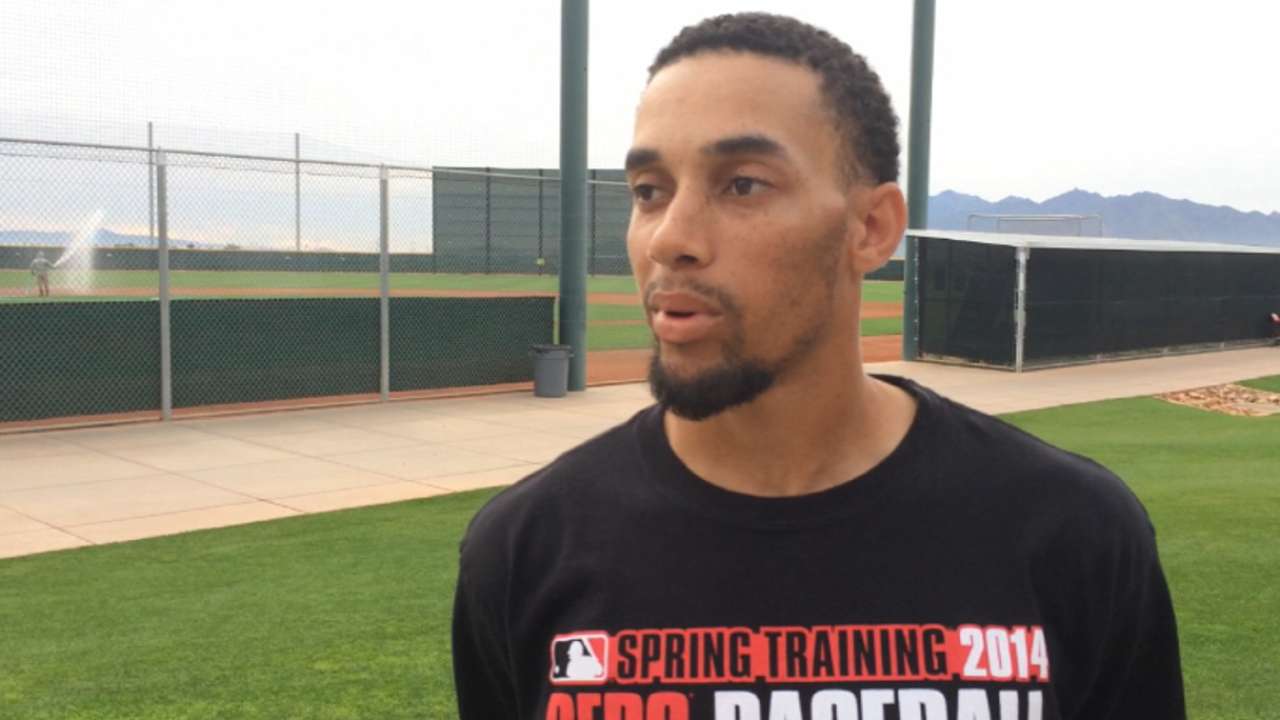 PHOENIX, Ariz. -- Each time Reds rookie center fielder Billy Hamilton gets on base, opposing pitchers are left both victimized and impressed.
In the bottom of the first inning of Friday's 2-1 Reds win over the Rangers, Hamilton worked from a 0-2 count to draw a leadoff walk against starting pitcher Tanner Scheppers. Although Scheppers tried to hold Hamilton at first base with a couple of throws there, he successfully stole second base on the first pitch to Brandon Phillips. Hamilton then took third base on a wild pitch to Joey Votto.
"That guy can fly. Wow. That was impressive," Scheppers said after the game.
"He did everything right, and they still couldn't get him," Reds manager Bryan Price said.
Hamilton's speed and quickness, which helped him steal a record 155 bases in the Minors in 2012, still shocks those on his own club -- including Price.
"It's kind of like when [pitcher Aroldis] Chapman first showed up," Price said on Saturday. "We got a chance to see that fastball as a reliever -- not touching 100 every now and again -- but pitching at 100-105 mph virtually every pitch. You never get tired of seeing it, but the shock and awe part of it wears off after a while. I'm sure with Billy, you're never going to underappreciate his speed or take it for granted. Right now, we're right in the height of it.
"We get to see it every day, every play at first base, every bunt, every ground ball. It's a bang-bang. Every base hit to center field is a possible double based on how aggressively the center fielder goes after the ball. It's really exciting to watch."
Hamilton, who was not in the lineup Saturday, has been successful to this point at showing he can lock down the leadoff role to replace departed free agent Shin-Soo Choo. Through his first 11 games, the 23-year-old batted .276 (8-for-29) with a .400 on-base percentage, six walks and seven steals.
Earlier this week, CBSSports.com reported that Hamilton's time from home plate to first base was a stunning 3.3 seconds following a drag bunt for a hit against the Rangers' Yu Darvish. That would put Hamilton on a pace with world-class sprinters in track and field.
"It's a special speed tool," Price said. "It's one of those gifts that we're excited that we have it, and we don't have to defend it. Those guys are game changers."
Mark Sheldon is a reporter for MLB.com. Read his blog, Mark My Word, and follow him on Twitter @m_sheldon. This story was not subject to the approval of Major League Baseball or its clubs.