Reds' Hamilton facing all types of infield looks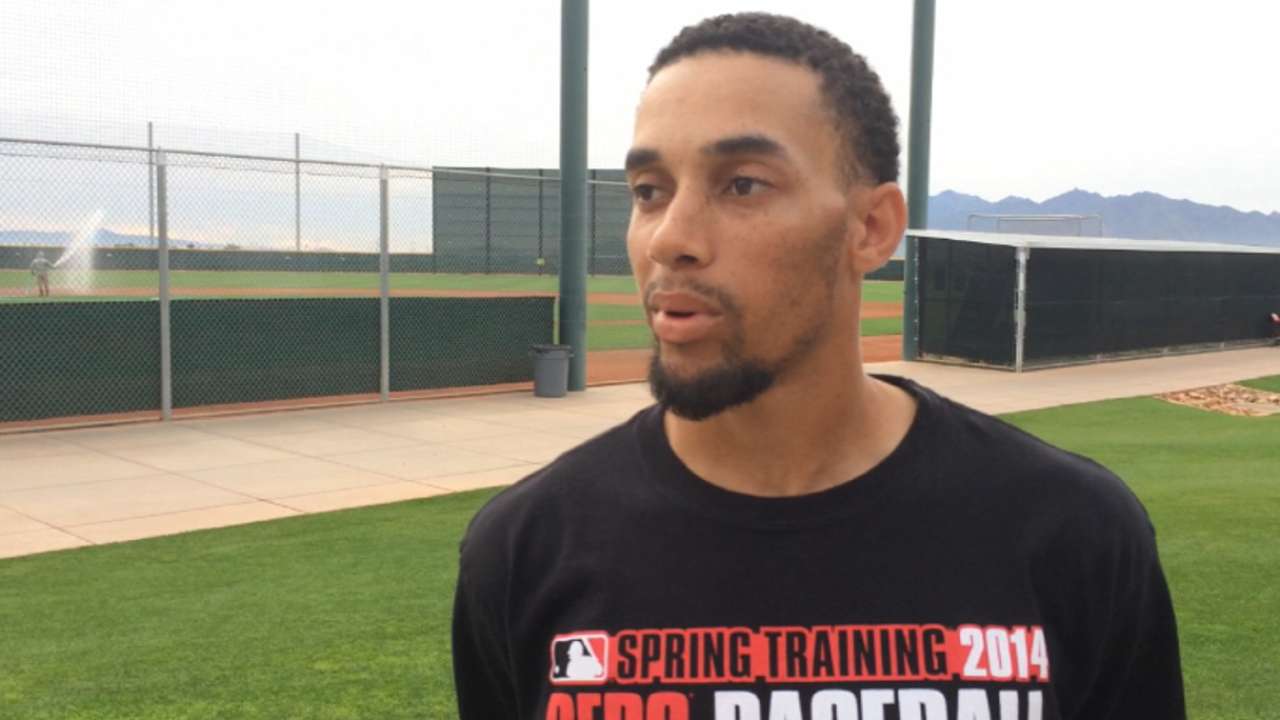 GOODYEAR, Ariz. -- Reds center fielder Billy Hamilton isn't going to stop bunting this spring, no matter how tightly opposing defenses play him.
Hamilton, who is no stranger to facing oddly configured infields, says he's using Spring Training to master the chess match of bunting for hits -- even if it means making an extra out or two.
"The first baseman could be all the way on top of me, I'm still going to bunt this spring, just so I can figure out what's going to happen, what I can and can't do," said Hamilton, who entered play Wednesday hitting .318 with three of his seven hits coming via the bunt.
A prime example came in Monday's Cactus League contest against the Rangers, when both corners had Hamilton played three or four steps in front of the infield dirt. He dragged a bunt, making the first baseman range to his right, and that was all it took for Hamilton to get an extra step to motor in safely.
At the very least, Hamilton makes opposing managers and infielders think -- and sometimes overthink. In his time playing professional baseball, he says he's seen it all when it comes to different infield formations.
Some teams have stationed their second baseman on the edge of the dirt and kept their first baseman locked to the bag. Some clubs instruct their pitchers to hop off the mound in anticipation. In Cactus League play, the Mariners shifted their second baseman so that he could cover first, while the first baseman charged.
None of that compares to one instance Hamilton recalled in the Minor Leagues.
"In Double-A, I had the Tennessee Smokies playing with the infield in the whole game, from the start," Hamilton said. "I thought that was pretty crazy."
Reds manager Bryan Price is taking notes of the different ways opponents have played Hamilton. He's impressed with how the young speedster has handled himself, given all the responsibility being heaped on his shoulders this season as the Reds' leadoff man and starting center fielder.
More importantly, Price is confident Hamilton will use the game of cat-and-mouse to his advantage at the plate. His speed has created holes in the infield that other hitters don't have the luxury of.
"It becomes a huge part of his game, and the other part we're seeing is how different teams defend him," Price said. "It just creates a much bigger infield for him, and it's just fun to see. [Monday] was his first strikeout. He's been able to put the ball in play and utilize his speed, and that's what we need at the top of the order."
AJ Cassavell is a reporter for MLB.com. Follow him on Twitter @ajcassavell. This story was not subject to the approval of Major League Baseball or its clubs.